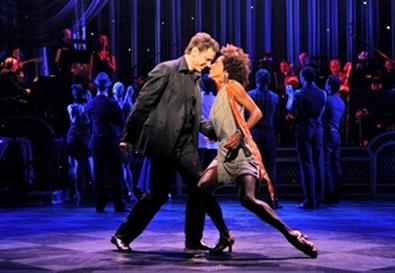 After hitting a home run with Billy Joel ("Movin' Out") and striking out with Bob Dylan ("The Times They Are A-Changin' "), Twyla Tharp is back on her A game, this time with Frank Sinatra as a collaborator. "Come Fly Away," her tribute to the classic romanticism of one of the 20th century's greatest pop stylists, is a jazz, a gas, a cuckoo-cuckoo, ring-a-ding fling, man! There's not much of a plot, but I didn't miss one as 15 sexy, athletic dancers coupled and uncoupled to the Chairman of the Board's recorded voice combined with a rich live orchestra and augmented by the sweet crooning of featured vocalist Hilary Gardner. Kudos to sound designer Peter McBoyle for making it seem as if Sinatra were still alive and duetting with Gardner.

The setting is a swanky nightclub, the kind that exists only in movie musicals from the 1940s and '50s. Set designer James Youmans has struck just the right tone of sophisticated fantasy, while Donald Holder's lighting enhances the dreamy mood. A sprightly maitre d' (Alexander Brady) acts as Cupid for an octet of lovers, as they change partners until finding the perfect fit. There are another six performers who act as a backup chorus. In the second act, the ballroom turns into an orgiastic backroom, as shirts are ripped and pants and skirts are discarded. This segment is reminiscent of the "Air Rotica" number from Bob Fosse's film "All That Jazz." But all ends in marriage, or at least continued romance, as everyone sashays happily off to the uplifting strains of "New York, New York." Tharp, who is credited with concept, book (such as it is), choreography, and direction, masterfully employs a broad vocabulary incorporating jazz, ballet, ballroom, and a splash of hip-hop to channel the spirit of Sinatra.

Among a company of exquisite dancers, there are two standouts: Charlie Neshyba-Hodges and Karine Plantadit. Neshyba-Hodges plays a clumsy waiter smitten with a naive young customer (a charming Laura Mead) who appears to have just gotten off the bus from Squaresville. Overcome with his new infatuation, he seems barely able to control his body as he tumbles, leaps, and backflips for joy.

Plantadit is a tall cheetah of a woman, ready to savage or ravish the first attractive man to catch her stunning eye. Dressed by Katherine Roth in a copper-toned shift—all the costumes are appropriately chic and clingy, by the way—Plantadit stalks the dance floor for fresh meat and leaps into the fray with abandon when she finds it. Her partner is Keith Roberts, a Tharp veteran, who matches her intensity in "That's Life," the highlight of the show, in which the two throw each other around the stage like intoxicated wrestlers.

John Selya, the star of "Movin' Out" and one of Broadway's most skilled and charismatic dancers, embodies Sinatra's confident nonchalance, even as he expresses the mellow self-reflection of "My Way" and breaks into a hip-hop street spin during "Saturday Night Is the Loneliest Night of the Week." The object of his amorous pursuit is the haughty and elegant Holley Farmer. Rika Okamoto and Matthew Stockwell Dibble round out the cast, particularly scoring with a comically drunken take on "Yes Sir, That's My Baby."

With the combined audiences of Sinatra and Tharp fans, "Come Fly Away" could easily soar into box office heaven and provide jobs for many Back Stage readers for years to come.


Presented by James L. Nederlander, Nicholas Howey, W.A.T., Ltd., Terry Allen Kramer, Patrick Catullo/Jon B. Platt, Jerry Frankel, Ronald Frankel/Marc Frankel, Roy Furman, Allan S. Gordon/Elan McAllister, Jam Theatricals, Stewart F. Lane/Bonnie Comley, Margo Lion/Daryl Roth, Hal Luftig/Yasuhiro Kawana, Pittsburgh CLO/GSFD, Spark Productions, the Weinstein Company, and Barry and Fran Weissler at the Marquis Theatre, 1535 Broadway, NYC. Opened March 25 for an open run. Tue., 7 p.m.; Wed.–Sat., 8 p.m.; Wed. and Sat., 2 p.m.; Sun., 3 p.m. (212) 307-4100 or www.ticketmaster.com. Casting by Stuart Howard, Amy Schechter, and Paul Hardt.