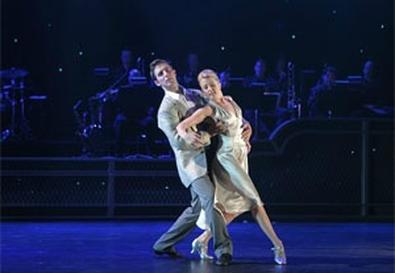 The first impression offered by this Broadway transplant warns of possible cheesiness and a lethal dose of road show–it is, with a false proscenium framing James Youmans' glittery set, which evokes a low-rent Vegas showroom somewhere off the Strip near the warehouses and discount liquor stores. Somehow, however, the pieces quickly fall into place as Frank Sinatra's haunting a cappella rendition of "Stardust" defies the Pantages' usual sound issues, filling the house with Ol' Blue Eyes' unique phrasing and classic cool before director-choreographer Twyla Tharp's exceptional dancers even hit the stage.
With minimal story line and no dialogue, and trimmed to an intermissionless 80 minutes, Tharp's creation surprisingly springs to glorious life as 26 of Sinatra's hits are revisited, so enhanced by Peter McBoyle's odds-defying sound design and music director Rob Cookman's dynamic live 15-piece big band that one's gaze wanders the stage to see where the ghost of Sinatra is standing. The production's nightclub concept allows four couples to appear to be competing in an impromptu dance competition, relying on the showroom's omnipresent bar as a place to unobtrusively towel off between numbers.
Surely the name Tharp helped engage some of today's finest dancers for this tour—including memorable turns by the fiery Marceea Moreno, whose smartly mismatched partnership with Martin Henry on "That's Life" is a highlight, and the sweetly love-struck pairing of Mallauri Esquibel and Rod Todorowski, who take the crooner's advice in "Let's Fall in Love." Still, despite the agility and enthusiasm of each of the 14 dancers, Cody Green is the standout. Green effortlessly crafts a solid (and silent) acting performance while mesmerizing the audience with a grace and athleticism that simultaneously conjures Astaire and Baryshnikov.
Of course, in less brilliant hands than those of the legendary Tharp, the cheese factor could easily have overpowered the dancing, but no choreographer alive has the ability to fuse world-class ballet and ballroom styles with such equal dollops of elegance and whimsy, creating a memorable, perfectly fitting paean to the first king of pop music.
Presented by Broadway/LA at the Pantages Theatre, 6233 Hollywood Blvd., Hollywood. Oct. 25-Nov. 6. Tue.-Fri., 8 p.m.; Sat., 2 & 8 p.m.; Sun., 1 & 6:30 p.m. (800) 982-2787. www.broadwayla.org.