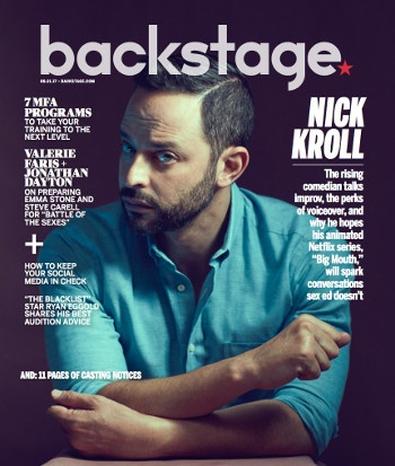 On "Big Mouth," Netflix's newest animated series, Nick Kroll voices the person he once was: a blue-eyed, late-blooming, Westchester County middle schooler with three older siblings and a best friend named Andrew.
"Andrew was a boy who developed very early and I had not," Kroll recalls about his real-life best friend since first grade, and the history that inspired the actor's latest project, out Sept. 29. (Their pitch to several platforms, including the mega streamer that picked it up, incorporated actual pictures of the two in seventh grade.)
"Netflix seemed like the perfect place [for 'Big Mouth']," he says, "because we could literally say whatever we want, and because it was animated we could show whatever we want, and [it gave us an] opportunity to do a very honest, very real, very bawdy show about puberty that couldn't exist on network TV."
The free rein on such a specific topic led to several characters voiced by Kroll, including protagonist Nick's Hormone Monster, hairy and horned, with a potbelly and heart-shaped head; classmate Lola, the dopplegänger of Chris Farley's "Saturday Night Live" Gap Girl; and the Statue of Liberty, who is on her period. The supporting cast includes Kristen Wiig as an adorable vagina, Jordan Peele as Duke Ellington's ghost, and Jon Hamm as sautéed scallops.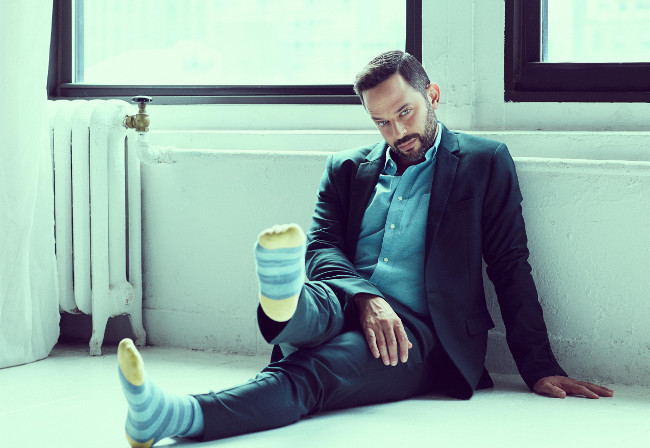 "It's an amazingly freeing thing," Kroll says of voiceover, which he's done for three films released in the past 13 months ("Captain Underpants: The First Epic Movie," "Sing," and the R-rated "Sausage Party"). Besides the lack of line memorization, limits on takes, and concern about losing light, Kroll explains, "You're not controlled by what you look like."
READ: New to Voiceover? What the Pros Want You to Know
We are the first customers of the day at Tavola, an Italian restaurant in New York City's Hell's Kitchen. Every table is open and Kroll has selected one closest to the door; we people-watch on Ninth Avenue and scout possible voiceover characters: "I can play a British guy, I can play a Latin man, I can play a little girl; all these different things that I would never be able to get cast as."
Voiceover aside, Kroll's been able to play against type, in part, by casting himself. For three seasons beginning in 2013, he starred on Comedy Central's popular "Kroll Show," a sketch series on which he transformed into dozens of characters, including the lead singer of an '80s metal band (Nash Rickey); a blond female publicist with a reality show (Big Liz); and a half-black, half-Hispanic craft services coordinator (Fabrice Fabrice).
Kroll consistently makes a meal of the characters he creates. In one recurring sketch, "Oh, Hello," he and former "SNL" writer John Mulaney—the two met in college when Kroll cast Mulaney in the Georgetown Players Improv Troupe—played septuagenarian Upper West Side roommates Gil Faizon (Kroll) and George St. Geegland (Mulaney). Several months after Kroll ended the TV series of his own accord, he and Mulaney staged "Oh, Hello" at the Cherry Lane Theatre, which begat a cross-country tour, a 138-show Broadway run, and a Netflix special released in June. It's the sort of trajectory that seemed unimaginable during Kroll's formative years.
While he acted in a few school plays, once portraying Ali Hakim opposite Julie Klausner ("Difficult People") as Laurey in "Oklahoma!," "I don't think anyone from that period of my life would—including my family—say, 'We knew he had it,' " Kroll admits. He enjoyed performing, he reasons, but "I don't think I knew you could actually do it [for a living].... My parents had a friend or two whose son had tried to do it and failed."
READ: How Being a Struggling Creative in NYC Helped Julie Klausner Write 'Difficult People'
He had yet to realize the extent of his acting ambitions in the summer between high school and college, when, while working at a restaurant in Dubois, Wyoming, he drove Harrison Ford from the airport to said restaurant. He didn't attempt to talk shop with the man who counted Han Solo and Indiana Jones as his claims to fame. But looking back, Kroll admits, "I think I was hoping he would be like, 'Boy, this kid I'm talking to in the car has got it.' "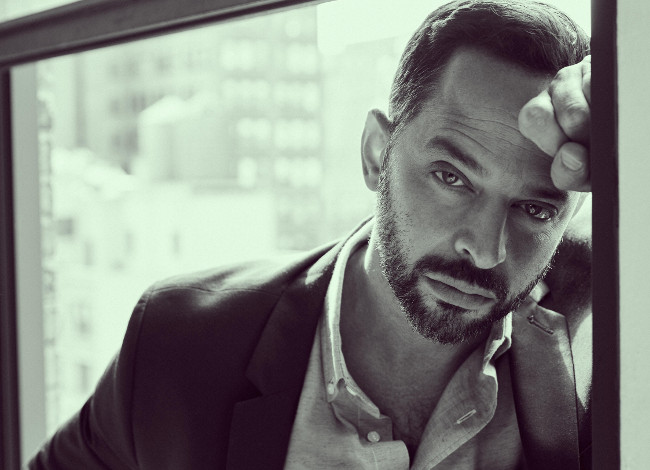 Upon arriving at Georgetown later that year, someone did acknowledge Kroll's potential: After besting him in a campus comedy competition, Mike Birbiglia ("Don't Think Twice") lobbied to cast the young actor in a sketch show at the end of his freshman year.
"I went to the first read-through of a bunch of sketches they had written, and I walked out of that night being like, Oh, this is the thing that I'm good at," Kroll remembers. "I never really wanted to work that hard at anything, and then when I started doing comedy in college…there was nothing that I wouldn't do to get the show packed.... The thing I feel the most fortunate about is that 20 years later, I feel the same way."
He moved to New York City after graduation and worked at an afterschool program while taking classes at UCB Theatre, where he eventually performed one-man shows and met Jason Mantzoukas, his future cast mate on seven seasons of FX and FXX's fantasy football sitcom, "The League." Alongside Jessi Klein (head writer of "Inside Amy Schumer"), Kroll also hosted a weekly alt-comedy show at Rififi—an East Village video store that shuttered in 2008—where performers included Jenny Slate ("Obvious Child"). All, along with Mulaney, are now Kroll's "Big Mouth" co-stars.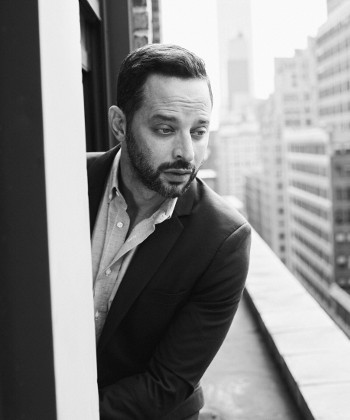 Working with his friends is a pattern for Kroll; he and his college friends sold a couple of sketches to "Chappelle's Show" and started writing for Motherload, an online network Comedy Central launched in the mid-aughts. He quit his day job and earned his SAG card and an agent doing TV and radio ads for brands such as American Express, FedEx, Lipton, McDonald's, Molson Coors, and Verizon (pre-cellphones, when afternoons were lost traversing the city to lay down tracks at potential clients' offices).
After his first hundred or so unsuccessful auditions, he followed fellow UCB alumni to Mary Egan and Brooke Thomas' improv-friendly commercial acting class at House Casting. "The one thing they taught us was be yourself," Kroll says. "If they want you, they want you, and if they don't, they don't.... From when you are starting and can't get cast to even when you become successful and get cast in things, I think actors feel like they don't have any control.... You get told what your hair looks like and what you get to say, and then you are told you've got to go here to go do this job and you'd better be grateful for it and all that stuff, and it's a very powerless feeling."
Kroll started improvising in auditions—and booking jobs—though he says he always lacked "faith that I would get chosen... As, like, a white, upper-middle-class Jewish comedian, there's nothing unique about that, getting into acting or entertaining. There's so many of us."
So he concentrated on writing his own material, as he did with "Big Mouth," a show he has likened to "a perverted 'Wonder Years,' " saying, "It's a story of that beautiful nightmare that is puberty." Although he and fellow creators and executive producers Jennifer Flackett, Andrew Goldberg, and Mark Levin received just one note from Netflix executives about the series "going too far," Kroll is bracing for public criticism. "Are there going to be parents who are so angry with me that their kids are watching a show about kids jerking off?" he asks, "Sure. But maybe it'll get a conversation going that I think really needs to happen—that is really hard to have on its own and that sex ed doesn't quite take care of."
If "Big Mouth" does generate controversy, Kroll's been there before. In 2007, the last time he auditioned for a part, he landed the lead role in the ABC sitcom "Cavemen," based on the then-ubiquitous GEICO campaign. "Cavemen" brought him to L.A., but Kroll has acknowledged that the show was "culturally reviled"—critics dubbed the unaired pilot racist, and only five subsequent episodes were broadcast.
The cancellation was not exactly terrible news for Kroll: The show required him to spend four hours daily "brutalizing" his face in the makeup chair. Still, he says he was "super grateful" that the job "gave me a kind of network stamp of approval," and he learned a lot about how to conduct himself.
"The cameramen are your audience," he says. "If the camera shakes while you're working, it means that you're making them laugh and you're doing your job." He advises actors not to "do everything based on what the sound guy wants," and "listen to the script supervisor but also have a conversation with the writer and director and find out that it's OK if you change a word here or there." Each member of the crew has his or her own task, and Kroll says an actor's responsibility is "mak[ing] sure that everybody's getting what they need but also, ultimately, protecting yourself and your performance."
---
Stick to the Script
Nick Kroll's first foray into cable television with "Cavemen" was illuminating in more ways than one. "I went to the first table read of 'Cavemen' and I improvised," he recalls of the controversial series. "I changed a bunch of stuff. And it wasn't the end of the world, but….now, having created a show myself, or a couple of shows, [I understand that] people have worked hard on writing a joke and they want to hear that joke. Not for ego; just to hear if it works, because if it doesn't, they'll change it."
Find your own opportunities with Backstage's voiceover audition listings!
Socks by Mack Weldon.