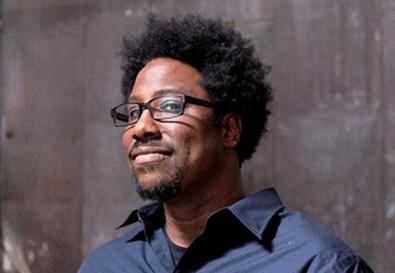 "Satire is the weapon of the powerless against the powerful."

The above quote by the late populist columnist Molly Ivins is written on a whiteboard at the Manhattan production offices for "Totally Biased," FX's new weekly late-night show created and hosted by standup comedian W. Kamau Bell. Below that, Bell has paired Ivins' inspirational message with words of wisdom from his 1-year-old daughter: "Aaah Aaah Baah Aaah."

The juxtaposition is an apt reflection of Bell's comedy, which balances socially conscious political commentary with an appreciation for the absurdity and wonder of our shared human existence. Most often, Bell turns his gaze to racism and inequality in America, with a witty and challenging point of view that combines Jon Stewart with Paul Mooney.

But as FX has been asking in its promos leading up to the Aug. 9 premiere of "Totally Biased," "Who is W. Kamau Bell?"

He's been building a following for years in the San Francisco Bay Area and among comedy nerds nationwide. (He's even credited with telling the first Obama joke back in 2005, when the POTUS was just a U.S. senator with high hopes.) But Bell's sudden exposure to a national audience comes courtesy of Chris Rock, who caught a performance of his multimedia one-man show "The W. Kamau Bell Curve: Ending Racism in About an Hour" at the Upright Citizens Brigade Theatre in New York in the fall of 2010 and suggested taking it to TV.

Rock set up a meeting with FX president John Landgraf, and the cable network that has recently built a reputation for taking risks with comedic talent added one more to its roster. "Totally Biased" was picked up for an initial six episodes, executive produced by Rock, Bell, head writer Chuck Sklar (who originally recommended Bell to Rock), and Bell's manager Keri Smith Esguia. Bell has relocated to Brooklyn for the series.

"People want to work with Chris, especially in the comedy world," Bell says. "To say this is to make it sound like it's not a big deal -- and it's a huge deal -- but it was one of the easiest things that had ever happened in my career, the selling of the show, especially compared to the years of my career up to that, the poverty, then making that pilot and learning all that on the fly."

The writing staff is a mix of comedy veterans and up-and-comers, including Nato Green, Janine Brito, Hari Kondabolu, Kevin Avery, Dwayne Kennedy, Kevin Kataoka, and Danny Vermont. "I got to hire people who I think are great, unknown comedy voices who also happen to be good friends of mine," Bell says. "So it's a lot of people's big chance to make something happen, and I'm really excited about that."

Like most late-night shows, each episode will be taped in front of an audience the day it airs. While he'll be mixing monologues with man-on-the-street bits and in-studio "correspondents," Bell says he's not trying to mimic established political comedy hosts like Stewart, Bill Maher, or Stephen Colbert. He doesn't even have a desk to sit behind.

"Ultimately my success, if there's any success, has been from being as true to my voice as possible," Bell says.

Growing up in Chicago as the only child of a single mother, Bell's early inspirations were Bill Cosby and Eddie Murphy. He says he was never the class clown, instead surrounding himself with a small circle of friends who liked to make each other laugh. His best friend suggested they go to a local open-mic night, after which Bell started to perform standup in Chicago as what he calls "a glorified hobby." When he moved to San Francisco about 15 years ago, comedy became his career.

After years of building his reputation and working the Bay Area clubs, though, Bell says it took an outlet outside comedy for him to find his voice. His friend Bruce Pachtman asked for input with sections of a solo show he was working on, and Bell ended up with a directing credit for his contributions. He quickly gained a reputation as a solo show director and "script doctor," helping friends and fellow performers with their material. With Pachtman's prodding, Bell started teaching solo performance classes and together they formed the Solo Performance Workshop.

Bell soon realized that although his lessons included truisms such as "Always say what you mean," "Don't be afraid to say things that might piss people off," and "Write to your truth," he was talking the talk without walking the walk. Five years ago, he took his own advice and challenged himself by writing and performing the first iteration of "The Bell Curve." He enlisted one of his students, Martha Rynberg, to direct the show; she now teaches classes at the Workshop.

Bell found that in addition to his new sense of purpose, focusing on one topic so deliberately in "The Bell Curve" made him feel more relaxed when performing his other standup material.

"It made me a better comedian, in fact," he says. "I just had to figure out a place where I could get stronger without the restrictions of the comedy club. I decided I just want to create a space where everyone who comes to the door knows it's about race, so that you can't be upset about that. You can be upset about what I say about it but not that I'm having the discussion. So that was when, five years ago, I finally figured out the direction of my voice and how to start in that direction." He adds, "Without the Solo Performance Workshop there's no 'Bell Curve,' which means there's no TV show."

For now, Bell is taking time off from standup while he works on "Totally Biased" and prepares for almost certain fame.

"I've got a wife and baby at home, so I'd like to know them," he laughs, adding, "If the show hits the way we think it can, there's going be plenty of opportunities to do standup. If the show's a tremendous failure, I'm going to have to go do standup. So there's time for standup."