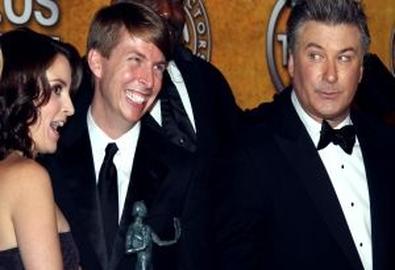 Comedy Central has acquired the off-network syndication rights to NBC's
30 Rock
.
It will share the cable window of the Emmy-winning comedy series with WGN America for a combined license fee said to be in the range of $800,000 an episode, surpassing cable sales of other recent comedy offerings such as
The Office
,
My Name Is Earl
, and
Entourage
.
The two cable networks will begin to run
30 Rock
in 2011.
"Pound-for-pound,
30 Rock
is one of the funniest shows on television and a perfect DNA match for our viewers," said Comedy Central's top acquisition executive David Bernath, who, influenced by
30 Rock
's Jack Donaghy (Alec Baldwin), listed his title as senior vp program strategy and microwave programming for the comedy-centered cable channel.
The off-network sale of
30 Rock
by Universal Domestic TV follows the 2007 sale of NBC's other Emmy-winning Thursday comedy,
The Office
, which was sold to TBS for about $750,000 per episode as well as in broadcast syndication. A broadcast syndication deal for
30 Rock
is also pending.
Meanwhile, WGN, which has limited distribution, has been stocking up on comedies, adding
30 Rock
to its other recent acquisitions,
Entourage
,
Curb Your Enthusiasm
,
The New Adventures of Old Christine
, and
Scrubs
.
Nellie Andreeva writes for The Hollywood Reporter.