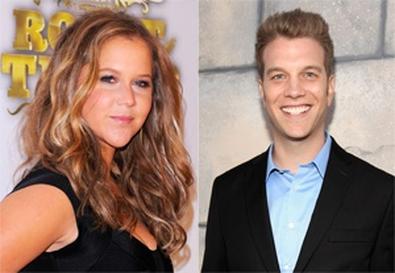 Comedy Central has picked up three new shows to add to its schedule in 2013, the network announced today. Rising comedians Anthony Jeselnik, Amy Schumer, and Ben Hoffman will each star in and executive produce their own series.

"These three shows have one thing in common, and I dare viewers to watch every single episode to find out what it is," Ken Alterman. Comedy Central's Head of Original Programming and Production, said in a statement.

Jeselnik's untitled weekly show is described as a "topical series filtered through the dark and twisted mind" of the comic, who is known for finding the funny in taboo, often offensive subjects and was described by the The A.V. Club as "the Satanic prince of standup." In response to the news of his series being picked up for next year, Jeselnik said, "Money, money, money, money, money, money, money, money, money, money."

Jeselnik is a former "Late Show With Jimmy Fallon" writer who has earned exposure on the Comedy Central roasts of Charlie Sheen and Donald Trump as well as "John Oliver's New York Stand Up Show," and he recently taped a one-hour special for the channel titled "Anthony Jeselnik: Caligula." His comedy album "Shakespeare" was released on Comedy Central Records in 2010.

The untitled Amy Schumer series will combine single-camera vignettes with footage of her standup, using the comic's live sets as a link between the themed sketches in which Schumer will be "playing a heightened version of herself." Schumer was a "Last Comic Standing" finalist who has been featured on Comedy Central roasts, "Live at Gotham," and "John Oliver's New York Stand Up Show." She recently recorded an hour-long standup special for the network and her first comedy album, "Cutting," was released on Comedy Central Records in 2011.

"I am ecstatic to have a home at Comedy Central," Schumer said in a statement. "I feel like that network raised me. I love everyone there…though it may just be Stockholm syndrome."

Finally, Ben Hoffman's "The Ben Show" will be a hybrid of sketch comedy and man-on-the-street interviews. According to Comedy Central, "Each week, Hoffman will take the viewers on a different life journey, which could include him forming a band, finding religion, auditioning for a reality show, or trying out volunteer work. Hoffman seeks advice from people in his life both past and present including his dad, ex-girlfriends, and therapist and tries to figure out how to keep it all from going wrong. These guests also act as co-hosts, helping Hoffman introduce the sketches and keep the show moving."

Hoffman was a writer/correspondent for Comedy Central's "Sports Show with Norm Macdonald" and has written for the "MTV Movie Awards," in addition to his appearances on "Arrested Development," "New Girl," and "Drunk History."