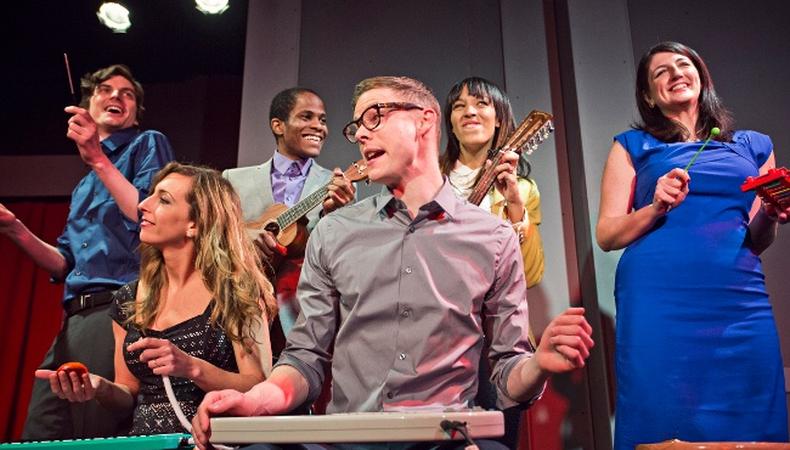 It takes a strong sense of comedic license to reference the labia minora, turn it into a Jewish joke, and come out unscathed. But raunch and riffing off audience members comes with the improv territory at Upright Citizens Brigade and beyond. One of the perks of taking that special kind of artistic liberty is saying whatever you want onstage, to whomever you want, for laughs. Comedy can be a way to speak your mind, but it can also be a way to explore yourself as a performer and receive some open, honest feedback.
One of UCB's many improv shows, "ASSSSCAT 3000"—associated with Amy Poehler, who's on the rotating bill—takes that explorative, honest license and runs with it, no sweat. But don't be fooled by the ease with which these improvisers perform; "ASSSSCAT 3000" comes from a lot of work at the UCB Training Center.
"We went through a seven-year process to become accredited as an official school by the same organization that accredits colleges," says UCB founding member Matt Besser. "It was important to get our curriculum straight, and as a result of that, we also came out with this book ['The Upright Citizens Brigade Comedy Improvisation Manual'], which basically codifies all these improv teachings."
While not all have a manual, schools outside UCB's New York–Los Angeles branches provide the winning combination of laughs and classes. Chicago's Second City is also in the entertaining-education business, building performers that trust themselves. "I was a theater minor; I'd never taken straight acting classes, but I feel like I've learned a lot about acting through improv," says Second City Conservatory student Punam Patel. "When you're improvising, you go with your natural instinct of what to do in a situation.... Making up a story about someone on the spot helps me get into a character."
It's this type of connectivity that, in an improv situation, is forced beyond the actor.
"Improv acting is not just saying the lines, but connecting with the other actor," says Besser. "You can do a whole scene in acting without ever checking in to what the other guy is saying—it's not going to come off great, but you can get through the scene—whereas in improv, that's gonna be impossible. [It] really teaches you how to listen, react, and be in the moment with the other person."
For actors, there's a lot more to be learned from employing "Yes, and," the main principle of long-form improv encouraging players to expand on ideas.
"Whether or not you think there's a comedic path for you, or if you prefer to study Shakespeare or plan to tour, there's so much to be gained by improv training. The sense of communication, listening, building on ideas, and partnering—those things serve you as actors, no matter where you're working," says Heather de Michele, managing director of the Los Angeles–based Groundlings Theatre & School, celebrating its 40th anniversary this year. "People want to see improv in auditions more than ever. They want to see how you can jump off the script and continue as your characters without the guide."
But more than catering to industry desires and ensuring your ability to add dimensions to your performance, stepping behind the microphone is an exposure opportunity. Casting director and Backstage Expert Cathy Reinking has said she visits comedy clubs for new talent—hubs like Laughs Comedy Spot just outside of Seattle, for example, that can prove comedic treasure troves.
Laughs owner Dave Dennison constantly opens his doors and his stage to new talent. Dennison—who's been in the business for over 20 years—realized the necessity of watching other comedy styles and performances, and in addition to hiring comics, lets them watch shows for free. "It's important for them to see people who they dream they can be," he says. To up-and-comers, he advises they "talk to the local headliners, ask for constructive criticism"—which can sound scary, but the possibility of harsh criticism shouldn't be a deterrent for new comics or improv players; it's there that humor is found.
"Let things in your life influence your comedy," says Patel. "Take some of the saddest moments and try and find something funny about that, and it might be the most brilliant scene you ever write.... Don't worry about whether it's always getting the most laughs. As long as what you're doing is bringing you joy, you'll find success."