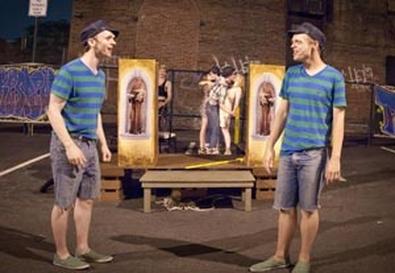 Apparently, streetlamps and asphalt are all it takes to make Shakespeare look good. The tradition of performing Shakespeare in a downtown parking lot comes to life for the 20th season in this casual and fun production of "Comedy of Errors." The show is undeniably a bit edited and updated, and the acoustics aren't always great due to the setting. Nevertheless, director Kathy Curtiss' New York–set production is certain to please audiences.
Curtiss transports this tale of mistaken identities and rivalry to New York's Little Italy, and the quibbling houses become competitive restaurant families in the Italian neighborhood. The houses of Syracuse and Ephesus change to the Scavetta and Alegretti families. The play centers on two sets of twins, who were separated at a young age, and their respective servants, who are also twins. Needless to say there's a lot of confusion, and Curtiss brings strong attention to the Bard's wordplay with hand gestures to make sure the audience gets all of the sexual innuendo. The scenes take place in New York locations such as the Chelsea Hotel, the St. Marks Hotel, and that cheap-shots haven, the Continental (five shots for $10).
The highlight of this production is the impeccable casting of the actors who play both sets of twins. I literally couldn't keep track of who was who with Jack Herholdt and Shane Mitchell as Dromio of Scavetta and Dromio of Alegretti. (My companion even leaned over at one point to ask if they were really twins.) As the twin servants, Mitchell and Herholdt sport matching striped shirts, and although they rarely share the stage, they share a tweedle dee and tweedle dum sensibility that wins many laughs. As Antipholus of Scavetta and Antipholus of Alegretti, Garrett Burreson and Thomas Machell look less alike than Mitchell and Herholdt, though their resemblance is also somewhat uncanny. Burreson is the glue that holds the show together, and his performance definitely stands out among a generally strong ensemble. As the sisters, Adriana and Luciana, Nina Burns and Lauren Hayden fill their roles well, but their parts feel secondary and don't stand out beside their male counterparts.
Jennifer Varbalow's minimal set pieces—a few wooden benches and chairs—function well for each scene, and strategically placed fluorescent lights illuminate the actors during the period before the street lamps turn on, giving the production a raw appeal. Lisa Renee Jordan's costumes are suitably downtown trendy.
With a parking-lot setting comes all sorts of unplanned-for disturbances: sirens, people walking through, immature teenagers mocking the actors, and downtown youth flocking to the local bars and clubs. However, cars and thieves might be the biggest concern. "While you're watching the show, someone else might be watching your bag," warns a pre-show announcement. While taxis and other vehicles are constantly pulling in and out of the lot, the show also uses a car that drives a tad too close to the audience. Make sure you keep your hands and feet to yourself at all times.
Presented by the Drilling Company at the Municipal Parking Lot, corner of Ludlow and Broome streets, NYC. July 9–23. Thu.–Sat., 8 p.m. (212) 873-9050 or www.shakespeareintheparkinglot.com.