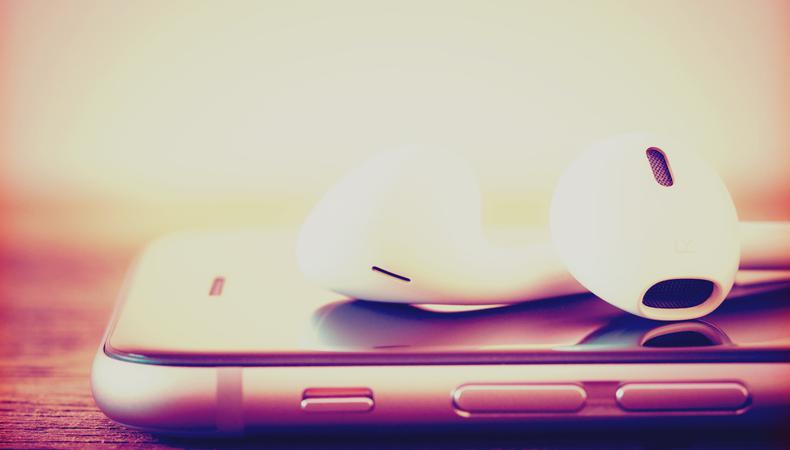 Aspiring comedians and improvisers, take note! This podcast playlist will have you both laughing and learning about the ins and outs of funny.
"WTF With Marc Maron"
Somehow a longtime standup comedian and actor has become one of the best interviewers in the podcast biz. Even President Obama would agree! Maron's easy affinity with his guests makes them—and him—come off as charming and fascinating conversationalists; listeners can learn a lot about comedy from the way he casually gets people to be vulnerable and just chat about their lives, man.
"Comedy Bang! Bang!"
Since 2009, Scott Aukerman has been riding the airwaves with his whiz-bang blend of improv games, comedic songs, and guests, many of whom bring bizarre celebrity impersonations to the show. The list of these visitors is a veritable who's-who of comedy, both mainstream (Sarah Silverman! Aziz Ansari!) and lesser known (Tim Heidecker! James Adomian!).
"My Brother, My Brother and Me"
The Maximum Fun network (a must-listen for comedy aficionados) produces this weekly advice show hosted by Justin, Travis, and Griffin McElroy. The brothers take turns answering submitted queries or questions from Yahoo! Answers, and their subsequent discussions have to be heard to be believed. Bonus: Superfan Lin-Manuel Miranda snuck two references to the podcast into his hit musical "Hamilton."
"Superego"
Founded in 2006 by Matt Gourley and Jeremy Carter, the "Superego Clinic for Analytical Pscience™" may be fictional, but it's also somewhat of a comedy institution. The two "doctors," joined by the equally hilarious Mark McConville and Paul F. Tompkins, present case studies of disorders, embellishing each investigation with their distinct brand of absurdist improv.
"Lady to Lady"
Take "The View" and add a dash of self-deprecation, danger, and outright hilarity. Hailing from Los Angeles' Upright Citizens Brigade, Barbara Gray, Brandie Posey, and Tess Barker invite a fourth woman every week (Rachel Bloom was a recent guest) to talk pop culture, personal stories, and any tangent they wish to pursue. There's even the odd spontaneous theme song.
"With Special Guest Lauren Lapkus"
Lapkus, a TV actor and frequent visitor to other comedians' podcasts, turns the interview structure on its head on her own show: She's always the guest, never the host. Various comedy greats determine each episode's subject matter, as well as what character Lapkus will be playing. The results are a delightful showcase for her improvisational prowess.
"Sparkle & Circulate with Justin Sayre"
Writer-comedian-cabaret artist Justin Sayre has a rabid fan base in certain circles of New York City nightlife, and rightly so. There's no one who can quite capture his brand of incisive, fabulous, and utterly hysterical sense of humor. This podcast, an extension of his live show "The Meeting* of the International Order of Sodomites," is required listening for LGBT and non-LGBT comedians alike.
"The Best Show with Tom Scharpling"
Dubbed "three hours of mirth, music, and mayhem," Scharpling's hodgepodge of a podcast (and radio program from New Jersey's WFMU) features call-ins, guest comedians, and a general air of revelry. Podcast regulars including Patton Oswalt and Julie Klausner stop by, often providing random voices or personae. Take note: Scharpling has a massive following.
"Spontaneanation with Paul F. Tompkins"
Each week begins with a spontaneous riff from the comedic genius from "BoJack Horseman," followed by an interview with a guest, then an improvised scene between the two that uses elements from their exchange. In addition, each episode launches that week's subject by posing a question asked by the previous week's guest. For the aspiring improv artist, this is pure gold.
"2 Dope Queens"
If you're worried comedy is a white dude's game, fear not. Jessica Williams and Phoebe Robinson's podcast has taken the Internet by storm since its recent premiere on WNYC. Based on the two friends' live show, the podcast needs only their timely and insightful banter—on everything from dating in NYC to the feminism of "Magic Mike XXL"—to succeed.
Want a career in comedy? Learn how to refine your comic persona!