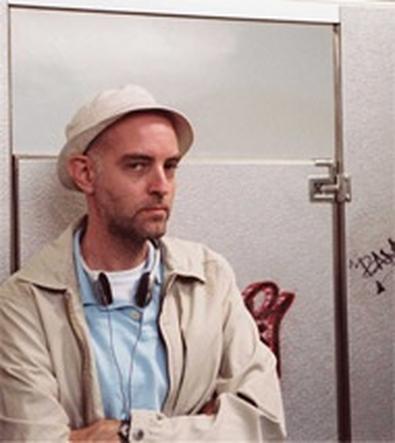 Comic book creator and screenwriter Daniel Clowes doesn't harbor any big dreams of becoming a hotshot movie producer. And yet here he is with his first co-producer credit on the film Art School Confidential, which he wrote based on his short comics story of the same name.
"Now that I've done it, I don't get what I got out of getting that credit," says Clowes, laughing. "Like, I thought, 'I'm sure I don't get paid any more, because there's no money at all left for anything.' And I don't want to ever produce a film. I guess if I ever want to impress somebody at a party, I could say, 'Oh, I'm a Hollywood producer.'"
Clowes could just as easily impress with the other credits on his résumé. His groundbreaking comics work, which includes the graphic novels Ghost World, David Boring, and Ice Haven and the anthology series Eightball, has earned him a fiercely loyal following and multiple Harvey and Eisner awards. He also co-wrote the screenplay for the movie adaptation for Ghost World, which garnered an Oscar nomination and an Independent Spirit Award.
Clowes' characters, such as Ghost World's acerbic, verbose Enid Coleslaw (as many have noted, the name is an anagram for "Daniel Clowes"), are often described as outsiders, misanthropes, and malcontents; it bears mentioning that they are also wonderfully real, tinged equally with melancholy and humor. "They're just all me--all versions of me," says Clowes. "I mean, I don't intend to do that; I always intend to just create characters, and then as I'm writing, the only way I know how to do it is to think, 'Well, what would I do if I was this character in this situation?' So it's obviously all filtered through me, and they all have these qualities that I'm not even really aware of in myself."
Clowes' latest protagonist is Jerome (newcomer Max Minghella, son of filmmaker Anthony Minghella), the sensitive, soulful central figure in Art School Confidential, which opens May 5 in Los Angeles and New York and expands to other cities May 12. The film follows Jerome's first year at art school, as he encounters oddball classmates and pretentious professors (one played by John Malkovich, who also served as a producer) and becomes fixated on worldly artist model Audrey (Sophia Myles). Much of the film, which also features a subplot about a serial killer, was inspired by experiences Clowes had while attending Pratt Institute in the late 1970s. "[It] was, like, the high point of the crime rate in New York," he says. "[Someone] was saying it was the death wish era of New York... To be taken out of high school and sort of dropped into the middle of Brooklyn in that world was very scary but also very exciting and had all this craziness going on."
Just Can't Leave It
Clowes entered the world of screenwriting after meeting Terry Zwigoff, who directed and co-wrote the screenplay for Ghost World and also helmed Art School Confidential. "Terry sort of just invited himself over to my house one day, and he wasn't necessarily fixated on Ghost World," remembers Clowes. "He thought I had a similar tone in my writing to the kind of thing he'd want to write. But he also thought there was something somewhat commercial about my writing or that it had a certain something that an audience might respond to, I think--maybe just because it's comics and he just thought, 'That's got a pop culture aspect to it' or something."
Ultimately the duo gravitated toward Ghost World, which focuses on two disillusioned teenage girls and their changing relationship. The resulting film, starring Thora Birch and Scarlett Johansson, perfectly preserved Clowes' voice and tone-not bad, considering that Clowes initially assumed the film wouldn't ever get made. "I remember hearing some statistic, like, out of every project that gets developed, one out of 100 gets made or something," he remembers. "So I went into it thinking, 'Okay, I'm just going to see how much money I can get to write a script--[I'll] do the quickest transcription I can do of my comic. Like, I'll just describe what's in the panel and that'll be the narration part, and then I'll just transcribe the dialogue and turn it in and cash the check, and it will just be this thing that's thrown out into the ether.'"
Naturally, that's not what ended up happening. After two weeks, Clowes was bored. He started getting new ideas and ended up obsessing over his script. "Of course, I spent so much more time on that script than what I got paid--it was insane," he says, chuckling. "I probably made minimum wage. And so as I got more and more obsessive about it, I threw out all the stuff I had written and I started over from scratch three or four times."
Once the project started filming, Clowes intended on hanging around through preproduction--then, somehow, he just couldn't leave. "Terry was, like, 'I don't quite get how Enid's room would look' and stuff like that..." remembers Clowes. "And then...[he] kept saying, 'You gotta stay; I don't know how to do this thing tomorrow.' And Terry really needs somebody to talk to, so I wound up staying for all of Ghost World and doing all these arcane little detail things that the director just doesn't have time to do."
Casting John Malkovich
Clowes has also been very involved in the casting of his films, working closely with Zwigoff and casting director Cassandra Kulukundis. Casting the part of Art School Confidential's Jerome was a particularly difficult assignment. "You always hear those stories of, like, 'We looked at every actor in Hollywood,'" he says. "And on Ghost World, I don't think we looked at more than 10 people for any part, and we had everybody kind of in [mind], like, 'It's gotta be Steve Buscemi.' But with this Jerome character, we literally did look at every single male actor under 22 in the world that I know of."
Zwigoff and Clowes were having such trouble finding their leading man that they were nearly ready to scrap the film altogether. Then someone who had seen rushes of Max Minghella's first film, Bee Season, suggested the young actor. "Terry and I had met so many people, we were just, like, 'Okay, we'll give it a try.' We almost didn't even go to the meeting," remembers Clowes. "And then he sort of just walked in the room, and we're, like, 'He's got the right vibe that none of them have.' There was a certain innocence about him. And he was such a smart kid and such a good, natural actor. He's a very raw actor... Sometimes he'd be totally confused, and then other times it was, like, 'Wow, how did know how to do that?' But you know, he's grown up on movie sets his whole life, so he knows that world."
Luckily, the filmmakers didn't have trouble finding an actor to play Jerome's brilliant, self-absorbed art teacher, Professor Sandiford; the role was written with Malkovich in mind. "When we were working on Ghost World, he had just read the script and he said, 'I don't see anything for me in this film, but if you guys make another film, I'd love to do something,'" says Clowes. "So he's actually the only actor I've ever written a part for. I didn't have to go, 'What character could possibly be John Malkovich?' I knew there was going to be this art teacher character, and really, there's no actor who would have been better to play it."
Having successfully adapted two of his comics tales for the screen, Clowes is moving on to an original screenplay, based on the true story of three young boys who set out to film a shot-for-shot remake of Raiders of the Lost Ark in the early 1980s. He doesn't plan to give up on writing and drawing comics, which he refers to as "kind of my real job"; after all, it's what he's wanted to do since childhood. "It's like a kid who wants to be a fireman when he grows up and becomes a fireman: It seems like it's really emotionally unhealthy on some level," he muses. "Perhaps I should have developed more responsible goals."
We're sincerely glad he didn't.