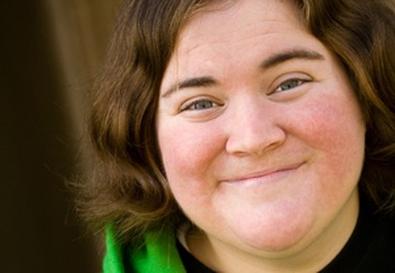 Since moving from her hometown, a ski resort in Colorado, to sunny Los Angeles, Betsy Sodaro has been a fixture in the L.A. comedy scene. She's been performing sketch and improv for about six years, most often at the UCB Theatre with her Harold house team "Bangerang!."

This fall, she'll reach a much wider audience as an animal handler named Angela on "Animal Practice," NBC's new comedy series starring Justin Kirk as an ornery veterinarian. Sodaro was originally cast as a guest star in the pilot, but was promoted to her first series regular role after the series was picked up in May.

"I have been really influenced by Chris Farley," Sodaro says of her comedic roots. "He is such a lovable person in everything you see him in. You are immediately on his side and his commitment is incredible. I also love physical comedy. I would like to say I perform like that. I try to, anyway."

Read our Back Stage Q&A with Betsy Sodaro:

What made you want to turn comedy into a career?
Betsy Sodaro: I grew up doing theater. My dad is a children's theater playwright, so I grew up doing his shows all the time. My family used to do melodramas during the summer at Fort Laramie in Wyoming. I was three, and I was not in the play – I was just watching from the side. My mom was screaming at a fake spider, all part of the play, and I just walked out on stage with a rock and smashed the spider. People started laughing and cheering while I started bawling and running off stage. I guess that is when I began to love performing.

Over time, I just realized I could make people laugh and I thought, I'm going to try and do this for a living!

How did you get cast in "Animal Practice?"
Sodaro: I had a ball auditioning for "Animal Practice." The room was so awesome and welcoming, there was not an ounce of nerve in me when I entered the room. It went really well and then like a week and a half later I found out they wanted to cast me. I was also so excited because the role of Angela is super fun! It is pretty similar to what I am like in real life (minus the history of drugs) but she just does her own thing and doesn't really care what people think. But she also is more than happy to drink a beer and hear people's problems.

How much do you think your sketch and improv experience has impacted your acting career?
Sodaro: Sketch and improv have helped so much. I feel like I can do anything and handle any situation thrown at me. I know how to listen and just be in the moment, which is huge in acting. It has helped me make big choices and learn how to memorize comedic beats. Also, I have no fear of failing or trying something different. They have given me a lot of confidence.

[Sketch and improv] definitely helped me in my "Animal Practice" audition. After we ran it once, the people in the room told me to do what I wanted and I got to improvise. I had a super fun time in that audition and it is because I now have confidence from my time doing improv and sketch.

What would you consider your "big break" so far?
Sodaro: Being cast in "Animal Practice" is gigantic, the biggest thing for me. I will say, though, just getting involved with UCB and getting on a Harold team is where a lot started happening for me. I got cast in ["This Show Will Get You High"] a show that Matt Besser created for Comedy Central, and through that I got a manager and learned so much about how everything works, comedy-wise and industry-wise. That was a big, amazing moment that has changed my life in comedy, and in real life.



What's been your best day job?
Sodaro: For three years I worked for a company called Beachwood Services, which is associated with Sony. We would store and rent out sets, props, etc. It was a great job. Everyone there was so supportive of my comedic goals and they would let me leave for auditions and everything. I also learned a ton about the behind-the-camera part of the industry. I was very fortunate to work there.

Can you describe your best and worst onstage experiences?
Sodaro: I have had so many amazingly fun shows it is super hard to pick just one. I also have had a ton of bad shows where there is one person in the audience, or in weird venues where the audience is just talking and not watching the show and I keep bombing every time I open my mouth. I am so lucky because I get to do it all the time and if I have a bad show, I get to just do it again the next night!

What are your other goals for your career?
Sodaro: I honestly just want to be able to keep doing comedy for a living, whether through TV, film, writing, or improv. As long as I can do comedy, I am happy!

Follow @BirdySoderdy on Twitter.

Read more about Sodaro and the rest of Back Stage's "10 Comics to Watch" in 2012.