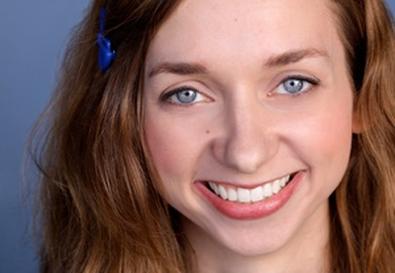 Back Stage was first introduced to Lauren Lapkus a few years ago, when she was in New York performing as one half of the Chicago-based sketch comedy duo The Money Kids. Since then, the Evanston, Ill., native has moved to Los Angeles and booked an episode of the ABC sitcom "The Middle," a sketch on "Jimmy Kimmel Live!," and the supporting role of Dee Dee on Chelsea Handler's NBC comedy series "Are You There, Chelsea?" She was even featured in a recent Snickers commercial, opposite Joe Pesci.

Lapkus can now be seen regularly at the UCB Theatre in L.A., where she performs improv with house teams "Bangarang!" and "ASSSSCAT." She'll next be seen in "The To Do List," a feature film that also features comedic talents like Andy Samberg, Aubrey Plaza, Bill Hader, Donald Glover, and more; and "You Are Here," the first film from "Mad Men" creator Matthew Weiner, which stars Zach Galifianakis, Owen Wilson, and Amy Poehler.

Read our Back Stage Q&A with Lauren Lapkus:

How did you get started in comedy, and what made you want to turn it into a career?
Lauren Lapkus: I did a number of local children's theater plays growing up, but in 5th grade I had some good times on stage making people laugh as a troll in "The Hobbit." That solidified my dream to be on "Saturday Night Live," which was hugely influential for me growing up. I adored Chris Farley, Phil Hartman, and Adam Sandler and I wanted to be that funny.

I started training at iO Chicago when I was a senior in high school after one of my teachers suggested I try improv. I was always funny, and growing up I was only cast in the comedies at school, even though I auditioned for pretty much everything. Everyone in my improv class was 24 or 25, and I remember thinking they were so old! I only missed one class that year; I had to go to prom.

Improv changed my life in the best way. I gained so much confidence and really learned how to use my sense of humor to do something other than make sarcastic comments to the TV, though that remains one of my best skills. I stayed in Chicago for college mainly to continue doing improv, which was an awesome decision for me. Those years were invaluable.

I spent my college years at DePaul and performed regularly at iO and a handful of other theaters. I moved to New York after graduating in 2008. I originally planned to move to L.A., but I had always wanted to live in NYC and it seemed like a good idea to go there for a short time before landing in L.A. more permanently in 2010.

Everything I did before moving to L.A. really prepared me to hit the ground running when I got here. I spent my years in Chicago just working toward being a great performer. I didn't have an agent, so I was really focused on doing good shows and having fun. In NYC, I freelanced with a commercial agent so I went out on auditions from time to time, but my focus there ended up being learning how to live in a new city, make friends, and find performance opportunities on my own. I joined a theater company called the Story Pirates and took classes at UCB, both of which gave me a strong community of amazing people who made that short time really valuable. Once I got to L.A., I was able to continue with Story Pirates, who created a West Coast branch around that same time, and I auditioned at iO West and UCB and was placed on improv teams at both theaters. I was so happy to have a community in L.A. right away, which wouldn't have been as easy if I hadn't put in the work in other cities.

What have been some of your best and worst onstage experiences?
Lapkus: I've definitely been a part of some stinkers when it comes to improv shows, but that's part of what makes the great shows so great. Every so often you have to do a show that makes you walk to your car with your head down, wondering what you're doing with your life. It's good for you, as long as you're not feeling that way every night.

Some of my favorite onstage experiences have been in little black box theaters in L.A., being silly with my indie improv team, Typhoon. We just have the best time together and we love to make each other laugh.

What would you consider your "big break" so far?
Lapkus: "Are You There, Chelsea?" was huge for me, but I think my actual break was a sketch I did with Ryan Reynolds on "Jimmy Kimmel Live," where I played an intern at Jimmy Kimmel who happened to be Ryan's biggest fan. It was pretty much the first gig I booked in L.A. I bounded down the Hollywood Walk of Fame like a less-graceful Mary Tyler Moore when I found out I got the part. We got to improvise the scene, which was a blast. That sketch helped me get my face out there and was a good representation of what I could do. It was my first network TV appearance. That was an amazing opportunity for me at that point.



Can you tell us about your auditions for "Are You There, Chelsea?" and "You Are Here"?
Lapkus: The audition process for "Are You There, Chelsea?" was overwhelming and exciting. It was my first pilot season, and one of the first pilots I auditioned for. I had never tested for a show, and that's a nerve-wracking operation. For that show it all took place over the course of a week. I was so nervous on the day of my network test that I thought I was going to pass out. I ended up being cast as Dee Dee, the naive 26-year-old virgin with a heart of gold. Being on that show was an incredible experience. When I was growing up, I watched every sitcom imaginable. Getting to be the "weird roommate" on a sitcom was a dream come true.

Auditioning for "You Are Here" was much less stressful. I went in once and auditioned for [writer-director] Matt Weiner and two casting directors. About a month and a half later I was told I got the part. I play Delia, a meteorologist. We shot in North Carolina earlier this summer and I loved every moment of it.

How do you describe your writing and performance style?
Lapkus: I love creating characters that are ridiculous and flawed. To me, the most important thing about comedy is the joy it can bring to the performers and the audience alike. I love making people laugh and not over-thinking things. Some of my favorite moments are when I am doing an improv scene with friends and I can't stop laughing during it. Not quite professional behavior, but if everyone in the room is laughing, it makes it a little more acceptable.

What else do you want Back Stage readers to know about you?
Lapkus: I love the mall, and I love Howard Stern and Oprah. I live for watching TV and partying with my book club.

Follow @laurenlapkus on Twitter.

Read more about Lapkus and the rest of Back Stage's "10 Comics to Watch" in 2012.