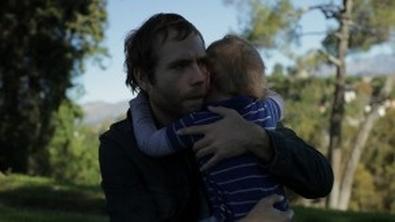 Mark Webber is one of Those Guys that you saw in That One Movie, seeming to pop up in indie films just long enough to deliver a memorable performance but never really getting the chance to be the star. That may change with "The End of Love," a brutal, heartbreaking film that Webber wrote, directed, and stars in opposite his own son, about a single father struggling to make it as an actor and failing in almost every conceivable way. We spoke to Webber about the indie world, the importance of vulnerability on the screen, and whether or not firearms are part of a typical Hollywood night out.
You had a big year last year, with roles in "For a Good Time, Call…" and "Save the Date." What was the impetus behind writing, directing, and starring in your own indie?
Mark Webber: I love filmmaking in all ways, and it's been incredibly rewarding for me to provide myself and other actors the opportunity to do things in a way they hadn't before. And writing, for me, is a very therapeutic process and very exploratory about themes and stuff I've experienced in my life and coincided with me wanting to make another film as a director.
You went to some dark places as your character here.
Webber: I was ready for that. I love vulnerability in film and to have the core of this film be incredibly vulnerable was such a relief to me. Let me make a movie that is undeniably authentic that people will relate to. When I meet people at a party and they're just totally themselves, it gives me permission to be myself and I'm like, "Thanks, that's a relief!" And the movie is one big version of that in a way. Even in big popcorn flicks, it's those moments that seem real, like a real thing I would do. And then you connect with that character.
You got some great actors to cameo! Amanda Seyfried, Michael Cera, Aubrey Plaza. Did you have to twist their arms?
Webber: It wasn't pulling teeth! Michael was like totally, that sounds cool. And Amanda was like, "I'll do anything for you!" I've really found my voice as a filmmaker with this film, and it's nice to feel like my peers admire that and respect that and are willing to go on that journey with me.
That's one thing that really stands out about the indie scene these days—it feels like a really great team effort.
Webber: It's such a reassuring feeling. I think there's a definitely a sense of community happening. There are definitely people who just want to be cool and alienate people and do their own thing. But there's also a whole separate world where it's like, "I love that movie, and you're doing this, and I want to do that with you!" It just makes the medium better and it makes the films better and for me it makes life better. I like feeling like part of a community.
So do people really pull guns out at Hollywood parties, like Michael Cera does in "The End of Love"?
Webber: [Laughs] No one knew that was going to happen. That day I had an additional camera operator, a woman who hadn't been working on the film, and five minutes into that bit she was inching away further and further and finally put down the camera. And she was like, "I'm sorry is that a real gun?" And it's not a traditional film in any sense where if you have a firearm on set you show that it's empty. So we all had a sobering moment. But the Hollywood parties I'm accustomed to going to are a slight version of that, where we sit around and play some board game. But I've never been to one where Michael Cera pulls out a gun!
What's next for you?
Webber: I acted in a bunch of films this past year including one I'm excited about called "Angry Little God," which is my first lead in a studio film since "Snow Day." It's my first action thriller, but still very character driven. I really lucked out; I got to be part of a bigger movie but it was still made in the way that I make all these indies. And right now I'm putting the finishing touches on a script I wrote with Teresa Palmer, "The Fun in Forever." She's producing with me and I'm directing and we're both starring as a married couple dealing with a tragedy in our relationship. We're setting out to create a love story that you haven't seen before.
You really go for the dark stuff!
Webber:I guess because I have gone through a lot of darkness and I've become such a light-hearted, fun-loving person because of it. I like tales of adversity and coming through pain, and this next film is very much a hopeful piece. It is dark and tough but it's inspiring because ultimately you can overcome these things and become a better person for that.