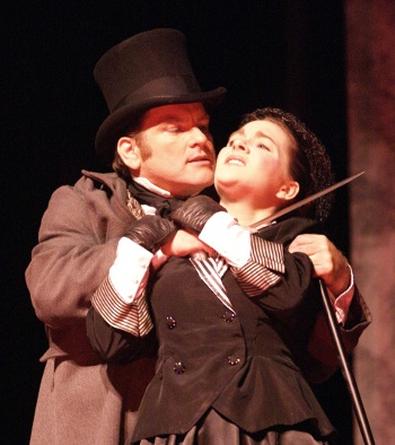 Community theater, that wonder of nationwide, volunteer-run artistry, remains as popular as it is miraculous. If you're a working actor, chances are your dream of theatrical stardom was born on a community theater stage. Unlike the high stakes and cutthroat competition that may dominate professional acting, the amateur theater world brings communities together, inspires local audiences, and launches the careers of emerging thespians. Keeping this magic alive is the American Association of Community Theatre, a substantial resource for community theaters and the starry-eyed enthusiasts who run them.
AACT's mission is to foster the development of and dedication to the highest quality of American amateur theater. Of the 8,000 or so community theaters in the U.S., those with AACT memberships have access to a wealth of online resources, a bimonthly newsletter with how-to advice, and discounts with Musical Theatre International and ASCAP. Most important in such a collaboration-based art form, AACT members have access to other AACT members. "Our mission statement is to encourage," says David Cockerell, AACT head of marketing and communications. "We're really trying to encourage quality and that excellence in production in community theaters. And networking is an important step to get there."
Perhaps the most effective networking resource is the system by which burgeoning community theaters can contact those with more experience in the industry. "We call them our resource roster," says Darlene DeLorenzo, who works with advertising and local vendor services at AACT events. "They're just AACT members who want to volunteer their time and talent to assist other people in the theatrical field." Actors, directors, and facility managers alike can call or email these experts at any time for the kind of insights that keep isolated or struggling community theaters alive. "They offer advice on everything from accounting to acting to advocacy to directing, you name it!" says DeLorenzo.
The national AACTFest, which occurs every other summer, is the culmination of a nationwide competition that is nothing short of epic. In state festivals throughout the year, community theaters submit portions of their productions for appointed adjudicators to review and provide feedback. Those who win proceed to regional festivals, and those winners compete on a national level in what DeLorenzo calls "the Olympics of community theater."
Executive Director Julie Crawford sees the national festival—which also features several workshops for actors, designers, and directors—as an educational event. "Part of education is being able to be inspired to do better," she says. When small-town community theaters go to a festival, "they see another theater doing work that inspires them to go back and learn more, to do better in their home theater."
Just as the national festival is designed to encourage theatrical excellence, the AACTWorldFest raises the bar by bringing together an even wider group of thespians: representatives from over a dozen countries as far-flung as Australia and Bangladesh. This summer's AACTWorldFest just concluded in Venice, Fla., a celebration of some of the best amateur theater the international community has to offer. "It's a great boost of creativity for everyone who goes there to be able to see different performances from around the world," says Cockerell. "That's really what theater is: a place to be inspired artistically."
Most of AACT's work comes down to fostering and defending the inimitable spirit of a medium fueled simply by a commitment to coming together and telling a story. Community theater, after all, runs on joy. Crawford says it best: "Theater people are some of the most open-minded people you can find...It doesn't really matter that one of them is an owner of a business and another one works on an assembly line or is a student or is a dentist or whatever they are; they come together to do a show and become friends. Many community theaters are like family; people can feel at home there."
Inspired by this post? Check out our theater audition listings!