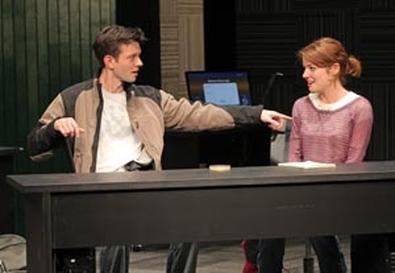 There's a lot of complicated "science stuff" in Itamar Moses' "Completeness," now at Playwrights Horizons, but you don't need an advanced degree to fully enjoy this witty, endearing love story involving two grad students.

Moses' clever plot concerns computer programmer Elliot, who creates an algorithm to predict the behavior of molecules in order to impress and seduce biologist Molly. The two get together, exchanging kisses and logic problems. But just like the microscopic creatures in Molly's experiment, they exhibit repetitive patterns. Elliot always feels suffocated as soon as he establishes intimacy with a lover, while Molly tends to run away from her beaus not long after she has bedded them. "We'll have to keep an eye on that," Molly quips when she learns of Elliot's history. Both have just abruptly ended affairs—Molly with her faculty adviser Don and Elliot with fellow student Lauren. Will Elliot and Molly be able to break this destructive cycle or will they fulfill their algorithm of heartbreak?

That's the question Moses poses, and it's a perfectly valid premise on which to build a modern romantic comedy. The theories and projects the characters discuss are complex, but they are debated with such enthusiasm and passion that their intricacies and implications are clear. Moses wisely doesn't let the thick technical jargon overwhelm the human story, and he garners major laughs with the matter-of-fact manner the scientists employ while mixing business with pleasure. The playwright's only slip is a fairly obvious theatrical ploy involving a supposed technical problem with the elaborate lighting and video, created by Russell H. Champa and Rocco DiSanti, respectively, which parallels the dysfunction in Molly and Elliot's relationship. It's a cheap trick forced into an otherwise well-structured script.

A smart, funny cast and insightful director Pam MacKinnon vivify these high-I.Q. individuals who live too much in their heads. Karl Miller is endearing and adorable as the socially inept Elliot. The actor even manages to make the character's shabby treatment of Lauren understandable if not admirable. Aubrey Dollar is like a brainy Audrey Hepburn as the quixotic Molly—charming, flirty, appealing, and just a bit neurotic all at once. Meredith Forlenza and Brian Avers triple up as past and future loves of the main couple, distinctly differentiating their multiple roles.

In addition to the impressive light and projection design, David Zinn's fluid set re-creates an anonymous college campus environment and the attempts by students to make it homey.

Presented by and at Playwrights Horizons, 416 W. 42nd St., NYC. Sept. 13–25. Tue., 7 p.m.; Wed.–Fri., 8 p.m.; Sat., 2:30 and 8 p.m.; Sun., 2:30 and 7:30 p.m. (212) 279-4200 or www.ticketcentral.com. Casting by Alaine Aldaffer.