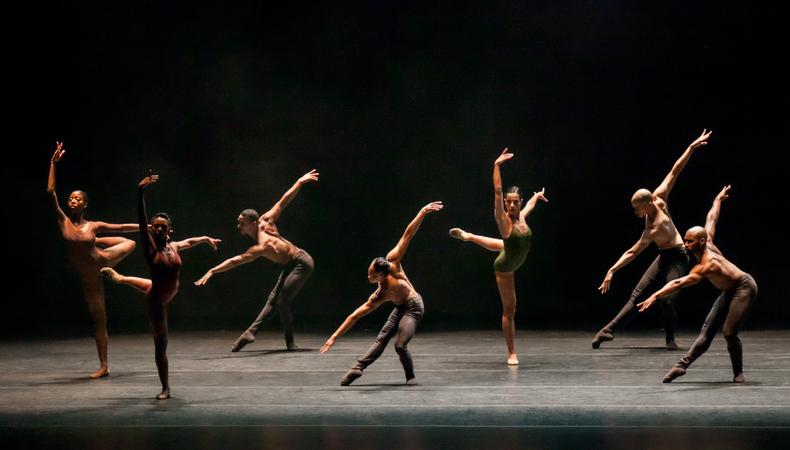 When is Complexions Contemporary Ballet going to wake up to the fact that it needs to reach out to different choreographers? It's a gorgeous troupe of dynamic dancers possessed of dazzling strength, androgynous elegance, funky style, and first-rate contemporary ballet technique. These dancers can do anything. Yet the company exists on an almost steady diet of choreography created by its co–artistic director Dwight Rhoden, who founded the company in 1994 with the illustrious ballet, Broadway, and modern-dance star Desmond Richardson, a 1999 Tony Award nominee for "Fosse." Rhoden is an uninspired dance maker. His choreography is unbearably repetitious, grossly overusing silly splits and super-high leg extensions. It features little in the way of intricate footwork or movement invention, shows only rudimentary spatial crafting, and knows no movement quality other than sharp. The works feel forced, frenetic, and empty of affect, save for the emotions pasted onto the meaningless movements by the stunning performers.
In celebration of its 18th anniversary this year, the company's two-week season at the Joyce Theater included a gala evening comprising energetic performances of three, and excerpts from three other, Rhoden pieces, dating from 2004 to 2012. The excerpts from "Testament" (2011) were performed with great zest by company members Natalia Alonso and Tercell Waters and 11 young guest dancers from New Orleans, products of an educational-outreach partnership between Complexions and the New Orleans Ballet Association. The finest of the program's look-alike Rhoden works was "Pretty Gritty Suite" (2004), driven by an exciting score of Nina Simone songs that elicited from the choreographer a welcome exploration of some new movement vocabulary, mostly of the foot-stomping, down-home country variety.
However, the evening's choreographic bright spot was the world premiere of "Memories," the only non-Rhoden dance on the program. A snazzy duet for two men created by Camille A. Brown and brilliantly performed by Mark Caserta and D. Gary W. Jeter II, the piece is danced to live improvised guitar music by Nick Demopoulos (based on songs by McCoy Tyner and Cyndi Lauper). With its hip-hop-influenced vocabulary, Brown's choreography blends street gestures with rhythmic footwork and expressive torso actions. Seasoned with lots of attitude and a smooth kinetic quality, the mixture is eloquently urban, pulsating with confident, slick, up-to-the-minute energy.
The evening also included a short solo performance by the incomparable Richardson, whose magisterial presence on a program, even for just a few minutes, still dwarfs the work of everyone else, even accomplished dancers half his age.
Presented by Complexions Contemporary Ballet, in association with the Joyce Theater Foundation, at the Joyce Theater, 175 Eighth Ave., NYC. Nov. 13–25. (212) 242-0800 or www.joyce.org.
Critic's Score: B