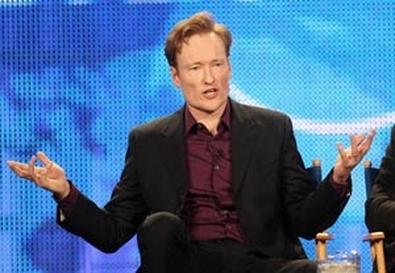 Conan O'Brien is a free agent.
Lawyers for the talk show host and NBC on early Thursday morning finalized a settlement sealing O'Brien's exit from "The Tonight Show."
The settlement is said to be worth between $45-$50 million, in line with the annual production cost of "The Tonight Show with Conan O'Brien." According to the Wall Street Journal, O'Brien is getting $32 million from NBC, with the network also agreeing to pay his staff $12 million in severance.
NBC also announced the return of Jay Leno as "Tonight" host. He'll start March 1.
"We're pleased that Jay is returning to host the franchise that he helmed brilliantly and successfully for many years," said Jeff Gaspin, chairman of NBC Uni TV. "He is an enormous talent, a consummate professional and one of the hardest-working performers on television."
"Late Night with Jimmy Fallon" will continue as part of NBC's lineup, airing as usual at 12:35 a.m.
Next week, NBC will air Conan O'Brien repeats in the slot.
Under the deal, O'Brien will be sidelined until Sept. 1, when can return to TV as the host of a show on another network.
As first reported by THR.com, NBC will retain the rights to characters that O'Brien created.
While in public statements News Corp. brass have been cautious about the prospect of launching a late-night show at 10 p.m., Fox remains very high on snatching O'Brien. It is expected to open more formal talks right away, with some speculating an announcement about an O'Brien-fronted show on Fox could come as early as next month.
The decision to scrap the low-rated "Jay Leno Show" at 10 p.m. and bring Leno back to NBC's late-night lineup was made by NBC Universal's entertainment chief Jeff Gaspin who led the negotiations with O'Brien's reps along with NBC Entertainment chairman Marc Graboff.
NBC has no plans to promote the end of "The Tonight Show with Conan O'Brien," whose last original will air Friday. The network will mount a big promotional push for the March 1 return of Leno to "Tonight" during the Winter Olympics.
The deal puts an end to weeks of speculation about O'Brien's "Tonight Show" departure. O'Brien held the job for only seven months -- after waiting five years to take the position while hosting NBC's "Late Night."
"This whole experience has been so surreal," O'Brien told his "Tonight" audience Wednesday night. "I never thought I'd be jealous of the long, illustrious run that NBC gave 'Joey.'"
– Nielsen Business Media