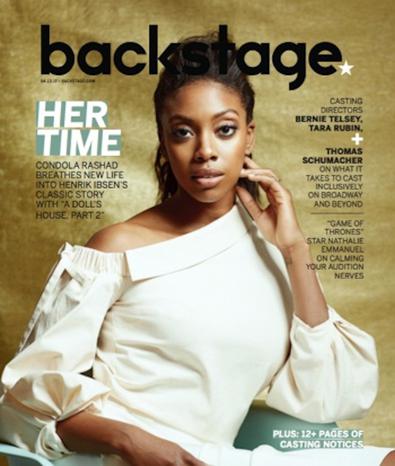 Condola Rashad doesn't exactly see eye-to-eye with Emmy, the daughter of Henrik Ibsen's feminist hero Nora Helmer. But reimagining Emmy, now grown and 15 years estranged from her mother in Lucas Hnath's unlikely sequel to Ibsen's 19th-century text, "A Doll's House, Part 2," has unveiled nuances of truth and perspective that are especially resonant in 2017—for both audience and actor.
While Rashad's more apt to side with Nora, an emboldened victim of patriarchy who famously left her husband and family in Ibsen's original "A Doll's House" and now returns to finalize her divorce in "Part 2," examining 18-year-old Emmy's conservatism alongside Nora's liberalism taught Rashad to not only find the heart of her character, but also humanized real-world figures with whom she disagrees.
"I myself am quite liberal, and I think, especially recently, with the circus that is our country, there are a lot of emotions flying, and rightfully so," Rashad says. "In this moment, as we try to figure out how to move forward, it's important to get into this human standpoint and try to not necessarily agree, but to realize and respect other human beings as we're [disagreeing] and to try to get into the mind of [one another]."
Sitting down to a late February lunch at District Social, a spacious lounge-pub hybrid in Manhattan's Garment District, Rashad is days away from beginning rehearsals for "A Doll's House, Part 2," but she's already quite familiar with Hnath's script after three workshops and a bone-deep personal excavation of Emmy's character. The 30-year-old actor describes Emmy as a girl on the cusp of womanhood, yet wise beyond her years. She's engaged to be wed and finds solace in her predestined role as wife and mother, particularly because of her experience without a maternal figure.
"When you meet Emmy, some might think that she's going to be a little Nora," Rashad says. "In a way, she is because she's very cunning, but in terms of her lifestyle and her point of morality, she's Nora on the opposite spectrum. Nora's free, she's liberated, and Emmy finds freedom and liberation in being conservative."
There's beauty in that dichotomy, Rashad says, because through it, audiences may make contact with their own double standards. "[Emmy] actually might want that for herself. And if that's what she wants, how can you say you respect all women if you don't respect the choices of all women? That's where [this play] put me."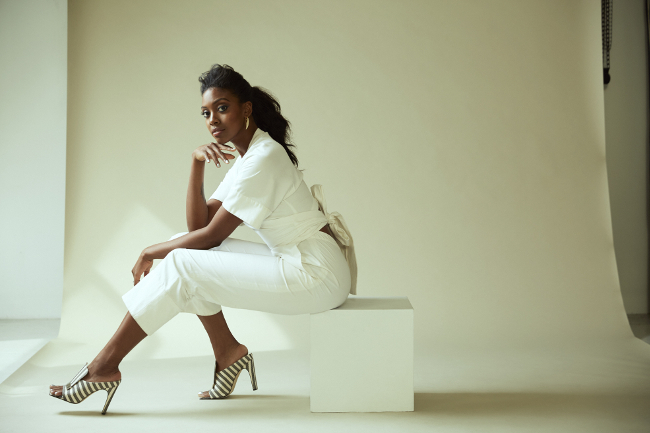 Reflecting on the production's takeaways, she continues, saying, "It's very important to connect with people who have similar ideas so that you can feel at home, but then it's also important to come out of that because you're never quite getting a full view. Be careful not to become a liberal bigot."
These lessons are not so on the nose in Hnath's script. But while Nora (played here by three-time Tony nominee Laurie Metcalf) is the audience's point of entry, when she faces her long-shut out skeletons in one-on-one confrontations with husband Torvald (Oscar winner Chris Cooper), longtime servant and nurse Anne Marie (Tony winner Jayne Houdyshell), and Emmy, there is no judgment toward others' colliding perspectives. Each character gets their voice heard, to the point where one may not know who to side with in the end. It was in part Rashad's ability to pick up on and reflect these moral gradations that booked her the job with Hnath and director Sam Gold ("Fun Home") in the first place. Based solely on a very early reading in producer Scott Rudin's office, Hnath says that she was the "obvious choice" to play Nora's youngest foil.
"One of the biggest challenges [of this role] is that the most obvious place to go to is 'I'm mad at mom!' [and] that kind of petulant angst," Hnath says. "In that first read, [Rashad] steered completely clear of that—of any less interesting perceived notions about what a daughter who doesn't know her mother would feel.... The slightest inflection, the slightest intonation conveys a great deal of meaning, and she's very good at choosing where to tip the scale a little bit. [She has] very smart instincts."
Rashad has made a career out of avoiding the obvious. "I'm a Sagittarius, and I often do the opposite of what everyone tells me," she jokes. For starters, when friends, family, mentors, and agents told her to move to Los Angeles after graduating from the California Institute of the Arts in 2008, she moved to New York City instead. Later that year, she was cast as a woman living in the war-torn Democratic Republic of Congo in Lynn Nottage's Pulitzer Prize–winning drama "Ruined." Her theater career has since earned her two Tony nominations for best featured actress in a play, for "Stick Fly" in 2012 and "The Trip to Bountiful" in 2013. Currently starring as Kate Sacker on Showtime's "Billions," "A Doll's House, Part 2" marks Rashad's return to Broadway after playing the Juliet to Orlando Bloom's Romeo in 2013.
"I felt like in New York I would be able to actually get in a room for theater," Rashad says of her postgrad plunge. "I think New York does a better job in taking chances on new faces. In L.A., it can be a little like, 'Well, where's your reel?' If they don't really know you, they don't often take that [chance]."
Rashad also felt the pull to New York because theater is in her blood. Daughter to stage and screen vet Phylicia Rashad (Clair Huxtable on "The Cosby Show" and the first black woman to win a Tony for best actress in a play in 2004), she grew up watching her mother at work and knew from a very early age the commitment that a life in acting demanded.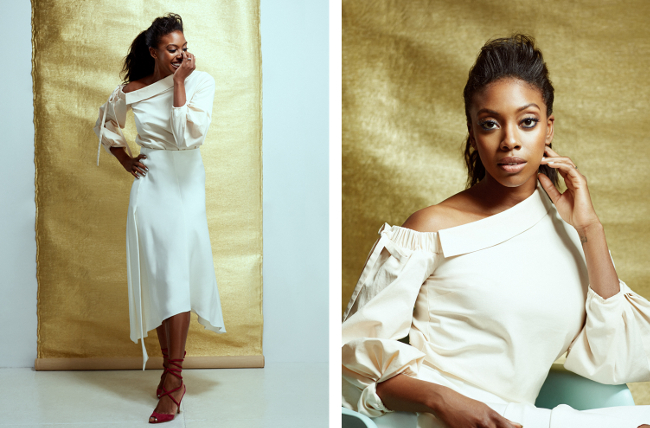 "[My mother] took me everywhere when I was little, so I got to witness the work," she says. "All of the effects of the work that you do, the red carpets, the glitz and the glam and the shows—those are super fun, don't get me wrong, but I would be in rehearsal watching her start from a table read and then I would watch all the way up to when she's onstage opening night. It really affected my work ethic at a young age. It wasn't just all fun."
While she insists that her mother knows well enough to not offer explicit advice for fear that her Sagittarius will do just the opposite, Rashad says that by shadowing her mother onstage and on set, she recognized truth as the doorway to any character.
"I think the biggest thing that I always learn from my mother is acting can be about pretending or it can be about finding the truth," she says. "I choose to find the truth in every character. As long as you never go astray from that, you've got it. Acting, while it may not always feel easy, is very simple. It's not complex. It can be hard to do, the same way meditating can be hard to do, but it's very simple."
Simple, complex, easy, hard—no matter how you spin it, Rashad has the actor's gift. Beyond the talent and the tenacity to get cast and make her voice heard, she uses that voice in projects dating back to "Ruined" and looking ahead to films like "Come Sunday" with Chiwetel Ejiofor, which charts an evangelist's excommunication from the church after preaching that there is no Hell. She seeks to make audiences think beyond themselves, to shine a light on truths both universal and personal, and to tell stories that "really need to be heard," she says. "That's how I feel like I can give back."
The mission holds true for "A Doll's House, Part 2."
"You know what I think is really intense?" she asks. "At the time that ['A Doll's House'] came out, it was incredibly relevant, and especially based on certain things that have happened in our country in the last couple of months, it's sad how relevant it still is now in terms of rights and choice and what it is to be a woman in society. The fact that we're here in this very moment, it's scary how [important] it still is."
Want to make your voice heard in the spotlight? Check out our Broadway audition listings!
Styling by Thomas Carter Phillips. Jumpsuit by Where Mountains Meet, shoes by Sergio Rossi, earrings by Noor Fares.