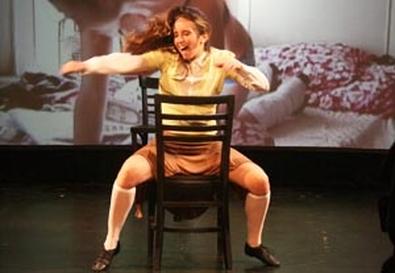 After being brutally beaten by her lover, a woman faces the audience and through her tears describes how to build one's dream house out of lottery tickets. Her strength in the face of obvious disillusionment is the heart of Charles Mee's "Coney Island Avenue." Ostensibly a celebration of Brooklyn, Mee's deeper interest is the challenge and emotional turbulence of life in a culturally plural, economically disparate urban culture. He explored similar material in "Queen's Boulevard" at the Signature Theater in 2007, but that play failed to hold up under its thin and uninventive narrative. In "Coney Island Avenue," Mee fully embraces the collage structure for which he is best known. Scenes follow each other like pages in a catalog, not so much a journey but an accumulation, a Whitmanesque registry of cultures, values, dreams, and fears.
For sure, the play risks becoming a bland celebration of the pleasures of pluralism, but it is ultimately the characters' failures—at love, at their jobs, at living together—and their refusal to give up that binds them together. When the 19-person cast stands in a line to sing "My Way," they reveal a mix of colors, shapes, and sizes that makes "A Chorus Line" look like the Rockettes. They sing the song with teeth-grinding anger and rousing fierceness, very much of this world rather than an idealized utopia.
Credit for such images belongs as much to Mee as to producer-director Anjali Vashi, who expertly fits this big play into the small New York Theater Workshop space. The intimacy heightens the production's energy, and Vashi keeps the action moving and the stage pictures consistently fresh. She lets each cast member enjoy a moment of virtuosity—one woman sings "When Somebody Loves You" terribly and at full volume, two men fight back tears in five minutes of brave wordlessness—and then whisks them back into the collective. Videos and still images on an upstage screen complement but never overshadow the live performance. The theatricality and spontaneity of Vashi's production tell all the story "Coney Island Avenue" needs: Stuff happens, and you keep on moving.
Presented by Sixdollarsinmypocket Productionsat New York Theater Workshop, 83 E. Fourth St
.,
NYC
.
Aug. 5
–
16. Tue
.–
Fri
.,
8 p.m
.;
Sat
.,
2 and 8 p.m
.;
Sun
.,
5 p.m
.(
212
)
868-4444 or www.smarttix.com
.