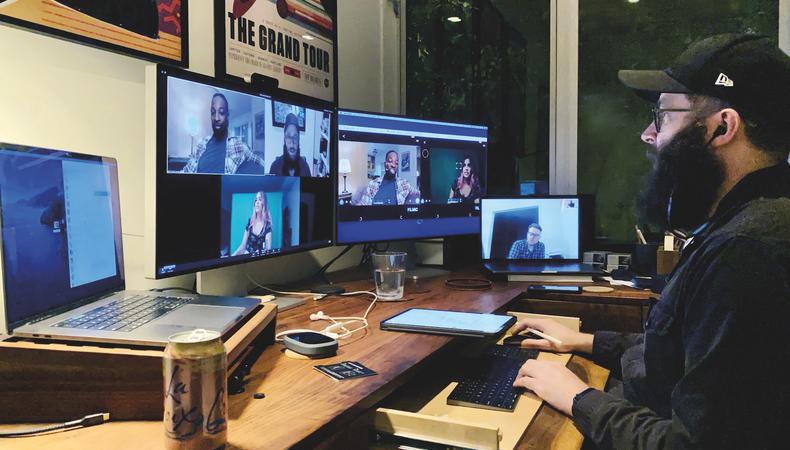 In this time of social distancing, video chats have become the new norm of communication, for better or worse. Co-created by Martin Gero and Brendan Gall, NBC's "Connecting…" captures that spirit, and was inspired by a real-life group chat early in the pandemic. "We would Zoom and check in with each other a lot more, and those conversations were deeply profound and super hilarious," says Gero. "Brendan and I really just felt like this could be a show."
"Connecting…" teeters between humor and profundity and offers a sobering portrayal of this topsy-turvy year. Each of the eight episodes chronicles the pandemic, from panic-buying groceries to plotting safe, socially distant meetups. The show's Los Angeles friend group reflects a variety of pandemic experiences, from an exhausted hospital worker to a lonely writer looking for love in quarantine. Via Zoom, they commiserate and buoy each other's spirits.
The hangout comedy is a coronavirus-era show in both its form and content; "Connecting…" was filmed remotely with iPhones over Zoom. Cast members were mailed shooting kits containing phones, mic packs, lighting trees, diffusion curtains, and more. "It's kind of like sending someone to space. I mean, you need to plan for every contingency, because if something goes wrong, you won't be able to physically be there with them to help," says Gall.
"An unprecedented amount of the labor falls to the actor in this situation, and it really garners a whole new level of understanding and respect for all these different aspects of production."
The preparation for at-home filming, including wardrobe fittings and set decor, was conducted remotely. Before shooting, Parvesh Cheena, who plays Pradeep on the show, gave a virtual tour of his house to a team of location scouts. "We went from my front yard to the carport, and through every nook and cranny of the house," says Cheena with a laugh. His character is a dad of two young children navigating at-home learning. He was provided artwork to hang on the walls and kids' props, including snacks and toys, which were strewn about the house for filming.
"An unprecedented amount of the labor falls to the actor in this situation, and it really garners a whole new level of understanding and respect for all these different aspects of production that we're kept out of a lot of the time," explains Shakina Nayfack, who portrays Ellis, an out-of-work Clippers fan. "It's crazy to think that we're basically self-producing network-ready content. It's kind of unreal."
For her part, Otmara Marrero, who plays the lovelorn Annie, has a greater appreciation for the behind-the-scenes workers—especially those tasked with monitoring continuity and wardrobe onscreen. Adding these production skills to her toolkit has been empowering as an actor. "I know how to light a room and make it look like daylight or like the sun is going down," she says, noting that her self-tape game has greatly improved. "I really know what the fuck I'm doing…. I feel very practical."
The filming itself was conducted through Zoom with a platform called TeamViewer, which allows the production staff to remotely access the actors' recording devices to check sound registration and monitor lighting. Despite the time differences among the bicoastal cast, the actors all have the same call time. "It's comedy; we can't shoot them one at a time. They have to be there to be able to play off each other and allow for spontaneous moments to happen," says Gall, crediting director Linda Mendoza for this approach. "It's made the show much harder, but it is so much better because of it."
The intimate, close-up format of Zoom brings the actors together and pulls viewers into their group. "There's a chemistry that crackles between them because it feels so present," says Gero, noting that the far-flung cast has not yet met in person. "I think it's also because of the constraints and the instructions of the format—these actors have to be listening, and they have to be so ready to play. It makes everything come alive, so there's an alchemy that occurs that is very magical."
Now that "Connecting…" is airing, the actors, like their onscreen counterparts, are experiencing the pits and peaks of the pandemic. "It's important to remember that we're trying to make art that actually connects us during a time of extreme isolation and confusion," Nayfack reflects. "I think we're giving people a way to understand what has been happening to us, not just on a social level and a humorous level, but also on a heart level."
This story originally appeared in the Nov. 5 issue of Backstage Magazine. Subscribe here.
Looking for remote work? Backstage has got you covered! Click here for auditions you can do from home!