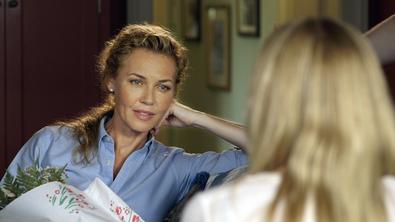 Connie Nielsen has a long list of notable projects under her belt including "Gladiator," the "Nymphomaniac" films, "Law & Order: Special Victims Unit," and "The Good Wife," where she plays Ramona Lytton, Peter Florrick's (Chris Noth) private attorney.
Most recently, Nielsen plays Maren in the dramedy "All Relative" from writer-director J.C. Khoury ("The Pill"), a cougar of sorts who spends a couple of rowdy nights with Harry (Jonathan Sadowski), who's having girl trouble of his own. Later, when Maren is revealed to be the mother of Harry's new girlfriend Grace (Sara Paxton), the two struggle to keep their secret from the rest of the family.
And for such a complex role, Nielsen remained grounded, and sees acting as a psychologically healing tool in her day-to-day life.
"I think acting is an extraordinarily healthy profession, which some might disagree with. I have grown so much as a human being by being forced to be open and observing emotions. It has helped me avoid depression and to roll with the punches. It has helped with how my appearance seems to others and being empathetic," the Denmark-born actor says.
"It is amazing to be an actor because you stay alive in this childlike way. Acting is also humbling because you have to go and prove that you deserve it. It is the greatest profession on the planet." she adds.
Backstage chats with Nielsen about the difficulty she has with auditioning, and the need for actors to accept themselves in order to find success.
On struggling with auditions.
A self-proclaimed "dreadful auditioner," Nielsen says it's her ability to be empathetic that's saved even her most nerve-wracking moments in the casting room.
"I am horrible at auditions. I don't know how I have ever gotten a job out of an audition. I want to be with other actors...surrounded by the unknown. I want to be in costume. I get so tongue-tied that I have a hard time speaking full sentences. I really mean it when I say I am horrible at auditioning.
"When I auditioned for 'Devil's Advocate,' I had the audition and the screen test. I realized that I was No. 18. I was doing the test with Keanu Reeves and I realized he had to make out with 18 unknown women that day. It would be fun for maybe the first two or three girls, but that is a long day! I was feeling really bad for him and I think that's how I got that role," she says, laughing.
On her physical appearance.
Like any actor, Nielsen knows that her looks can often determine whether or not she gets a job. Oftentimes, actors can have tremendous talent, but just not be the right "type" for a particular project. But that's nothing to fret over, according to the established actor.
"Don't change your appearance. A lot of actors underestimate what they have," she says. "Stick with what you've got. If you've got a big nose, embrace it. If someone doesn't get it, then it's really their loss."
On being who you are.
With an impressive résumé, Nielsen has picked up more than a few lessons throughout her career. "It is really important for actors to trust in who they are," she offers. "Go for your strengths and really be who you are and live inside of that."
"All Relative" is out now in theaters and on VOD.
Inspired by this post? Check out our audition listings!