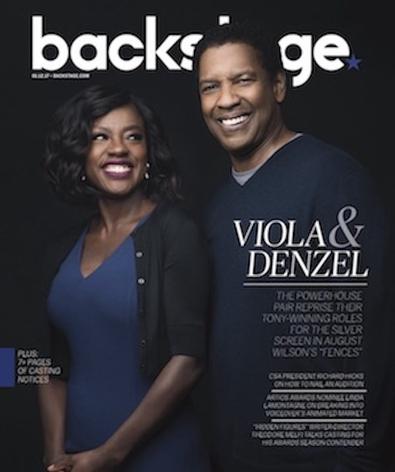 Viola Davis and Denzel Washington have figured out the so-called "Oscar curse."
"People talk about the curse—there's no curse," says Davis of the belief that winning an Academy Award can mean fading into obscurity. "What happens is you get the gold statue and then you get precious, because you think that statue means something. It's like, 'I can't go back to what I was doing before.' You're more discerning, there's more money.... What's affecting your decision is the trophy."
"First of all, it's about the work," adds Washington. "The work is pure—once you've got the job. It's you, the script, let's go." An actor resting on his laurels, he notes, is as good as dead. "That's 'Now that I've got it, I've made it. I'm successful.' Instead of 'Let's go work the craft.' "
The two are midway through a lengthy day of press leading up to the New York City premiere of "Fences," the stage-to-screen adaptation of August Wilson's family drama directed by Washington. It's far from their first ride on the awards season merry-go-round, given his two Oscars, her Emmy and four SAG Awards, the 13 Golden Globe nods between them (plus her recent win), and both of their Tony Awards for the Broadway production of "Fences." But both agree that the real winners on red carpets are the actors with their next gigs already lined up.
READ: Denzel Washington Says "Fences" Is the "Best Material" He's Ever Worked On
As Davis says, you either win the trophy or you don't. "But there's one thing that's guaranteed: It's gonna be over. And once it's over, guess what? You've got to go back to work."
Actors of this caliber are always fielding questions about how they do what they do. How did Washington capture the inner fire of Malcolm X in Spike Lee's legendary biopic? How does Davis scale the emotional heights of ABC's "How to Get Away With Murder" week after week? How do they deliver the performances of their careers in "Fences"? Their advice always boils down to the same thing: Work on your craft.
"If you keep looking up and seeing Brits taking all the parts, there's a reason," Washington points out. "It's not because they're British, it's because they're practicing." Davis advises actors to dig into their characters' psychological circumstances and invent a backstory if necessary; every immediate objective in a scene should be connected to a deeper need. "Your action is depending on what you need in life as that human being," she explains. "What your emotional life is like, those things that have to be discovered and explored before you start going toward your action. They inform what [each] action is.
"For instance, if you have a strong need in life to love and be loved because you were abandoned when you were a baby, everything in your life is 'I need to be loved. If [I'm not], I don't think I matter.' How does that inform your objectives? I guarantee you, if you answer the question of the need first, that's a way more interesting actor."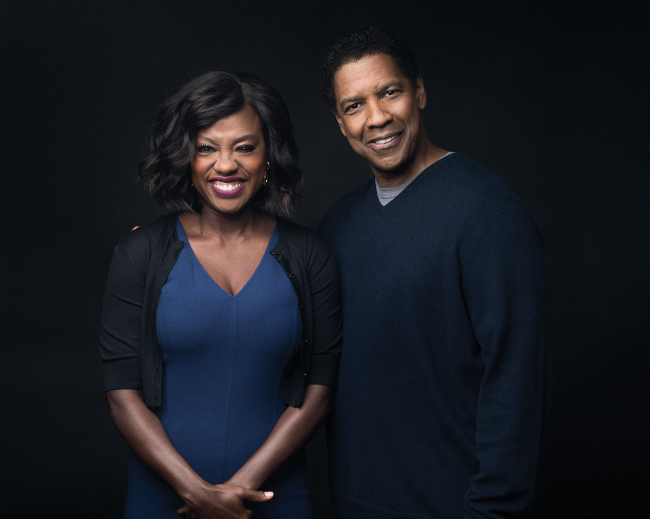 Washington squints at her, his brow furrowed. Then, a proclamation: "You're brilliant. What you just said, I don't even know! I just learned something." Davis laughs and rolls her eyes. "He's saying that, but that's what he does!"
It's easy to see why Washington, who studied journalism at Fordham University, among other schools, and Davis, a Juilliard-trained actor, would have such electrifying chemistry on both stage and screen. The pair performed "Fences" eight shows a week in 2010; their understanding of Rose and Troy Maxson, of working-class black families in 1957 Pittsburgh, is by now bone-deep. But their greatest teachers may be each other.
They have a brief but rigorous debate about his character's tragic flaw ("I don't think Troy understands that he already is a big man, how much he means to Bono, how much he means to his sons," posits Davis. "And at the same time, I think it's just the opposite: He thinks he is God," says Washington) and compare notes on the climax of a pivotal scene. Davis delivered Rose's most explosive monologue in 23 grueling takes, they remember. "I counted," she says, shaking her head. "Denzel is used to the fact that I'm a little neurotic. Or a lot neurotic." As a director, Washington shot her speech in tight close-ups, while as a scene partner he was there reacting to her every line. "Musically, it was her solo," he says.
One topic they keep coming back to is the enduring brilliance of Wilson. "Like Shakespeare, August's words take you—how did you put it?" he asks Davis. "Take you to the place you need to get, if you trust them and invest in them."
READ: How to Give an Awards Acceptance Speech
"Exactly," she says. "You just fly with it. That's what a great script gives you; it tells you exactly where you need to go and you just have to listen to it."
Washington remembers an audience member at a screening whose own background resonated so strongly with the Maxsons, he assumed the playwright was Polish rather than African-American. "And it's got nothing to do with any politics of now. He's timeless."
What puts Wilson on par with Arthur Miller and Eugene O'Neill, adds Davis, is that he writes about ordinary people with extraordinary depth. "He honors the men like my father, who was born in 1936, didn't know how to read or write until he was 14, 15, groomed horses almost his entire life. Toward the end of his life he was a janitor at McDonald's. And those are the kind of people who are usually invisible. Nobody talks about those people. Nobody uplifts those people. But you know what? They have a story. And that story deserves to be told."
Given that "Fences" revolves so evocatively around parents, children, and what is passed between them, personal inspiration seeped into their performances on Broadway and on camera. In rehearsals before shooting, Washington asked his mother, a beauty parlor owner whose divorce from his father was "a 12-year process," about Rose's circumstances. For Davis, who in the six years between play and film became a mother herself, Rose's final monologue—a meditation on legacy and compassion—resonated more strongly this time around.
Washington turns to pick her brain again. "In that six-year period, did you ever have that 'Oh, that's what that was' [epiphany]?"
"Absolutely," says Davis. "I became a mother and understood the implications of teaching your child how to forgive. I didn't have a way in before." She remembers Washington's direction during filming: that the speech is a gift to Rose and Troy's son Cory (played by Jovan Adepo). "You said, 'It's not about you, it's not about the monologue. Remember you're giving something to him.' " Only then did it click, she says.
As for their own children, all of whom, of course, want to be actors, too, Davis and Washington find themselves giving them the same advice they keep reiterating. Washington tells both his son and daughter, "You've got to be able to do 'Training Day' for breakfast and 'Julius Caesar' for lunch. Don't think you can do what we do in six acting lessons."
The troubling thing about early-career actors today, observes Davis, is that many just want to become "good enough to get the job." As Washington points out, "You know the sad part? That's exactly what they'll be: Just good enough to get the job."
Now that they're entering the final leg of the Oscar race, with "Fences" featuring perhaps their finest work to date, you can bet both actors are sticking to their awards season credo. As Davis prepares to play Harriet Tubman and release "The Personal History of Rachel DuPree" later this year, "How to Get Away With Murder" starts up again Jan. 19. Washington is preparing for "Inner City" and "The Equalizer 2," as well as aiming to produce all 10 plays in Wilson's Pittsburgh Cycle for HBO.
In other words, resting on laurels is not an option. Two of the greatest actors of their generation they may be, but both will continue their education and keep dedicating themselves to furthering the craft. "I call my acting teachers all the time," says Davis matter-of-factly.
Don't be surprised if they return to the theater again, too. "The best acting school is the stage," says Washington. "Get onstage. Get onstage. Get onstage."
---
One Small Step For Actors
Another valuable piece of career advice from two acting virtuosos: Use Backstage casting notices to get work.
"I scoured that page to get a job," Washington remembers, as Davis nods in agreement. "Open calls, cattle calls. That's where you begin. I probably started looking at them in college at Lincoln Center. You're like, How do I get into the business? Somebody gives you Backstage. You didn't have an agent, you had that. And it's not like, 'Here's your diploma, oh, William Morris, hey!' " he jokes. "It doesn't happen like that."
Both are quick to point out just how anonymous they felt in their early days of becoming journeyman actors—how few people they knew. "You needed a way in," explains Davis. "I came to New York in '88, took a break between my undergraduate B.A. in theater at Rhode Island College and going to Juilliard. So I came here for six weeks to do a program at Circle in the Square Theatre. I just needed a way in with anything. I used Backstage."
As Washington says, "Everybody's gotta start somewhere. Where else would you go?"... If you know the way, you won't get lost."
Ready to launch an award-winning career? Check out our film audition listings!