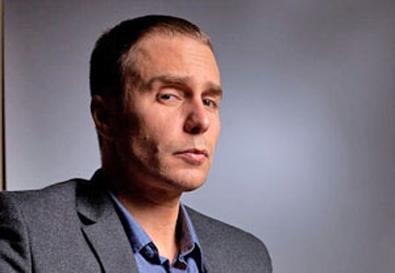 Sam Rockwell grew up on the movies of the 1970s—films he adored such as "The Deer Hunter" and "One Flew Over the Cuckoo's Nest." So when he lists the various teachers he has learned from, he cites some of his favorite actors. "My teachers are all those people I grew up watching: De Niro, Walken, Streep, Robert Duvall, Ellen Burstyn," he says. "When young actors ask me about studying, I tell them, 'You've got to watch those movies. If you're not, you're not doing your job. Respect your elders, and more than that, learn from them.' "
Rockwell has sometimes even found himself in the strange position of acting opposite his mentors, using tricks he picked up from them. In last year's drama "Everybody's Fine," he played the son of Robert De Niro's character and had a scene in which the father accuses the son of lying. "I kept saying, 'What? What?' " Rockwell recalls. "And that was from a scene in 'Mean Streets' where Harvey Keitel confronts De Niro about some stolen money. I was using a trick from my arsenal that I got from De Niro on De Niro."
It's not difficult to imagine future generations of actors growing up learning from Rockwell, who consistently delivers standout performances in movies both offbeat and blockbuster. For years he has been heralded as the next big thing; lead roles in "Confessions of a Dangerous Mind," "Choke," and last year's "Moon" were supposed to make him a household name. Instead they did something better: earned him a loyal following of people, inside and outside the industry, who know he can disappear inside any character. The past year has been particularly good to him. "I did my first Broadway play, 'A Behanding in Spokane,' " he says, "I had a big hit with 'Iron Man 2,' and I shot 'Conviction,' which is some of the best work I've ever done."
Rockwell isn't prone to hyperbole, and to single out any performance as one of his best is a bold statement. But his sublime turn in "Conviction" warrants the praise. The film stars Hilary Swank—whom Rockwell refers to as "one of the greatest actresses around"—as Betty Anne Waters, the real-life single mother who put herself through law school to prove her brother Kenny innocent of murder. It chronicles the years Kenny spent in prison as his sister continued her dogged pursuit of the truth.
The story had been floating around Hollywood for nearly a decade. But when director Tony Goldwyn (see sidebar) was finally ready to shoot, he knew he wanted Rockwell for Kenny, a character who can go from charming to violent to a lovable joker in minutes. "Kenny is not a Boy Scout," Goldwyn says. "There's a real duality to him, and I didn't ever want it to be that he was this poor victim who was wronged by the system. I knew Sam would insist on creating a fully realized human being."
In "Moon," Rockwell shares the screen with only himself, playing a man and his clones. In "Choke," he plays a sexaholic who pretends to choke at restaurants so people will save him and who might be a direct descendant of Jesus Christ. But Kenny Waters was "one of the hardest things I've ever had to do," Rockwell says. The actor is known for his intense preparation, but portraying a real person brought an even heavier obligation. Kenny is now deceased, so Rockwell traveled to Boston, where the film is set, and met Betty Anne, her children, and friends of Kenny.
"I really got insight into who this man was: a guy who would get in brutal fights with prison guards and yet also be so sweet and jovial," Rockwell recalls. He had Betty Anne record his lines into a tape recorder to help him figure out the accent. What he couldn't do was drastically alter his physical appearance. "The real guy was 300 pounds and bald," Rockwell says. "I couldn't shave my head, because I was going to shoot 'Iron Man 2,' and I couldn't put on the weight in such a short amount of time. But I do think we captured the essence of Kenny."
Audiences and critics seem to agree. After the movie premiered at the Toronto International Film Festival in September, Rockwell emerged as a surefire contender for a best supporting actor Oscar for his years-spanning, heartbreaking performance. Having been down this road before, the actor demurs: "It's nice to hear. But we'll see how that stuff goes. You never know."
Yet he hopes this film will finally put an end to talk of him rocketing to fame. "At this point, I'm just a working actor; there's no breaking-out to do," he says. "I've heard so many times that such-and-such could be the role to catapult me to stardom. A career has ebbs and flows. And how many times can you break out? I'm not being strategic when I choose parts; I'm doing the work I want to do. It's like the old saying goes: If you want to make God laugh, tell him your plans."
Breaking In and Out
Rockwell got his first taste of acting at age 10, performing opposite his mother in a stage sketch. He dabbled in plays in high school and appeared in the horror film "Clownhouse" as a teenager. He booked an NBC pilot at age 18, but his role was recast. "I think I was a little too street or edgy for them," Rockwell concedes. "But they hired me back to play the best friend of the character I used to play. And it was actually a better part; they let me do all the things I couldn't do as a regular, like smoke cigarettes and drag race."
But it wasn't until he enrolled in the William Esper Studio in New York City that he made the choice to pursue acting as a career. "I signed up for a six-week course, and at the end William Esper suggested I do the two-year program," Rockwell says. "I wasn't sure I could commit to it, but he told me it would be over before I knew it. And it was. And it changed my life, to say the least."
Rockwell has worked with many teachers and coaches over the years, but he calls Terry Knickerbocker, whom he met at William Esper, his primary coach. Knickerbocker says he knew from the start that Rockwell was special: "He was so feisty and smart, and he always went for the juicy work." He adds that Rockwell's affection for old cinema was visible even then: "He has this encyclopedic knowledge of films of the '70s and '80s that he comes armed with. I remember an improv exercise where he was using a scene from 'Mean Streets' to guide him—not imitating the actors, but using it as a departure point. And he knew the material back and forth, and his work was simultaneously alive and yet so theatrical. You noticed him immediately."
Rockwell began doing theater and survived on the occasional commercial and odd jobs: busing tables, delivering burritos, interning (albeit without pay) for a private investigator. In 1991, he landed a role opposite Clark Gregg—who would later direct him in "Choke"—in the play "Unidentified Human Remains and the True Nature of Love." Gregg says Rockwell's potential was obvious: "It was this deranged-serial-killer play. It was kind of experimental, and everyone would have to stand frozen upstage while everyone else did their scenes. I realized after about a week or two that I was racing through my murders just to get back to my freeze position so that I could watch Sam."
Rockwell pursued a film career and had many close calls—including "Unforgiven" and "Dead Poets Society"—that would have been career changers. He screen-tested for a part in "The Quick and the Dead" that went to Leonardo DiCaprio. "I got stopped at the airport because I had squirt guns painted black," Rockwell recalls with a laugh. He was in the running for the role that went to Noah Wyle on "ER" and even arrived at his callback in a lab coat carrying a hypodermic syringe (no needle). "That was the feedback I would always get: I had too many props," he says. "But it takes years to learn how to audition. And I don't think I was very good for a very long time."
Rockwell doesn't consider any particular role his big breakthrough; one job seemed to lead to another until he was working steadily. His turn in the 1996 indie film "Box of Moonlight" led to "Lawn Dogs" and "Safe Men." The latter was seen by Drew Barrymore and her producing partner, who cast Rockwell in "Charlie's Angels." In 1999, he appeared in wildly different roles in hit films: as a ruthless killer in "The Green Mile" and as goofy actor Guy Fleegman in "Galaxy Quest." Of the cowardly, certain-he's-going-to-die Guy, Rockwell says, "I was stealing from Bill Paxton in 'Aliens.' And Sigourney Weaver was my co-star, and I kept bugging her about Bill until she finally said, 'Honey, I don't know what Bill did to prepare. He was just being scared.' "
Then Rockwell did a small film, called "Welcome to Collinwood," that was produced by George Clooney, who also had a cameo. When Clooney was ready to cast the lead in his directorial debut, "Confessions of a Dangerous Mind," he thought of Rockwell, who found himself heading a cast that included Clooney and Julia Roberts. "That film was very significant for me," Rockwell says. "Even though it didn't make a lot of money, it was good for me. And in the long run, I think it was good for George too. People came to appreciate what he did with that movie. And he really gave me an endorsement that put me in a new category."
Much of Rockwell's best work becomes appreciated later. Take "Moon." Although the tiny indie from filmmaker Duncan Jones didn't burn up the box office, the effects of Rockwell's haunting turn were far-reaching. "Surprisingly, that's the one people seem to recognize me from most," he says. "A lot of people saw it eventually. I think more people have seen that more than anything, even the studio stuff."
Rockwell spends most of "Moon" speaking to a computer (voiced by Kevin Spacey) and acting opposite himself as his character's clones. The actor subtly differentiated each clone and thought of the film as a buddy movie in which the buddies are essentially the same man. "It was confusing, and we were working on a tight schedule," he says. "We'd get three takes, if we were lucky. And there was no rest; I was in
every scene." On the
upside, Rockwell admits, the film was a "great narcissist-fest." His only complaint? "My co-star," he says, sighing. "He was such a diva and a very
selfish actor."
Preparing the Case
Rockwell says he rarely auditions anymore; he took a meeting for "Iron Man 2" but was already friends with director Jon Favreau. The last time he can recall auditioning was for the role in "No Country for Old Men" that went to Josh Brolin. And he went out for the role of Robert Ford in "The Assassination of Jesse James by the Coward Robert Ford"; Casey Affleck ultimately won the part. "I was too old," Rockwell says.
When he was offered the part of Robert's brother, Charley Ford, he initially declined. "I had to be dragged to the party on that one," he says, noting that a "persuasive" Brad Pitt talked him into doing it—for which Rockwell is grateful. Asked why he first turned it down, the actor hesitates, choosing his words carefully: "I have to fully invest in something. I can't just show up to work. And sometimes it can be exhausting."
Knickerbocker elaborates on Rockwell's preparation, saying the actor is excruciatingly thorough: "He loves knowledge. He is one of the most prepared actors I know. He will do maximum preparation for every role, from taking self-defense courses and learning to use weapons and hand-to-hand combat for 'Confessions of a Dangerous Mind' to enlisting a vocal coach for 'Conviction.' He takes a script and works his way through it over and over again. We work the scenes until he has a very specific idea of what he's going to do."
And Rockwell can be his own harshest critic, the teacher says: "He had a monologue in 'Behanding in Spokane' that required him to go to a dark, personal place, which can be tough. It's all on him for three whole pages. And even after the play had opened, he would have nights where he was so discouraged."
Rockwell says he would love to return to the stage: "I think the more I learn about acting, the more ambitious I get. I still haven't played Hamlet or Pale [in "Burn This"] or Stanley Kowalski; there's a lot of stuff I still haven't done. The thing about acting, especially for a guy, is, as you get older, there's all these great parts. It's harder on ladies. But you get better as you get older, and you can apply more life experience."
He recently wrapped production on "Cowboys and Aliens," with Daniel Craig and Harrison Ford, a sci-fi Western in which Rockwell plays "another version of Guy Fleegman," complete with mustache. But he's not sure what his next project will be. After "Conviction," one would think he would have his choice of roles, but is he also concerned about losing some anonymity?
"I do okay," he says. "I think I'm the kind of actor who puts too many disguises on to be recognized to a point where it's intrusive." He recalls a recent day in New York when he was waiting in line for a movie and noticed a familiar face in front of him. "Just as I realize it's Daniel Day-Lewis, this woman walks by him and says to me, 'Hey, weren't you in "Charlie's Angels"?' I wanted to say, 'Yeah, but don't you know who that guy is?' "

Bio Briefs
-Other credits include "The Hitchhiker's Guide to the Galaxy," "Gentlemen Broncos," and "Snow Angels"
-Met "Conviction" director Tony Goldwyn when he auditioned for Goldwyn's directorial debut, "A Walk on the Moon"
-In addition to Kenny Waters in "Conviction," Rockwell has played several real-life individuals, including Charley Ford in "The Assassination of Jesse James by the Coward Robert Ford," Chuck Barris in "Confessions of a Dangerous Mind," and James Reston in "Frost/Nixon." He spent time with Barris and Reston, noting, "They were very cool and never told me what to do, just said, 'You just do the best you can.'"