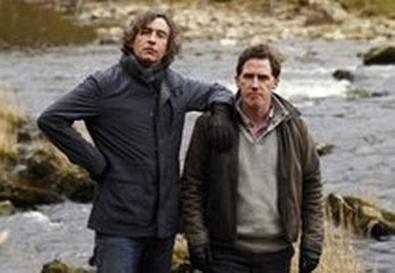 NEW YORK – Steve Coogan and Rob Brydon were beginning to tire of Michael Winterbottom's postmodern schemes.
In Winterbottom's "Tristram Shandy: A Cock and Bull Story" (2005), the two British comedians starred as slightly exaggerated versions of themselves, playing actors making a foolhardy movie adaptation of Laurence Sterne's famous novel. Some of the best parts were improvised scenes between Coogan and Brydon, including one of dueling Al Pacino impressions.
Now, Winterbottom wanted to stretch the improv on a road trip. In "The Trip," Coogan and Brydon would mainly just drive northern England, taste haute cuisine and continue the impression-filled banter.
"Why can't you write us a proper film with proper parts?" said Coogan, recalling his response in a recent interview with him and Brydon.
Brydon pleaded for at least a little fiction: "Let's just call him Terry and I'll be Cliff."
After repeatedly saying no, the two eventually relented. The result, "The Trip," aired in the U.K. as a six-part TV series, but will be released June 10 in the U.S. as a movie. Hilarious and realistically offbeat, the film takes on the slight narrative of two middle-age comedians (Coogan is 45, Byrdon is 46) reconciling themselves to their place in life — and needling each other as best they can.
"Over the course of a few years, we tried various possibilities," says Winterbottom, whose films include "24 Hour Party People" and "Wonderland." "In the end, I thought, why not just film them having lunch?"
That may sound more thinly sketched than even "My Dinner with Andre," but "The Trip" succeeds mainly because of the exceptional chemistry between Coogan and Brydon. The two riff effortlessly on their personas, using themselves as material.
Both are more famous in the U.K. Brydon is best known as a sitcom star and panel show host, including "The Rob Brydon Show" and "Would I Lie to You?" Though he hasn't been personally close with his "The Trip" co-star, Coogan gave him an early break, helping produce Brydon's mockumentary series "Marion and Geoff" (2000-2003).
For many, Coogan is comedy royalty for his darkly humorous talk-show satire "Knowing Me Knowing You with Alan Partridge," a beloved mid-`90s series of which Coogan is currently working on a film adaptation. Though he's starred in films like "24 Hour Party People" and "Hamlet 2," and had a notable supporting role in "Tropic Thunder," his transfer to America hasn't fully caught on.
Most of these things are alluded to in "The Trip," as Brydon and Coogan tease one another. Though some things were sketched out, the two often improvised scenes and then refined them in later takes.
"It's like playing tennis with someone who plays the game slightly differently from you," says Coogan. "You know you're going to get a good game because he's got a good backhand and I've got a good forehand. If you're improvising with someone who knows how to do it, then you relax more."
In person, the two banter much like they do in the film: candidly, quickly and with a bit of rivalry. Bits are rapidly deconstructed.
Brydon: You're uptown, up-tempo woman. I'm a downtown, downbeat guy.
Coogan: You're not really downbeat.
Brydon: But that's what the song says. You don't mess with the words of a great song.
Coogan: Well, I'd say it doesn't fully work.
Brydon: It doesn't. Once I started, I wish I hadn't.
Many of their experiences together seem to mirror those of "The Trip." Years ago at a party, they competed against each other over who could sing the Tom Jones theme to "Thunderball" better. (It was a draw, as judged by British TV director Matt Lipsey.)
"Although they're two very different characters and have very opposite attitudes to themselves and comedy and life in general, they know a lot of the same stuff so they can bounce off each other very easily," says Winterbottom. "So when we stopped filming in `The Trip,' they'd just carry on chatting in the exact same way they had been chatting during the filming. It was almost like a documentary of their journey as opposed to fiction."
"The Trip" does actually have a high-minded basis, too, in that Sterne followed "Tristram Shandy" with the novel "A Sentimental Journey Through France and Italy" — an early travel-writing classic, told through a thinly disguised alter ego.
Yet most of the memorable parts from "The Trip" include such simple things as competing Michael Caine impressions.
"(Winterbottom) kept saying, `Just do more impressions,'" says Brydon. "It's so funny because we think of Michael as this filmmaker of `The Killer Inside Me,' `The Road to Guantanamo,' all that kind of stuff. He's got his monitor around his neck, his headphones: `More impressions. More impressions.'"
Laughing, Coogan chimes: "That's a really lowbrow, terrible approach."
In another scene that has already found popularity on YouTube, Coogan dreams of starring in a period film as a warrior due for battle. He gravely intones: "Gentlemen to bed. We rise tomorrow at 10ish."
Says Coogan: "Even though I'm probably not suited to those kind of roles, there's a fantasy part of me that would like to be an unself-conscious, un-ironic actor with blood and dirt under his fingernails."
---
Copyright 2011 Associated Press. All rights reserved. This material may not be published, broadcast, rewritten, or redistributed.