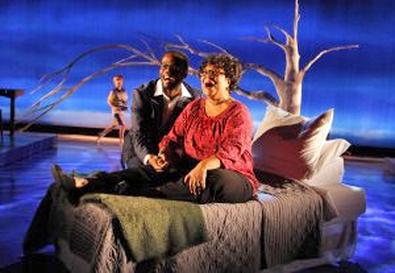 The title of Kia Corthron's "A Cool Dip in the Barren Saharan Crick" may refer to a dried-up creek bed, but her play is positively overflowing with themes, styles, stories, and politics. Corthron's arresting voice and restless mind aren't sufficient compensation, and the overabundance ends up drowning whatever it is that she wants to say in this maddening, disjointed, overly elliptical work.
Act 1 focuses on Abebe, a college student from Ethiopa who is living with his born-again Christian sponsor, Pickle, a nurse, and her determinedly secular teenage daughter, H.J., somewhere in suburban America. Determined optimist Abebe longs to be a preacher and a water ecologist, water being a central concern of his African village. Abebe has lost all of his family to complications from polluted water. Pickle and H.J. have lost the males in their family—Pickle's father, husband, and young son—to Hurricane Katrina. Then there's young Tay, the sole survivor of a family massacred by its patriarch, who then killed himself. Tay refuses to speak, but Abebe makes a connection with him and is soon formally serving as his Big Brother. At this point, it seems that "Dip" will be about the different ways we deal with grief and whether religious belief is necessary for healing. Then Corthron dispatches this storyline at the first-act curtain.
Act 2 happens nearly a decade later, beginning with a surreal scene between Abebe, now back in Africa and teaching at Addis Ababa University, and Seyoum, his dead foster brother, who drowned himself the day before Abebe was to pay a long-overdue visit. We then follow Abebe on a visit to America, where he attempts to get the now born-again H.J. to marry Tich, the man who impregnated and still loves her. Pickle, meanwhile, is paying for her support of a bottled-water plant—which Abebe railed against in Act 1—with migraines caused by the diesel fumes of the delivery trucks. Oh, and Tay has murdered a foster father and is serving a 40-year jail sentence.
Corthron loses a lot of steam at the top of Act 2, because she has so much exposition to impart about what's happened in the intervening years. She's also unable to make Abebe's periodic rants about humankind's profligate waste of water feel organic to whichever plot she is following. Her mix of naturalistic dialogue with surreal situations never quite coheres, particularly in the baffling final scene. The frustration quotient grows and grows, because there is such potential in her characters and ideas.
The fine cast is led by the luminous Myra Lucretia Taylor as Pickle. Taylor is particularly good in the first act, when she subtly clues us in to the demons assailing this loving if perhaps just a shade too desperately positive woman. William Jackson Harper's vast reservoir of charm is instrumental in preventing Abebe's annoying relentlessness and lack of boundaries from distancing us. Kianné Muschett has a bit less to work with as H.J., who is something more of a construct than a character, but she does very well by H.J.'s fierce concern for her mother. Keith Eric Chappelle can't do much with his one scene as Abebe's dead foster brother, but the actor fares better as Tich, showing some sharp comedic instincts while also bringing Tich a quiet strength. Young Joshua King makes for an affecting, unsentimental Tay, fully communicating despite his lack of dialogue.
Director Chay Yew has elicited a confident and fluid physical production from Kris Stone (set), Anita Yavich (costumes), and Ben Stanton (lights). It's too bad he wasn't able to help Corthron direct her many streams into a roaring river.
Presented by Playwrights Horizons in association with the Play Company and Culture Project at Playwrights Horizons, 416 W. 42nd St., NYC. March 28–April 11. Tue.–Sat., 7:30 p.m.; Sun., 7 p.m.; Sat. and Sun., 2 p.m. (212) 279-4200 or www.ticketcentral.com. Casting by Alaine Alldaffer.