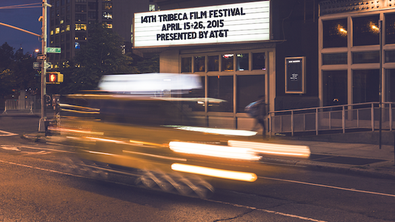 Established in 2002 by Robert De Niro, Jane Rosenthal, and Craig Hatkoff, the Tribeca Film Festival has reached an audience over four million international festival-goers in its relatively young life. With the 14th annual fest taking over lower Manhattan now through April 26, here are five fun facts about the festival, its history and its continued economic (and artistic) impact.
It was founded in the wake of Sept. 11. Tribeca Film Festival was established during one of New York City's darkest hours. De Niro, Rosenthal, and Hatkoff created the festival after Sept. 11, 2001, when terrorist attacks left lower Manhattan in a cloud of smoke and threatened to obliterate the city's economy and (more importantly) its spirit. With a goal of establishing New York as a center for film and celebrating the city's vibrant culture, the festival has since brought an estimated $750 million worth of economic activity to Manhattan and revitalized the hearts, minds, and businesses of countless city residents.
Tribeca Film Institute empowers filmmakers of all ages. Also founded after Sept. 11 by De Niro, Rosenthal, and Hatkoff, this TFF affiliated non-profit enriches young lives through a variety of educational programs and connects emerging (and established) filmmakers with grants and other professional development opportunities. High-schoolers take note: "Tribeca Film Fellows" selects 20 lucky young filmmakers each year to go behind the scenes at the festival, receiving mentorship from award-winning directors and developing their own projects in the process.
You don't have to be in NYC to see the festival. Film lovers outside of New York can enjoy the unique curatorial perspective of TFF through a variety of streaming and Internet-based programs. This year's NOW (New Online Work) showcase focuses on new-media creators, and can be viewed online (for free!), alongside descriptions of featured filmmakers and their bodies of work. In addition to showcasing films created for the online space, Tribeca also offers audiences all over the world the opportunity to watch seven festival shorts without leaving their home computers. The FML shorts lineup is streaming now through April 27, and features titles like "Ghettotube" and "The Evolution of a Gen-X Music Purchaser."
It's not all about the films. OK, it sort of is all about the films, but there are still many amazing opportunities to watch filmmaker interviews, live performances, and panel discussions throughout the festival. "Tribeca Talks" offer tons of relevant conversations about filmmaking in general—like a recently lauded chat between George Lucas and Stephen Colbert—as well as sneak previews and targeted talks leading up to festival screenings.
The festival celebrates virtual reality. Tribeca is embracing an international movement towards transmedia storytelling through a number of interactive and virtual reality-based festival presentations, as well as a recently established award for transmedia. "Storyscapes," a now-annual project sponsored by Bombay Sapphire gin and presented at the festival, featured immersive film installations viewed in two-hour time slots, and TFI Interactive offered a weekend of virtual exhibitions like "PaperDude," where audience members played the role of newspaper delivery boy, and Nonny De la Peña's somber "Trayvon Martin Project," offering an affecting interactive glimpse into the 17-year-old's tragic 2012 death.
The 2015 Tribeca Film Festival is happening April 15 through April 26. For tickets, online programming and more visit tribecafilm.com.
Inspired by this post? Check out our New York City audition listings!