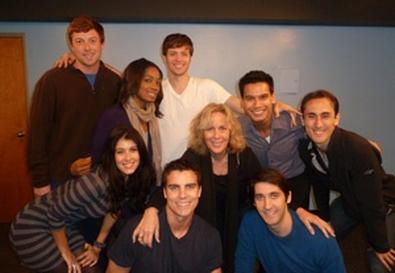 Once your career takes off and you're working steadily as an actor, are acting classes still necessary? Definitely, according to Kevin David Thomas, whose credits include the recent Broadway revival of Stephen Sondheim's "A Little Night Music" and the Broadway revival and national tour of "Les Misérables." Thomas reports that enrolling in a scene study class at New York's T. Schreiber Studio proved to be an ideal way to break up the monotony of a long run, as well as to better his craft.
"You know, the show never gets old, but at a certain point you're doing the same thing over and over again," he says. "I know this sounds a bit cheesy, but I hungered for something else. I sang a lot in 'Night Music'—in the quintet—but I didn't necessarily get a lot of chances to speak or use dialogue, so I really wanted to take some classes to keep furthering my knowledge.... I've been living here for almost 10 years now, and I kind of regret that I didn't start this earlier, but better late than never. I definitely feel more confident, and I'm stronger for it."
"Curiosity is the engine for what we do, and there is a responsibility for the actor to remain curious, to remain inspired," says Keith Nobbs. Recently seen in HBO's "The Pacific," Nobbs is currently performing on Broadway in "Lombardi," as a journalist sent to interview the legendary football coach. As a working stage actor, he explains, "I feel that when you start working on a show in rehearsal, then get into previews, doing rehearsals during the day and shows at night, leading up to the opening, there is such a momentum of energy that carries you through. Then after you open and your performance schedule becomes more regular, all of a sudden you start getting fidgety. You're experiencing the ritual of the show every night, but you're also looking to stay inspired."
Nobbs has been taking classes regularly through Creative Dream Work, founded 11 years ago by Kim Gillingham. Her teaching method, derived from Jung, seeks to help artists draw inspiration from their own dreams and subconscious. Nobbs decided to try the classes after watching an actor friend who took them perform in a Chekhov play at the Williamstown Theatre Festival a few years back. "It was some of the most astonishing work that I had seen," he says. "She was so free and so alive. Every time she did the scene, she would live through it differently. Something was just coming through her which allows for those incredible moments for an actor where they're as surprised as you are by what's happening."
Before embarking on "Lombardi," Nobbs worked with Derek Simonds, a Creative Dream Work coach, in the hope of achieving that goal as an actor—to reach the point where what you're doing onstage "doesn't feel like something you have to perform, or something you have to sell, but feels like something that is actually innately inside you," Nobbs says. "Theater, and acting in general, is always searching, always digging deeper. And I don't think the job is ever done. I love that Sisyphean journey of trying to get to the top of the mountain."
Feeling Incomplete
Krizia Bajos became a full-time working actor about a year and a half ago. She was recently cast in three movies, all now in postproduction, and is probably best known as the voice of Eva, the Latina "supermodelquin" in the Old Navy commercials. "I haven't needed another job to help me survive," Bajos reports. But that hasn't stopped her from continuing to take acting classes.
"I feel incomplete without going to class every week," she says. "For my own personal growth and career, of course I'm going to continue taking classes and strengthen my craft." For the past year, she has been a regular student at the Margie Haber Studio in Los Angeles, taking the weekly Haber Master Intensive Workshop. "I credit Margie a lot with what's been going on in my life this past year," Bajos says. "She comes from such a great place that it helps you grow safely, without feeling that someone is going to tear you down or make you feel bad for the way you expose yourself or how you came about a certain emotion. It's just about how close you get to the truth."
Haber has been teaching acting since the late 1970s and is the author of the book "How to Get the Part Without Falling Apart." She has been credited with helping Brad Pitt book his breakthrough role in "Thelma & Louise." "Though I teach the audition process for film and television, I really teach people to live the life," she says. "I'm not a typical acting teacher in the sense that I teach people to act. I teach people to stop acting. If you go out and audition 45 times a year, then I say how fabulous is it for you to have lived 45 lives and not to worry about" booking the job. Haber videotapes her classes so "the students get an opportunity to become their own barometers," she says. "The great thing about the class, at least for me, is you get to watch other people and you can see when they fall back and when they go forward. And you get to watch it on video and say, 'I see I'm doing the same thing.' It really gives you the chance to look at the truth of who you are."
For Colin Egglesfield, another Haber student, acting is a muscle that must be exercised regularly. He will be seen later this year in the film comedy "Something Borrowed," in which he plays the fiancé of Kate Hudson's character. "Why do professional athletes go to practice?" he asks. "They don't show up on game day and expect that their jump shot will be there. Being in class allows me to stay in touch with my emotions and my instincts."
Although he took some time off while shooting "Something Borrowed" in New York last spring, Egglesfield is back in the classroom: a scene study class with Cameron Thor and Alice Carter at the Carter Thor Studio in Los Angeles and a cold reading class at the Margie Haber Studio. For the Carter Thor class, Egglesfield works with a scene partner for two or three weeks before they put the scene on its feet in front of fellow students. Haber's classes, he explains, simulate the audition experience—except that unlike a real audition, for which an actor may get a day or two to study the sides, the students get only 30 minutes to prepare.
"It speeds up the time," he says. "You're forced to do your analysis, bring it into the room, and do what you can." His experience in Haber's classes came in handy when he worked on "All My Children," where the script could be changed five minutes before shooting. "That is essentially why I like working with Margie," Egglesfield says, "because her classes keep me on my toes and she keeps me in that mindset of just being able to think quickly on my feet."

A Gym and a Laboratory
"There are two reasons why working actors continue to study," says Aaron Speiser, who runs the Aaron Speiser Acting Studio in Los Angeles. "The first reason is they use it as a gymnasium, a place to continue to work out themselves and keep sharp, fresh, and strong creatively. The second is they want to experiment without the pressure of being on a movie or television set."
Speiser has been a teacher for nearly three decades and counts among his celebrity clients Will Smith, Jennifer Lopez, Virginia Madsen, and Taylor Lautner. "The class provides an excellent place to try things you've never tried before—new characters, work out new accents—where you're able to fail in a very safe, small environment that will never see the light of day," Speiser says. "And through that failure, you learn how to succeed in that new character or accent. It's a wonderful opportunity to practice without pressure."
Matt Walsh, who played recurring characters on NBC's "Outsourced" and HBO's "Hung" last year, says that for him, taking classes "corrects a deficit" in his training. "I'm mostly an improv and sketch comedy guy, and have performed and written my own material, so I've always been interested in learning more about attacking scripted material," he explains. Walsh started out in Chicago, moved to New York, and has lived in Los Angeles for the past five years. He currently studies at L.A.'s Stella Adler Academy of Acting and Theatre. "You're given difficult material like Mamet or Shakespeare—things you normally wouldn't have to portray on television or in a movie—which I think raises your ability. I think what I'm slowly learning is that there are so many possibilities on every line. I'm learning, hopefully, to go a little bit deeper."
Casey Wilson, a "Saturday Night Live" alumna and a star of the upcoming ABC series "Happy Endings," takes acting classes in Los Angeles with Richard Greene and Nike Doukas; she also has private coaching sessions with Lesly Kahn at Lesly Kahn & Co. Wilson's acting foundation was built at New York University, where she earned a BFA, but "I don't think acting is like learning to ride a bicycle," she says. "I think you have to keep working that muscle or you go soft. You have to keep challenging yourself, or else you're just relying on your old bag of tricks and you get kind of stale."
Wilson finds that her classes complement whatever her current job is. "When I've been hired to work on comedy, then I take a dramatic class," she says. "When you work on a sitcom, a lot of the times the material isn't necessarily sophisticated writing, so in a way you have to work harder to make it good. I think you can achieve that by working on plays. Doing Oscar Wilde or Mamet in an acting class will give you much more fluidity with some of the work out there. I know a lot of actors think it's embarrassing to continue to take classes post-college, but I don't get that. I think that what's especially invaluable is when you're not working, you have a place to go and practice your craft. Otherwise you become depressed and despondent."
Regardless of where they are in their careers or the types of classes they take, all the actors we talked to agree that continuing to study acting has not only contributed to their current success, it's also their best investment in the future. As Bajos puts it, "You can't stop growing or learning as a person. You can't stop growing in life, period. So why not the same with what you love the most?"