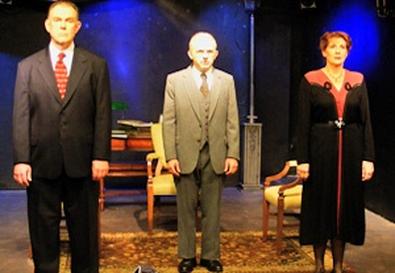 At the end of this blissful evening about science, history, ambition, nationalism, companionship, and other such topics, the biggest "paradox and contradiction," to quote the play, might be how the pen of Michael Frayn could have produced this script and its antithesis, "Noises Off." Unlike that hilarious backstager, this play is a stately, weighty postulation of the meetings—before, during, and after World War II—between the Danish scientist Niels Bohr, father of modern atomic physics, and Werner Heisenberg, German theoretical physicist best known for his uncertainty principle.
August Viverito directs, achieving the reconditeness of Michael Blakemore's British and touring originals with none of their chill. Blocking still circles the stage, re-creating the walk the men took and the paths of those unobservable electrons. But the reserved conversations the men have in Bohr's home—presided over by his wife, the pointedly anti-German Margrethe—find a cozy nook in three upholstered chairs posed on an oriental carpet, while stars, leaves, or other particles dot the black-box walls (Viverito's production design).
In this beautifully cast play, each actor burns with intelligence. David Ross Paterson makes a cerebral Bohr, voiced with a British accent that works well for a Dane. Paterson's Bohr is confident in the science of his decisions, less certain of his people skills but also less concerned with them. Skip Pipo makes a sturdy Heisenberg, voiced with a lightly Germanic accent. Pipo lets the physicist be aware of so much more than he can say aloud, holding tight to a secret that would expose either an unimaginable mistake or a deliberate but self-destructive choice. Sarah Lilly's Margrethe stands up to these two great minds, never subservient, always observant. Even when her character offers Heisenberg a coffee, it's with a sly, earthy touch of "don't let the door hit you."
How differently subatomic particles, and men, behave when they're unobserved. The two men left the Bohrs' home for a long walk but returned 10 minutes later, never to be as friendly again. And therein lies the mystery, never solved in real life or here, of what happened. In the play, as in theoretical physics, the fascination is not in the answers but in the paths taken to those answers.
Presented by the Production Company at the Chandler Studio Theatre, 12443 Chandler Blvd., North Hollywood. April 23–May 30. Fri.–Sat., 8 p.m.; Sun., 3 p.m. (310) 869-7546. www.theprodco.com.