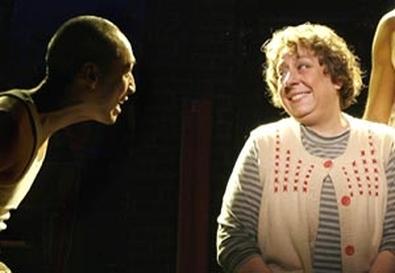 "There is no life I know to compare with pure imagination." These wonderful words occur nowhere during Coraline, yet this equally wonderful adaptation of the popular children's book does much to prove their truth. In bringing to the stage Neil Gaiman's through-the-looking-glass adventure, playwright David Greenspan, composer-lyricist Stephin Merritt, and director Leigh Silverman have created a polished work of theater that feels marvelously like a bit of child's play. The production, presented by MCC Theater, hasn't been lavished with expensive special effects but with that special brand of make-believe that can turn a dreary afternoon magical.

The stage of the Lucille Lortel Theatre is now, thanks to set designer Christine Jones, a spooky wonderland of toy pianos. There you meet Coraline—a young girl who can't help exploring—and see that she is played by Jane Houdyshell, a terrific actor who happens to be in her mid-50s. Coraline's parents are played by an Asian-American man (Francis Jue) and a mixed-race woman (January LaVoy). In the sinister alternaverse she discovers, her Other Mother is a man in drag (Greenspan). Age, gender, and race are like the bricked-up door in Coraline's flat—no obstacle for an imaginative young girl. Like her, you embrace the players and their game.

The story they enact—a ghoulish tale of faded thespians, childless parents, and parentless children—seems ripe for musical treatment. It's been given that, though Coraline doesn't exactly feel like a musical. The only buttons are on the faces of the nightmare-world creatures. Merritt's songs are like the spontaneous ditties you might have made up in your childhood backyard: singsongy, lilting, and sometimes taking unexpected turns.

This rather suits the off-kilter material, which has already inspired a graphic novel and a stop-motion film. One of the tale's defining characteristics, for better or worse, is its refusal to provide context. Coraline is an adventure story, and its title character is an adventurer. That's about it. The tradeoff is that the stakes can feel a bit lightweight if you step back, but there are usually more than enough theatrical pleasures to keep you firmly invested in the present.

The cast is splendid, contributing sharply and colorfully etched performances. Houdyshell sheds years to create an open-faced girl of wit, wonder, and determination. Julian Fleisher is appropriately catty as a nameless black feline. Greenspan, his high, mixed voice and theatrical gestures perfectly precise, makes a spine-tingling villain; his "I'm melting" moment almost supplants the original. LaVoy, Jue, Elliot Villar, and William Youmans are all excellent in numerous parts.

Beyond playing characters, the cast has a larger role: providing the atmospheric and physical environment. They become Foley artists, plucking and banging out sound effects. Occasionally, they join virtuoso pianist Phyllis Chen in performing the score, which is heard entirely on the creepy tinkling toy piano.

Adults will find much to love in this child's entertainment, and, unlike in most overblown efforts, they'll be responding to the same things their kids do. There are no winking double-entendres, no references lobbed over the kids' heads. The joy of this family entertainment is seeing a superb group of theater artists exercising their imagination—and getting you to do the same.

Presented by MCC Theater in association with True Love Productions at the Lucille Lortel Theatre, 121 Christopher St., NYC. June 1–July 5. Schedule varies. (212) 279-4200 or www.ticketcentral.com. Casting by Telsey + Company.