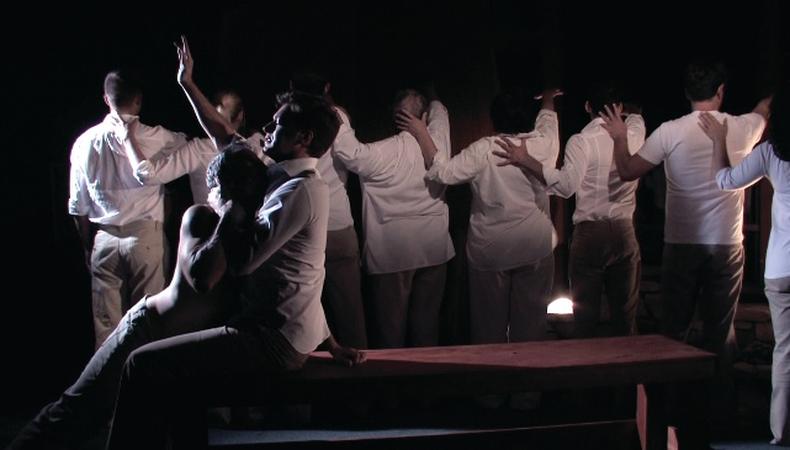 When "Corpus Christi" debuted at Manhattan Theatre Club in 1998, it seemed destined for infamy.
Written by Terrence McNally, the play reimagines Jesus and his Apostles as gay men living in contemporary Texas, playing out Biblical stories through the lens of queer sexuality, spirituality, and love. This enraged many people—as did false reports that Jesus (or "Joshua," as he's renamed in the script) has sex onstage. Protests grew so vehement that MTC installed metal detectors and hired bomb-sniffing dogs. Ultimately, the controversy defined the premiere, overwhelming McNally's earnest, searching arguments about the spiritual lives of gay men.
But that was just a prologue. For the last eight years, Los Angeles–based 108 Production has been rewriting the play's legacy, touring its version across the world. And with the documentary "Corpus Christi: Playing with Redemption" arriving on DVD and VOD Oct. 14, the troupe is furthering the show's transformation into a civic tool.
This evolution began in 2006, when the 108 Production cast assembled for what was supposed to be an eight-night run. The response was so positive that a tour quickly took shape, and the troupe has performed every year since, with stops as far afield as Dublin; Acapulco, Mexico; and Dubuque, Iowa.
"Everywhere we went with the play, a dialogue was happening afterward, because it brings up a lot of stuff for people," said James Brandon, who has starred as Joshua since 108 Production began staging the play. "It became second nature for us to stay after the show and do talkbacks with audiences. We couldn't not do a talkback."
However, there's no predicting what people will talk about. Recently, for instance, gay audiences have focused on their place in the church, whereas several years ago, their attention was on general equality. Brandon said the advance of gay marriage and other LGBT victories may have prompted this shift: "If we're on the precipice of full equality for the community, it feels like the leading-edge conversation then becomes, 'How do I deepen that experience through religion or spirituality?' "
On the other hand, the company still faces detractors. "I get emails daily from people saying, 'You're blasphemous. You're going to hell. You're hurting my God,' " Brandon said, noting that last month, his inbox had just under 14,000 angry messages. (In a harrowing scene from the film, we see him receive a death threat in Texas.)
But even when the shouting gets loud, the company keeps talking to people. "I say, 'Look, I can appreciate your passion for what you believe in, and I'm equally passionate about what I believe in, so let's meet there and see if we can have a dialogue," Brandon said. "Usually it doesn't go any further, but sometimes it does."
To keep people communicating, Brandon has co-founded the I Am Love campaign, which is basically a supersized version of the tour. In each city it visits, I Am Love hosts screenings of "Playing with Redemption," mounts performances of "Corpus Christi," and presents town hall meetings with local leaders. (Last month's town hall in St. Louis featured a pastor, two preachers, and two LGBT activists.)
Ideally, those panels will extend the impact of "Corpus Christi." "When we were touring and people were talking to us, we had to leave," Brandon said. "We had to go back home. It felt like we were leaving some open wounds in a way, some open conversations that needed more resources. So that's how this campaign evolved. We can have these local partners become part of the dialogue so that it continues long after we're gone."
Inspired by this post? Check out our audition listings!