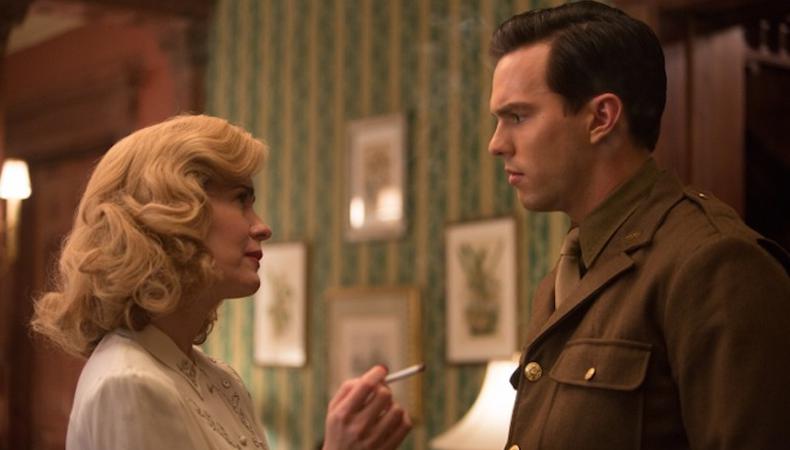 Deborah Lynn Scott—Oscar-winning costume designer for "Titanic," "Avatar," and the new J.D. Salinger biopic "Rebel in the Rye"—emphasizes the importance of period research and actor collaboration.
'Rebel in the Rye' posed the challenge of spanning decades.
"[Costume design is] really a matter of creating the backdrop for all of these characters to thrive and grow throughout the course of the film. We traveled from the '30s to the '50s. It really barreled through time. There are lots of scenes with lots of changes, especially for Nicholas [Hoult, who plays Salinger]. The job of a costume designer is to really help the actor in that journey, to establish themselves in a time and place."
READ: How to Communicate With Your Costume Designer
Does comfort or authenticity take precedence?
"Authenticity.... For women, especially, the foundations are really crucial to achieving the silhouette of the garment. And for 'Rebel,' we used almost exclusively vintage, real things. So you're like, 'Oh my god, how did someone fit into that?' Well, here's how: You're gonna put this waist cincher on! I think that actors are pretty clever people, and it's another thing that helps them understand the time period."
The designer and actor are 'trying to discover the same person.'
"It's almost like it's you, the actor, and then the character. You and the actor [must be] on the same page and pretty cohesive in your ideas. Communication is really important. You'll spend time just talking about it and then start getting into clothing, and I feel like the costume designer in many ways needs to take the lead there. Sometimes you're informing actors who've never ever been in a period film before. They don't know what the '30s were like, they don't know what the hemline was like, they don't know how baggy the pants would be. You kind of slowly educate."
Period pieces require precise research.
"It's a lot of research. You do a lot of research no matter what it is, but for a period piece… and especially a biography, where you're pretty much representing real people. Luckily, it's also decades that were well-documented in many ways from literature to film to fashion. And, you know, a lot of photography. And then you have characters that are real-life. Although J.D. Salinger was not very well documented—he was kind of a recluse—but you do get glimpses in some photos and into his character. One of his kind of thematic elements, I think, was he was very narrow in his kind of choices [in clothing]. You'll see over and over, like, khakis. It's almost like a uniform—someone who needs to put on their uniform to go do their work, it's the same kind of thing. That's one of the things that [writer-director] Danny [Miller] and Nicholas and I discussed a lot."
James Cameron taught her how to be a better listener.
"I honestly think he's a genius, pretty much. You know as you enter any project with him, it's going to be an adventure. Starting the 'Avatar' sequels, you're working in a completely new technology, never before used. It's quite an education through the whole thing. And he's an incredibly strong leader. I think what Jim's taught me the most is really practicing the skills of listening. So when he says something, you know, [directors] won't say, necessarily, 'It needs to be purple.' But they might talk around it. You talk in emotions, you talk in effect, and you need to listen to that. He's such a good communicator in [that] way, but you really need to listen. And when you listen to a director very carefully, the idea is to get on the same page so that you can deliver something that he kind of has in his head. So it's kind of abstract, and some directors can be quite literal. He's literal and abstract."
Want to act in a period film? Check out Backstage's film audition listings!