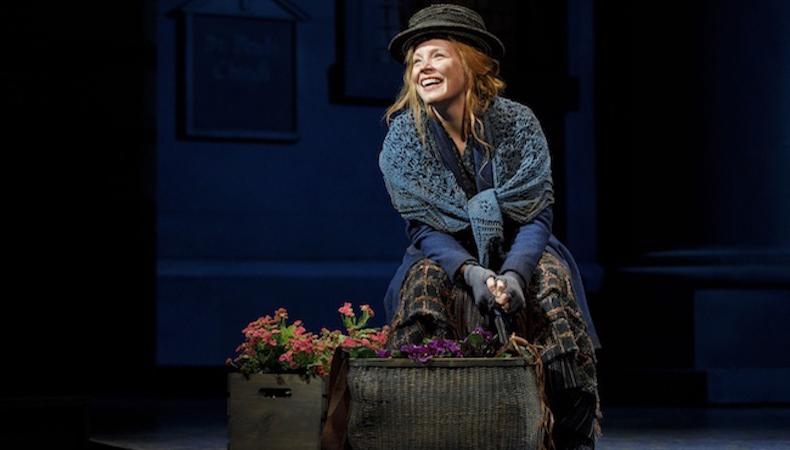 With credits as wide-spanning as "Light in the Piazza," "South Pacific," "The King and I," "How to Succeed in Business Without Really Trying," and "War Paint," few names are as synonymous with Broadway costume design as Catherine Zuber. A 14-time Tony nominee and six-time winner, she's a nominee again this year alongside oft-collaborator and director Bartlett Sher for her work on "My Fair Lady," where her sartorial mapping of Eliza Doolittle's rags-to-riches story is nothing short of astounding.
Period work has always been Zuber's passion.
"What [director Bartlett Sher and the creative team] love [is] we're all very much enamored with classic musicals and really enjoy seeing how they can be made relevant today. With 'South Pacific,' it was when Obama was first running, and there were recurring themes that were quite relevant. And with 'The King and I,' it predated the #MeToo Movement by asserting women's rights. We felt with 'My Fair Lady,' it's right when things are reshuffling the sense of aristocracy and entitlement after the war. Things started to realign and women's voices were heard, women could be more independent."
READ: Why Costume Design Is About Authenticity, Not Actors' Comfort
This production aimed to recalibrate Eliza Doolittle's subservience.
"What we all really gravitated toward, as well as the wonderful musical, was the play 'Pygmalion' by George Bernard Shaw and how Shaw, for his time, was quite an advocate for the power of a strong woman who isn't subservient to a man. It's a recurring theme in most of his plays. That was something that we felt Eliza could bring to this production. And by having Lauren Ambrose play Eliza and Harry Hadden-Paton play Higgins, it was more of a believable potential couple; it wasn't sort of bullying by an older man or perhaps a young girl idolizing somebody older."
Charting Eliza's journey and growth through costume proved rewarding.
"Bart always had his eye on that trajectory. The one thing that was challenging was the 'Poor Professor Higgins,' sequence because we realized that if she just has the one dress, it looks like this was like a crash course and they got it done over one very long day into morning. So it had to seem like it was progression of many sessions of them all working together that had gone over weeks. And also, it can show [Eliza] as the time went on getting a little more comfortable. And maybe she's not getting her vowels the way she should, but she is becoming used to taking a bath and having clean clothes and all of that. You see the progress [in the costumes] in terms of that."
READ: Norbert Leo Butz on Typecasting + Playing 'My Fair Lady' in 2018
Lauren Ambrose was an excellent collaborator.
"She's very trusting, but it needs to work for her in how she's playing it. As well as having a gorgeous voice, she's a wonderful actress, and so all the details need to ring true for her and help her within each scene. I think if something wasn't working, she would speak out and kind of guide towards certain things that felt important to her."
That's right: If you're an actor, speak up!
"I really like to collaborate, so when I'm in a fitting, I always try to gauge the response from the actor. There's always a moment where you can see they're thinking about something, and I want them to feel comfortable voicing their opinion."
Want to act in the theater? Check out Backstage's theater audition listings!