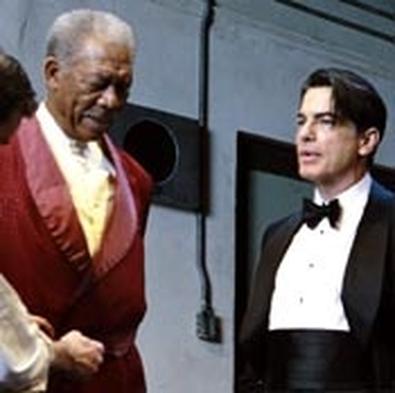 What would attract Morgan Freeman, Frances McDormand, and Peter Gallagher to Clifford Odets' The Country Girl? Perhaps it's the meat of their characters more than the play itself. Indeed, forget all the gossip you've read over whether playwright Jon Robin Baitz, credited with "material revisions" for this Broadway revival, has tweaked the script a lot or a little — this isn't Odets' keenest work. But it is plainly a commercial vehicle, with a suspenseful backstage story and a predictable romantic triangle that has the ability to ensnare. Critics noted this back at the time of the original 1950 production, which Odets staged; even with Mike Nichols at the helm, the verdict on the drama remains unchanged. The Country Girl was also a big hit in 1950, so given the star wattage on stage at the Jacobs Theatre, it's likely to become one again.
Freeman plays Frank Elgin, a talented actor whose trysting with alcohol has left him washed up. What's surprising about Frank's long-suffering wife, Georgie, played by McDormand, is she's not depicted as miserable until Act 2. For most of the play, she's tolerating, mildly maternal, emphatically passive-aggressive, aloof — the simple, admirable traits of a plain country girl that McDormand embodies so well it's almost unnerving.
Gallagher plays Bernie Dodd, a sharp-mouthed theatre director who entreats his producer, Phil Cook — a spitfire of gutsy charisma from Chip Zien — to cast Frank in a new play. Remy Auberjonois gives the role of the playwright, Paul Unger, a welcome sheen of sweetness.
No one is unaware of Frank's reputation. But Bernie's a dreamer: When young, he saw Frank in a play and has never been so captivated since. He says creating stage magic means rolling the dice sometimes, and if he can stop Frank from falling off the wagon, he promises not to draw snake eyes. (The Country Girl was partly inspired by the last years of Laurette Taylor, who created the role of Amanda Wingfield in The Glass Menagerie.)
Gallagher hits his stride immediately and never looks back. Cigarette dangling from his mouth, his voice a corroded Brooklynese that rides Odets' clipped dialogue at a gallop, Bernie is hard-nosed haggler and well-guarded artist. Usually a committed actor, Gallagher is giving one of the finest performances of his career.
And while Freeman is arguably too old for his role — the age difference between him and McDormand is striking — he too has moments that transcend the flaws in Odets' drama. For one thing, Frank is a study in deception: Odets builds the play so you believe Frank's claim, early on, that he's licked his love of liquor and that the real pain in his marriage comes from Georgie, who never recovered from the death of their child and possesses suicidal tendencies. Earnest and avuncular — two fine qualities in an actor, if curious for Frank — Freeman thus complicates McDormand's task, and she is unable to make Georgie multidimensional until Bernie reveals his love for her.
Only in the final scene — when Frank triumphs in the play despite a bit of impromptu stage combat with the ingĂŠnue, Nancy, played by Anna Camp — does McDormand unveil Georgie's psychological underpinnings, because Georgie won't ever leave Frank, even given the chance. No, she's no country girl; she's a cauldron whose lid is firmly on the pot.
Nichols and Baitz can't neutralize the play's hoarier twinges, but Tim Hatley's array of sets, Albert Wolsky's wisely understated Truman-era costumes, and Natasha Katz's chic, angular lighting make it a handsome production.
Presented by Ostar Productions, Bob Boyett, the Shubert Organization, Eric Falkenstein, Roy Furman, Lawrence Horowitz, Jam Theatricals, Stephanie P. McClelland, Bill Rollnick/Nancy Ellison Rollnick, Daryl Roth/Debra Black, in association with Jon Avnet/Ralph Guild, Michael Coppel, Jamie deRoy/Michael Filerman, Philip Geier/Donald Keough, Max OnStage, and Mary Lu Roffe
at the Bernard B. Jacobs Theatre, 242 W. 45th St., NYC.
April 27-July 20. Tue.-Sat., 8 p.m.; Wed. and Sat., 2 p.m.; Sun., 3 p.m.
(212) 239-6200 or (800) 432-7250 or www.telecharge.com.
Casting by Tara Rubin Casting.