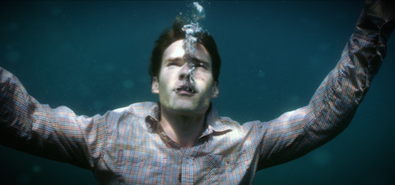 With her feature film, "Just Before I Go," Courteney Cox ("Friends") further proves her comedic chops, taking heavy subjects like homophobia, suicide, and adultery, and delicately turning them into a powerful but playful narrative.
Seann William Scott ("American Pie") stars as Ted Morgan in this dark comedy—a man determined to take his own life. But before Ted can do this, he decides to go back to his hometown and face his demons: the people he blames for making him the person he's become. Ted's plan goes awry, as he becomes increasingly intertwined with the lives of those he comes back to confront.
Believe it or not, during a roundtable discussion on April 25 with fellow cast members Garrett Dillahunt, Mackenzie Marsh, and Cleo King, Scott says he "doesn't really have a comedy sensibility."
Cox immediately interjects, singing his praise. "Well, you do have it. I mean, obviously, you're so funny in this movie with your looks and your subtleties, but what's great is he's the most sincere person," she says.
"He's just present and real… So yes, you do comedies," she says to Scott. "You've probably made more money doing comedies than anyone at this table…Well…" she says motioning to herself, and causing laughter to break out in the room.
"It was a little bit easier for me to play a character like this compared to Stifler…which is exhausting," says Scott, again causing laughter.
But this is exactly the kind of energy the cast and their director have, both on and off screen. No matter what's being discussed—have it be during an interview, or the content in the film—this crew finds a way to have fun.
"I just love Courteney's sense of humor," says King ("Mike and Molly"). "To me, it's very different, it's very dry. And I love that this isn't the typical comedy. I love a film that makes me feel something and deals with these issues… and this film isn't typical, but it is about all the typical life things we have to deal with."
And this relatability is something that stuck with much of the cast. "We all basically had something we were dealing with," says Marsh ("The Following"), "but I love that this movie shows the resolution of everybody knowing their worth and knowing that they need to be loved and need to love…I think that it's a really cool message, and I love that we all played our part.
"It was cool that you kind of saw everyone have their moment of, 'We are worth it,' " she adds.
It's a challenge to create a film both heavy in content but as playful and unforgiving as "Just Before I Go," but Cox managed to do it on her first try.
And don't forget to check out our Tribeca Film Festival coverage, coming to you all week!