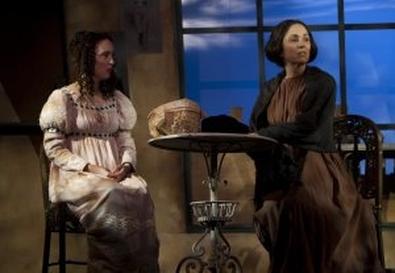 "Bette!" sneeringly snaps one of the many characters we're introduced to at the top of the first scene. Or is he calling her "bête," French for beast? Bette is the conniving low-status cousin of the extremely wealthy, extremely superficial Hulot family. Jeffrey Hatcher's tidily abridged adaptation of Honoré de Balzac's huge novel "Cousine Bette" brings Balzac's wit and the flavor of the novel to this absorbing theatrical script—as apropos now as the novel was 160 years ago.
Bette is a memorably unusual protagonist and narrator. Because her family so deeply rejected her and now constantly reminds her of her "poor relation" status and physical unattractiveness, we hope she triumphs. However, Bette is morally unattractive, no matter how justifiably so, thus we feel awkward in commending her.
Director Jeanie Hackett doesn't miss a task in bringing all this to the stage. She has chosen a unifying style blending comedy, tragedy, realism, and the best kind of old-fashioned stagecraft. She gives us scenes that wrench our hearts, bits of business that make us giggle, and whirls of activity that keep our minds fully alert. And only Hackett can repeatedly block two actors downstage center yet make us believe in the moment.
She is blessed with Nike Doukas as Bette, whom Doukas makes embittered yet resilient. This Bette is self-accepting, scheming with strength, objectivity, and foresight to destroy her family. She seems masculine at times, in her bearing and in her unflinching receipt of insults. Doukas uglifies herself, as intelligence but not appeal light up her face. She wears a drab brown, columnar dress that contrasts with everyone else's outfits (elegant character-defining work by costumer A. Jeffrey Schoenberg). When Bette finally dresses up, Doukas emanates more victory than glamour.
Bette falls hard for her sincere young neighbor, the sculptor Steinbock, played by Daniel Bess with a delicate sincerity that complements Doukas' power. In a memorable moment, when Steinbock first hugs Bette, Doukas seems unfamiliar with the gesture. Among the powerful men who lose their dignity and cash through lust and greed is Hector Hulot. John Prosky plays him with—and this is meant as the highest compliment—a touch of Austin Powers. With pathos, Emily Chase plays his sweetly protective wife. Jen Dede plays Bette's protégé, Valerie, with a counterintuitive air of purity. Also contributing to the magic, Paul Willson adds bumbling buffoonery, Robert Pine dignity, Tony Amendola menace, and Bill Brochtrup two quick-change roles.
The three hours of this saga seem like one hour and would be well-worth revisiting, whether to see this cast again or to observe what the alternate cast of this double-cast production brings.
Presented by the Antaeus Company at Deaf West Theatre, 5112 Lankershim Blvd., North Hollywood. Feb. 6–March 21. Thu.–Sat., 7:30 p.m.; Sun., 4 p.m. (818) 506-1983. www.antaeus.org.