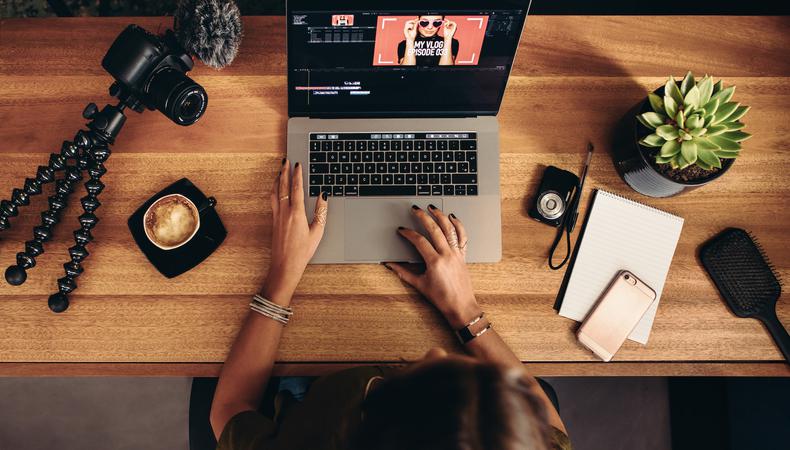 Since 2016, video has gone from encompassing 51% to 82% of all internet traffic. What's more, there are 50 million people in the creator economy today thanks to platforms like YouTube, TikTok, and Twitch. We can all agree that video is prolific and has the power to teach, influence, and inspire audiences everywhere. Balancing story, authenticity, and performance is delicate, though, whether you're creating YouTube vlogs or producing Sundance-worthy documentaries.
While video content is highly effective, the sausage still needs to get made. The tools used to capture video—DSLR cameras, Zoom, livestreaming software, smartphones—are accessible to everyone. The biggest challenges begin the moment after you stop recording. Editing challenges stem from large file sizes and compression technologies (codecs), complex workflows driven by the multidimensional nature of video, and the low cost of recording so much footage that can then become disorganized and unruly.
What are a few of the most time-consuming and challenging aspects of video editing today, and how do we solve them?
1. Finding music
The first question every video creator asks when it comes to finding music is: Should we have someone create original music for this project, or should we license existing music? If you go with the former, it could get expensive, and it may take a while to find the right person. If you go with the latter, where do you start?
You might have an audio library from past projects that you can repurpose. Perhaps you'll curate a few songs per video so you can have options to work with during editing. Either way, once you select your songs, your client or team will likely request a music change at some point during the process—which can clash with the timing of the cuts and your project's style, mood, and feel.
Spending a lot of time finding the "perfect song" for your video only to discover that it's not actually perfect is far from ideal. The good news is that there are tools to help. For example, Artlist offers royalty-free, unlimited-use music licenses, so you can quickly search through tens of thousands of tracks by genre, mood, and instrument to find the perfect song.
2. Disorganized footage
There are many types of videos you can create—and a lot of ways to make them, too. But every video creator has one thing in common: They need to watch all of their footage before editing can even begin.
Manually organizing, reviewing, and logging what you see and hear can be a time-consuming and draining process. Everyone has their own way of doing things: You may prefer to review the dailies and label them as you film; create massive spreadsheets that become your media bibles; or create folders and sub-folders organized by day, camera, location, b-roll, interviews, and archival footage. The list of potential organizational approaches goes on and on—and you do all of this just to put together your first rough cut.
Depending on the project type, video creators can easily spend days, weeks, or months organizing footage. The good news is that rapid advances in artificial intelligence have enabled tools that can help editors save time. One such resource is Cquence, which automatically organizes and logs your footage so you can instantly search for the best moments. It bases its search on what you can hear (words, phrases, quotes) and see (locations like "ocean," objects like "coffee cup," actions like "sailing") in the footage. Cquence also gives you the ability to assemble rough cuts and collaborate with your team remotely.
3. Transcoding footage into proxies
Transcoding is the process of converting video or audio files from one encoding format to another. So, why do it? Footage that's 2K, 4K, or ultra high-definition (UHD) is not ideal for editing. There's so much information contained in every frame that it's difficult for editing programs to render it in real time, which ultimately slows you down.
Proxies, or proxy files, are smaller versions of higher-resolution raw files. This gives you a smaller file to use during editing that remains linked to your high-resolution source footage. You can then replace it at the end of editing before delivery.
To avoid putting significant strain on your machine, transcoding source footage into proxies is highly recommended. In addition to color grading and video editing, popular program DaVinci Resolve from Blackmagic can also transcode your files into proxies. It's well-equipped to support 2K and 4K footage, as it leverages its performance on the user's graphics processing unit (GPU) rather than their central processing unit (CPU). This means that you can transcode proxies faster and maximize your machine's resources.
Everybody has the ability to capture high-quality video at an affordable price. Even though video editing is hard work, new tools allow creators to capture powerful video footage and edit it themselves. It will be exciting to see how the confluence of the creator economy, artificial intelligence, and powerful processing (both locally and in the cloud) will continue to spawn new solutions that provide end-to-end creative agency for the first time in history.