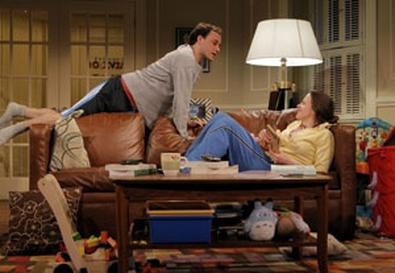 If Shakespeare were reviewing "Cradle and All," he might crib from himself and write, "'Tis not so deep as a well, nor so wide as a church door, but 'tis enough, 'twill serve." Daniel Goldfarb's new comedy, having its world premiere at Manhattan Theatre Club, is well-oiled, lightweight, amusing, and, in its way, comforting. You don't particularly care about the characters, but it's the type of boulevard work that once graced New York and London stages for a year or so, attracting locals out for laughs.

The evening is divided in two. The shorter first half is more sketch than play, dealing with an unmarried Brooklyn Heights couple in the throes of crisis. Claire DesRosier, once a promising young film actor (she supposedly co-starred with Keanu Reeves in a stinker called "A Moment in Paradise"), is 41 and wants a baby. Luke Sean Joy, 34, who sells antiques but yearns to be an architect, doesn't. He especially recoils every time he hears the bawling kid across the hall.

Titled "Infantry," a riff on babyhood and battle, the act has knowing references to sushi from Nobu, "Mad Men," and the Upper West Side. Claire and Luke love each other, but the baby question is tearing them apart, a fact reinforced by Sam Buntrock's spot-on direction, which alternately unites then separates the warring parties. The work doesn't get much beyond "I want"/"you want," but it's acted by Maria Dizzia and Greg Keller with style and skill that become even more apparent when the actors take on different personalities in the second act.

Here, Dizzia is Annie Saxe, 35, a company recruiter on maternity leave. She's married to Keller's Nate Hamburger, 36, an out-of-work actor. It's their infant, Olivia, whose cries so disturbed Luke in Act 1. The kid is driving Annie and Nate to distraction by refusing to go to sleep. As we hear via a baby monitor and the occasional parental peek inside her room, she instead screams bloody murder.

Of course, being modern parents, they consult, turning to books, a counselor, and Annie's mother. Annie is irritable to the point of physical, mental, and emotional turmoil, while Nate congratulates himself with bromides like "Okay, then. She's screaming, and that's good parenting." When all else fails, he bakes a batch of chocolate chip cookies.

Dizzia takes us to the edge of hysteria, balancing Annie's eye-rolling, hair-tearing agony against her genuine concern for husband and child, as well as an awareness of how close she is to the precipice. Keller's Nate is tight-lipped and tense, even when exercising or baking cookies, but sympathetically crying out for help. Again, Buntrock's touch is buoyant.

As this half is titled "The Extinction Method" (after a book on parenting that sounds "Holocausty" to Nate), it leads to issues of Jewish angst. Although the setups are humorous, the consequences are left unexplored. Goldfarb isn't particularly interested in dissecting questions of ethnicity or exploring modern parenting beyond the basic situation. Within those parameters, however, the production scores, from set designer Neil Patel's matching apartments (one pristine, one messy), Ken Billington's lighting, Mattie Ullrich's costumes, and Jill BC DuBoff's sound design. Whatever "Cradle and All" is or isn't, it's an excellent showcase and a sure bet to entertain audiences out for a carefree evening.

Presented by Manhattan Theatre Club at New York City Center Stage I, 131 W. 55th St., NYC.
May 25–June 19. Tue., 7 p.m.; Wed.–Sat., 8 p.m.; Wed., Sat., and Sun., 2 p.m. (Additional performance Sun., May 29, 7 p.m.) (212) 581-1212 or www.nycitycenter.org. Casting by Nancy Piccione.