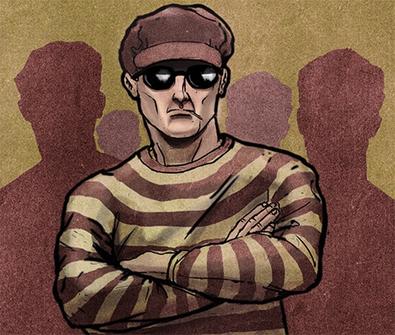 "See, if you got three or four good pals, why then, you got yourself a tribe. There ain't nothing stronger than that."—Billy the Kid in "Young Guns"
"There's strength in numbers" is one of those expressions we've heard a million times, so it's easy to dismiss. But let me tell you something: Those four little words hold a lot of truth.
In the movies, you can drop a young Stallone behind enemy lines and he'll get the job done, but in real life you need an entire squad backed by a support team—the same is true in my line of work. Who's the most overworked bastard in the entertainment industry? It's the agent who runs a one-man shop where he submits hundreds of clients on every film, television, and commercial project out there. But if you give him two more agents, one to help with theatrical and the other to cover commercials, then you have the beginning of a promising team.
There's strength in numbers.
This is a lesson actors need to learn. Your life will be much easier if you join a theater company or an improv group and surround yourself with fellow performers who will give you emotional support and a constant stream of creative possibility. But for the purposes of this column, I want to take that logic several steps further.
I want you to put together your own gang.
I'm serious. Start by making a list of all the talented actors in your life that you consider friends or, at the very least, acquaintances. They should be positive people, the kind who don't wallow in their own misery. Now study that list carefully and cut it down to about five names. Those are the people you're going to approach.
When they ask why you're putting together a gang, assure them you have no intention of robbing a bank. The goal is to meet on a regular basis for the purpose of trying new things and advancing everyone's potential.
They're going to want specifics, so here are a few reasons to get together:
1. The single most important skill a modern actor must master is the art of going on tape, so why not work on it as a team? Each member of the gang can bring in material from recent auditions and you can take turns going on tape. Try different backgrounds and camera angles. Study the results carefully. Learning how to self-tape is vital, so make it a recurring theme.
2. Have a guest night. Invite someone like me to talk and answer questions. If you plan ahead, this could be a very educational experience. And agents are more likely to be honest in someone's home, especially if you throw in some pizza and beer. (Every member of your gang should have at least one solid industry contact to invite, so this will be much easier than it sounds. Trust me. I've been on the receiving end of this idea. It works!)
3. Spend an afternoon creating and working on cue cards. Make sure you tape the reads so everyone can see how they come across on camera. Unless you're working as a host, the odds are you'll never need this skill, but it could be a fun learning experience.
Those are just three ideas off the top of my head. I'm sure you can come up with more. The trick is to bring together a group of like-minded actors who want to flex their muscles, advance their careers, and have some fun.
Who wouldn't want to be in a gang like that?
Like this advice? Check out more from Secret Agent Man!