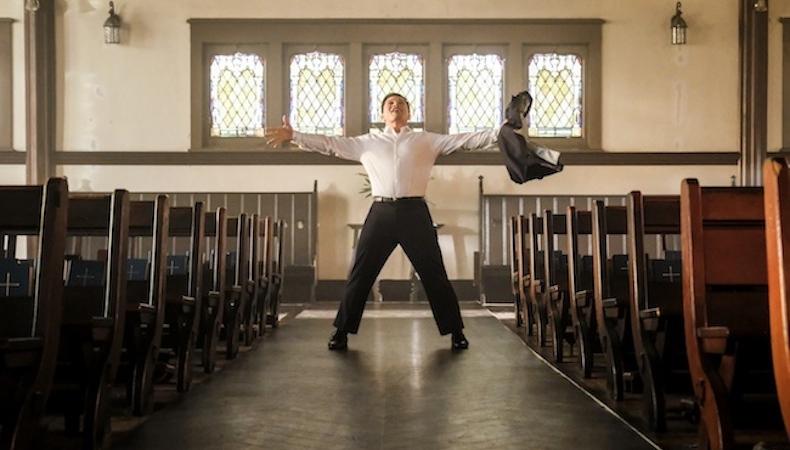 With his roots in dance and theater, Vincent Rodriguez III is no stranger to the spotlight; Rachel Bloom's "Crazy Ex-Girlfriend" just happened to thrust him onto his biggest stage yet. The CW's Golden Globe–winning musical comedy co-stars Rodriguez as Josh Chan, the object of obsession-turned-fiancé-turned-ex for the ever-complicated Rebecca Bunch (Bloom). The 35-year-old actor swung by Backstage HQ earlier this month to discuss his boundary-pushing series, hard-earned audition advice, and more.
It's easy to tap into Josh because he sees parts of himself in the character.
"What's cool about playing Josh is recognizing that he's someone who resonates with me—like, I've been Josh at times in my life, and I also went to school with Joshes and they might have been in my clique of friends. So I'm really familiar with that person and that lifestyle with family and social life. I immediately connected to Josh's vibe. It was odd, I remember reading the breakdown and just feeling like, Wait, this is like me."
'Crazy Ex-Girlfriend' tackles the taboo.
"A lot of people are responding to the darkness that our show is covering right now. It was there the whole time, and it would've been false not to address that possibility. But now we have a way of softening the blow so that it's digestible. Our show is really known for that. We talk about a lot of taboo things and we break a lot of character tropes, which a lot of people enjoy because it's not typical TV. It's not as predictable. It celebrates musical comedy, but it also talks about really challenging topics that not many other shows are."
READ: Rachel Bloom's 'Crazy' Ride to a Golden Globe
The series relies on its audience's intelligence.
"Aline [Brosh McKenna] and Rachel created an amazing, balanced show, and something that really resonates with what's happening right now. That's why it's gaining momentum and popularity—because more people are realizing, 'Whoa, this show is actually speaking to me.' And [it] is aware of how smart you are."
Don't be afraid to challenge yourself—you never know how it will pay off.
"You're going to be asked to do things for auditions. You're going to be asked to prepare 16 pages of sides, and if you don't want to prepare them, that's fine. Someone else will. But also that process, that practice develops a muscle in you. And you're going to use that skill in other ways. You just don't know how it's going to serve you later. So I urge you to throw yourself into your work, use that opportunity to learn something new, or see if you can memorize 16 pages of sides: How would you do that if you had to?"
Auditions are meant to be a creative space.
"I think the best thing you can do for an audition is to just do your work, be creative. It's OK to be spontaneous. Trust your instincts, and the best way to trust them is to practice them. So audition: It's an opportunity to act."
Ready for small screen song and dance? Check out Backstage's TV audition listings!