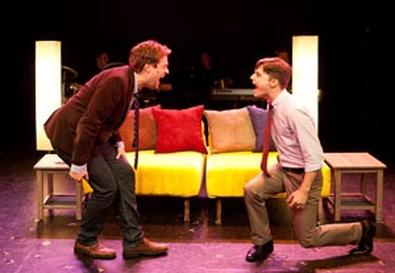 Not counting "The Book of Mormon," "Crazy, Just Like Me" might be the first full-fledged bromance musical. "Mormon" has much else on its addled mind, but "Crazy," by Drew Gasparini (book, music, and lyrics) and Louis Sacco (book), is all about Simon (Andy Mientus) and Mike (Andrew Kober), best buds since sandbox days, and the ways the now 20-something roommates' lives and relationship are about to change.
Mike is seriously dating Lauren (Lexie Papedo), while the discontented Simon is going through a spate of who-am-I songs. The couple refers him to a shrink, the unsubtly named Dr. Headman (Sacco). I'm not sure how we're supposed to feel about the doc. Alone, he mutters "nam renge myoho kyo" and sends himself silly voicemails and assumes odd yoga positions, but with Simon he's startlingly perceptive: Within a few lines, he figures out that Simon is gay. This is as much a surprise to us as it is to Simon, and sorry, guys, but I don't buy it. Sure, people repress their sexualities, but not this deeply; Simon was fantasizing about something in high school, and if it wasn't girls, he'd know. Anyway, Simon, after initial astonishment, sings his mom a coming-out voicemail (a good song, and Mientus negotiates the conflicting emotions beautifully, though, disappointingly, we never find out how she reacts) and leaps to the next not-credible moment, when he decides he's in love with Mike. He gets past that too, but offstage. We don't know how he processes it, only that he has to if we're to reach a happy ending.
So there are plenty of holes in this narrative, as well as underdeveloped characters. Though Lauren has a lot of stage time, and Papedo is refreshingly natural and has killer pipes, she has no traits beyond being in love with Mike. Her best friend, Stacey (Mike Russo), exists only to offer stereotypical Eve Arden rejoinders and provide a budding romance for Simon. All this might be forgivable if it were backed by a wonderful score, but Gasparini's soft-rock melodies seldom land as they should, though he does furnish some pretty vocal harmonies, and most of his near-rhymes are so distant that we can't tell if they're intentional. The three-piece band often drowns out the lyrics, in any case.
Director Stephen Agosto livens things up with some smart character-appropriate stage business (secret handshakes, meaningful glances), but he also has bodies stand awkwardly still through whole scenes while the main action is happening elsewhere. The central relationship has fine moments, thanks to Mientus, who creates a fully rounded character out of random strands, and Kober, whose goofy-dude persona appears ready-made for a Judd Apatow movie. But "Crazy, Just Like Me," which feels overextended at just under two hours without an intermission, doesn't suggest a strong future for bromance musicals.
Presented by Rob Intile Jr. and Ashley Mas, in association with Nicole Tingir, as part of the New York Musical Theatre Festival at the Barrow Group Theater, 312 W. 36th St., 3rd floor, NYC. Sept. 27–Oct. 5. Remaining performances: Sat., Oct. 1, 4:30 and 8 p.m.; Sun., Oct. 2, 1 p.m.; Tue., Oct. 4, 1 p.m.; Wed., Oct. 5, 9 p.m. (212) 352-3101, (866) 811-4111, www.theatermania.com, or www.nymf.org.