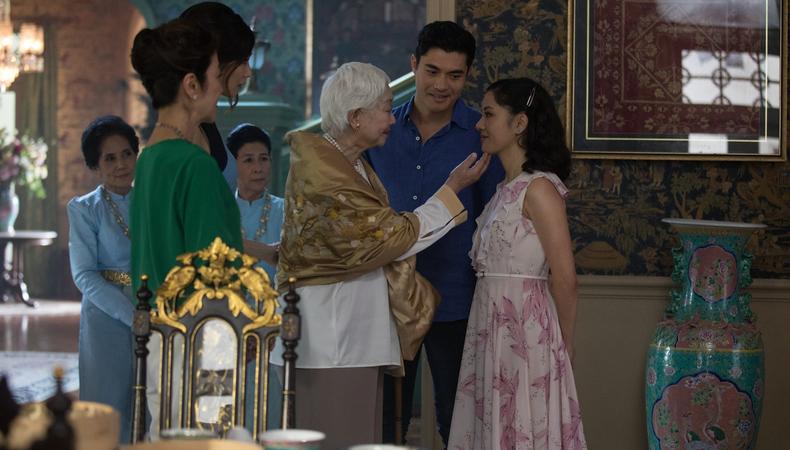 For Jon M. Chu, the decision to direct was a heavy one—literally: He had to carry the family video camera while on vacation.
"My parents just got sick of holding this giant camera," he recalls, then a child who had struck out with many other hobbies and instruments. "I started filming stuff, and when I edited those vacation videos together, suddenly I had a voice. When I showed them to my parents and they cried, I knew this is what I wanted to do for the rest of my life. I've never wavered from that moment."
These days, he carries a different kind of weight on his shoulders. His latest film, "Crazy Rich Asians," is hotly anticipated not only as an adaptation of Kevin Kwan's best-selling book, but also as the first studio feature film in 25 years to feature an all-Asian cast. The romantic comedy peers into the lives of the unbelievably wealthy families of Singapore and what happens when an American-born Chinese woman (played by Constance Wu) dips her toes in their decadent yet protective world.
"As fun and over-the-top as they are, these characters couldn't be stereotypes or clichés. They had to be real people with complicated, layered emotions," says Chu, who has previously navigated fanbase expectations when helming the Justin Bieber documentary and the sequels to "Step Up" and "Now You See Me." "Of course people will have things to say about this detail, that detail—you'll never satisfy everybody. It's too much to put on one movie. But I wanted to try to get it as right as possible, because I knew this wasn't just for us."
Though he never aimed to make movies related to his cultural background, Chu voraciously chased down the project once his Twitter feed was flooded by #WhiteWashedOut, a hashtag campaign created by Margaret Cho lamenting the lack of Asian representation in mainstream entertainment. Such societal pressure has been the key to unlocking steadfast studio support for the movie's authentic specificity.
"We were in a position where we could say, 'You need to understand up front that casting will take longer and be more expensive because we need casting agents on multiple continents. And you have to trust us on the cultural stuff—you can't do the normal shit that you do," Chu recalls of working with Warner Bros. after fielding multiple studio offers. "It was a great relationship where they were willing to learn; they could question things they didn't understand, and once we explained, 'No, that's just what we do, that's how people talk,' the discussion was over. They empowered us in a lot of ways that I've never experienced before."
Chu's relentless quest for authenticity continued on set. "For the first time, these [Asian] actors weren't being rushed through makeup and thrown into a scene. They were the stars, and we took the time and effort to light them, dress them, and talk about each of the scenes," he says. Moderating each actor's Singlish (colloquial Singaporean-English) accent was a collaborative process, and late-night rewrites occurred often to accommodate new ideas and critique existing ones. (For example, the book's discussion about the sexual appeal of Asian men read counterproductive to its intent and was cut before production.) No stone was left unturned, and every member of the cast and crew was encouraged to share their experiences. Michelle Yeoh even spoke up before accepting the part as the intimidating matriarch. "She said, 'Just so you know, I'm not playing a villain. I'm gonna defend my culture, and you defend your culture.' And I was like, 'We're on the exact same page,' " Chu recounts.
The director hopes actors of color will be emboldened to openly communicate on sets about the cultural accuracy of their characters going forward. "Sometimes before we speak up, we think, 'I'll be left out there to dry, and it's gonna be awkward and I'm that person who complains.' But you're not the first, you're not the last, you're not alone, especially in this day and age."
"Crazy Rich Asians" isn't just a breakthrough for Asian representation onscreen; it's also Chu's secret tribute to his own family. The movie is sprinkled with montages of mahjong matches and dumpling assembly—rituals in his immigrant household in Palo Alto—and its soundtrack is dominated by Chinese-language songs to which his parents know all the words. Plus, the script's central conflict—America's propensity to prize the individual versus Asia's expectation to put family and others first—mirrors his own lifelong internal debate as an Asian-American. It's prompted a pivot in the projects he picks. "As I'm getting older, I'm trying to figure out what I am actually trying to say with all my films. I want to be less career-driven and more contribution-driven. If you add to society, the career will come, no matter what it is."
Chu next directs the big-screen adaptation of Lin-Manuel Miranda's Tony-winning musical "In the Heights," and he just got a personal tour of the titular neighborhood from the multihyphenate theater-maker himself. "The scariest part for me is learning the specificity of the Latino culture. I'm gonna have to listen, listen, listen, and try to interpret as best I can. But I'm going into it confidently, knowing that specificity is what drives that universal connectivity."
Ready to get to work? Check out Backstage's film audition listings!