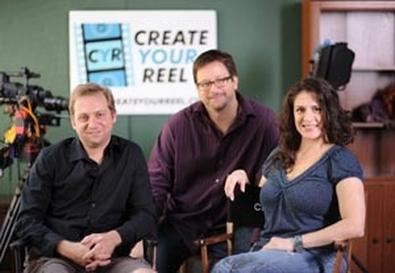 Kevin King, Retta Putignano, and Steve Hosford were talking to an agent friend of theirs two years ago. The agent shared that she wished she could find a way for everyone on her roster to have a demo reel. She also wanted footage that focused solely on her clients, not on the other actor or actors in the scene. "That's something we could do," King recalls telling the agent. Among King, Putignano, and Hosford, they had experience writing, directing, producing, and editing independent films.
The company became Create Your Reel, and the results are impressive. Take a look at the company's website and you'll see professional-quality footage depicting scenes from fictional but seemingly real TV shows and movies, many of them medical or crime procedurals—the two most popular genres requested by clients. Putignano, who is an actor, writes each scene based on a brief consultation with the client, who supplies her with the genre, character, and situation for each scene. Hosford, also a part-time actor, lights, designs sets for, and directs the scenes. King edits footage and serves as the company's chief business/marketing executive.
Says King: "We don't try to create a vanity piece where someone comes in and we make them the star or the lead of some romantic comedy. Unless you're going out to be the romantic lead of something, you really shouldn't be putting that on your reel. So we say, 'Let's do the things that you're really going to go out for. Let's go for the "under five" role. One thing we tell clients is, 'Really talk to your representation. Find out what you're going out for in casting.' And if it's not on your reel, come to us, and we will shoot it for you. Or if you don't have representation yet, ask your teachers and friends to help you."
Not that long ago, agents, managers, and CDs frowned upon self-created footage on an actor's reel. As King explains, that was because the footage probably looked poorly produced and directed. King and his partners pride themselves on creating the highest-quality reels, including the performances. He adds, "I think casting directors want to make their jobs easier. We're simply saying, 'This is what this actor would look like if they played this specific role.' "
Rates start at $300 for an edited 15- to 20-second scene. King recommends limiting a reel to 60 seconds and including two or three scenes. Clients are welcome to include scenes from previous work for a nominal fee of $20 per scene.
Reader comments:
"No credits? No problem! The Create Your Reel team takes your talent and puts it on display in scenes custom-written for you. The finished product will look like it was plucked from an Emmy Award–winning television show or the latest big-screen blockbuster...with you and your talent as the stars."
—Brian Frates
"They create your perfect scene, starting by writing a customized script suited to your personal castability and performance strengths. Then they direct and shoot your scenes on customized sets. Amazing value for the money and downright great people to work with."
—Kevin B. Hartley
"Fast, affordable, professional-quality reel. These pros really care about the 'end' product."
—Shelley Christl
Create Your Reel, NoHo Arts District, www.createyourreel.com
Runners-Up:
- Shotgun Digital, (323) 466-5589,
www.shotgundigital.com
- Donovan Scott, (818) 857-5888
- Speedreels, (323) 931-1712,
www.speedreels.com