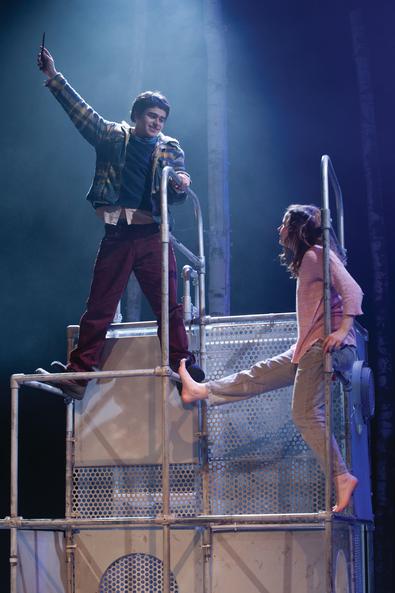 Jack Thorne had already read John Ajvide Lindqvist's "Let the Right One In" and seen its two film adaptations many times when he was approached to rework the vampire novel for the stage. Director John Tiffany, the wizard behind the National Theatre of Scotland's hit "Black Watch," was interested in staging another production with the renowned theater. "He was thinking around for the right writer and wanted someone who would understand lonely, weird boys and girls," deadpans Thorne. "He decided I was lonely and weird enough to do it."
Luckily for Thorne, considering the international success of Tiffany's collaboration with choreographer Steven Hoggett. Their now-recognizable theatrical expressivity has erased the line between acting and dance in productions as wide-ranging as "Once" and "The Glass Menagerie." With such a formidable artistic brain trust at the helm of this tale of lonely and weird boys and girls, Thorne remembers, no ideas were too lofty, no images too extravagant. "When you're working with Steven and John they can do more or less anything," he says.
More or less anything is what's required to make a coming-of-age supernatural thriller resonate onstage. Equal parts feral and tender, Lindqvist's myth centers on the bullied Oskar and his friendship with Eli, the girl next door who is more than she appears. Unlike the bland romance that made "Twilight" a sensation, "Let the Right One In" is a nuanced portrait of the psychological implications of friendship and adolescence that happens to feature spurts of vampiric violence. Thanks largely to Thorne's grasp of the source material, Tiffany and Hoggett's production—now playing at St. Ann's Warehouse through March 8—achieves that rare feat in the theater: genuine, bone-chilling horror.
To do so, Thorne made it his mission to break down the novel into pieces and understand every piece, what he refers to as "indexing." Only after translating each segment from page to stage did he revisit both the 2008 Swedish film and the 2010 American adaptation, "Let Me In." Thorne says he "attacked the script without the film[s] and then watched both halfway through" the development process in order to avoid mimicking both movies' distinct compositions.
"It's interesting because they both invented their own Oskar," he says of the story's protagonist. In the Swedish adaptation, he comes off shy and slightly ethereal, whereas the American version casts Oskar in a more sexual light, as a peeping Tom. Because both differed from the source material's character, Thorne explains that it "gave me license to invent the way we want to do it—our own Oskar." The play highlights the boy's fraught relationship with his parents, among other qualities borrowed from here and there. "We stole from everywhere," says Thorne. "It became a liquid mass of different bits."
As the production took shape, Thorne felt increasingly free to try gutsy, high-concept ideas. Collaborating closely with Tiffany, Hoggett, and set designer Christine Jones increased Thorne's faith in the story's ability to deliver thrills onstage. "There is a moment where the entire audience jumps as one and it's really fun to see that," he says. "That jump is incredibly clever lighting, clever sound, clever acting from Rebecca [Benson]...you're just completely transfixed by the sheer, visceral horror of the moment."
Benson's ambitious performance, in fact, was part of what inspired Thorne to push his script to the limit. Her ability to create a 400-year-old character through vocal tone and physicality left him in awe. "I think you have to be really bold to make that move in the rehearsal room and say, 'I'm going to try something and people might laugh and I'm going to give it a go [anyway]....' I've learned lessons from that as a writer." It seems that in any aspect of the theater, the bigger the risks, the bigger the rewards. As Thorne has proven with his gripping adaptation, "There's a lot of inspiration to be taken from that boldness."
Inspired by this post? Check out our theater audition listings!