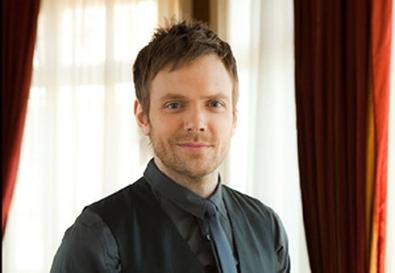 For those who think Joel McHale is playing himself on the NBC comedy "Community," consider his character, Jeff Winger. A shallow, snarky hipster who was fired from his high-powered attorney job after it was discovered he faked having a degree, Jeff is forced to enroll in community college to start a new life. He forms a study group with the sole purpose of bedding hot blonde Britta (Gillian Jacobs) and becomes the de facto leader of a group of misfits he holds in what can best be described as a kind of affectionate disdain. McHale is so effortlessly breezy and confident as Winger, it's easy to see why people would assume he shares more than a few traits in common with his television counterpart.
In real life, McHale is as clever and funny as Jeff but in a kinder, less sarcastic manner. In fact, the butt of his jokes is most frequently himself; he's prone to self-deprecation, repeatedly reiterating that he was raised Catholic and therefore "fears it's all going to go away in the blink of an eye." The onscreen ladies' man has been married for more than 14 years to his wife, Sarah, with whom he has two young children; one can't imagine that Jeff would even know what to do with a child. Perhaps most unlike Jeff, who sails through life trying to put forth the smallest amount of effort possible, McHale is one of the hardest-working people in show business.
In addition to his role on "Community," he continues to host the E! Television series "The Soup," providing biting commentary on a variety of television clips and pop-culture news items. He memorably played a beleaguered FBI agent in Steven Soderbergh's "The Informant!" He recently filmed "The Big Year" with Steve Martin and "What's Your Number?" opposite Anna Faris, and he will appear as the father in the franchise sequel "Spy Kids 4." He has also been touring as a standup comedian and played Carnegie Hall in November. And on Feb. 26, he will host the Film Independent Spirit Awards, a traditionally untraditional ceremony that seems the ideal match for McHale's unique sensibility.
McHale says he's in the process of talking to writers for the big show. "I watch it every year and it's the coolest awards show, so hopefully I won't screw it up," he says. "We're putting some good ideas together—most of them are 'Transformers' jokes." As for the films, McHale intends to catch up during his upcoming hiatus week on the ones he hasn't seen. "Maybe I'll make my kids join me," he says. "Come on, 5-year-old and 2-year-old, let's watch '127 Hours!' Um, don't watch this part! Then they can ask, 'What happened to that man's arm?' Uh… he doesn't need it right now."
In the Soup

Though McHale got his big break as a TV host, he had always intended to be an actor. "Since the second grade, I knew I wanted to be an actor, but it wasn't until my sophomore year of high school that I said, 'This is what I'm going to do,' " McHale recalls. "Of course, after that realization, I spent six years not doing it." Raised in Seattle, McHale did his undergraduate studies at the University of Washington, where he was busy playing football and majoring in history. "At that time, the undergraduate acting program at the University of Washington was not good," he admits. "So I was just clocking time." The graduate program at the school, however, was far more prestigious, and McHale was thrilled when he was accepted. "It was exactly what I wanted, which was 24/7 acting," he says. The training focused largely on the Suzuki Method and the Alexander Technique, the latter of which McHale particularly loves. "Those three years felt like I was in a laboratory," he enthuses.
While in Seattle, McHale was working in commercials and on a local sketch show called "Almost Live!" But upon graduation in 2000, he knew he was destined for Los Angeles. This, despite the fact his school had done a disastrous showcase in the city. "Our New York showcase was good and I actually considered moving there because I had some interest from legitimate agents," he says. "Our L.A. showcase was awful. I remember looking out into the audience one night, and there were two people. And the only agents who came would say to us, 'We love you, you're all terrific, we'd like to sign you. Here's the deal: It's $250 a month….' "
McHale moved to L.A. and gave himself a time limit during which to succeed. "When I proposed to my wife, I asked her to completely uproot herself and give me five years," he recalls. "If things weren't happening, I was going to go back to Seattle and do weather and traffic on the radio and say, 'Well, I tried.' " He admits he was fortunate that his wife was working while he pounded the pavement. "I came into the marriage with 30 bucks and a stereo, and she had a car and an actual job," he says. "That's why I married her."
Within his first three months, McHale landed his first job on the hit show "Will & Grace," thanks to Jason Burns, a friend from high school who was hip-pocketing him as a manager. Producers needed a 6-foot-7-inch actor to play Grace's freakishly tall boyfriend Ian (nicknamed "Frankenst-Ian"), so McHale bought boots with tall heels and landed the role. "Lesley Ann Warren and Sydney Pollack were guest stars in that episode, so here I was, at my first table read, with legends," he marvels. "It was a really fun shoot and it helped me get my first agent—who then dropped me."
McHale reveals the agent fired him via backhanded compliment. "They told Jason, 'We really like him. We want him back in two or four years, when he's bigger,' " McHale recalls. "As if they were too big and I should come back after somebody else had done all the work." Fortunately, McHale had a commercial agent, and Burns moved to the Gersh Agency as an agent and continued to hip-pocket him. Still, McHale struggled. "I spent two years hustling," he recalls. He worked at the Larchmont Wine and Cheese Shop, less than a mile from the Paramount lot, where he now shoots "Community." And he was a golf caddy at a country club. "That was actually great, but hard for an actor. You can't break away for an audition and say, 'I'll be back in six holes.' "
McHale did theater; he performed at the Acme Comedy Theatre and with the Circle X Theatre Company in its productions of "Grendel" and "Sperm." The latter, about a man who turns into a whale, is typical of Circle X's style, which McHale describes as "weird and fun." He adds, "People told me they didn't do experimental, risky theater in L.A., but they were wrong." He eventually began booking commercials and the occasional film or TV role. In 2004, Burns sent him on an audition for "The Soup," a revamped version of "Talk Soup," which launched the careers of Greg Kinnear and Aisha Tyler. After a fairly straightforward audition in which he told jokes and showed he could read off a teleprompter, McHale landed the gig. "I chose to do the show because of the previous hosts, who set a great example that you could still go on and do other things," he says. "And I had this little showcase where I could go be funny. To get noticed doing anything in Hollywood is near impossible, so I went for it."
At first, the show aired at 10 p.m. on Fridays, for which McHale was grateful. "It was such a deserted wasteland of television, we had a full year to figure things out," he recalls. "We could screw up and experiment and find our voice." That voice ended up including such popular recurring characters as Jewbacca, Chewbacca's lawyer; an intern McHale is constantly shooting with a gun, often with the sound effect played purposely out of sync; and a man in a bikini known as Mankini. At the center of the circus was McHale, a likable frontman who managed to pull off sarcasm without being smarmy. Before long, the show became basic cable's hippest secret, welcoming guests who ran the gamut from Corey Feldman to Eminem.
Most important, it gave McHale the opportunity to be seen for other roles. "Thankfully, people saw me as more than a host," he says. "And I was called in for all kinds of auditions." Fans included Soderbergh and his casting director Carmen Cuba, who brought the actor in to audition for "The Informant!" and "took pity on me and gave me the role." McHale reveals that Soderbergh still watches, noting, "He'll email me sometimes and be like, 'Man, that clip from "Regis" was crazy!' "
A Community of His Own
Another fan of "The Soup" was the girlfriend of Dan Harmon, creator of "Community," who suggested McHale for the role of Jeff. McHale had been through pilot season before; he had shot "Giants of Radio" for CBS and starred in the American version of "The IT Crowd," a popular British comedy. The latter show was picked up as a midseason replacement but was abruptly killed before even airing. "There was a regime change at NBC, and they took all the shows that had been green-lit and canceled them," McHale explains. "It's bad enough to shoot something and get your hopes up, but to get picked up and told you're a go, then told they changed their minds, was devastating."
McHale read the "Community" script onboard a plane, sitting next to a man watching "What Happens in Vegas" on his computer. "I remember I was laughing out loud at the script and he was getting upset that I was interrupting his movie," McHale says. "I took that as a sign it was a very good script. You read these scripts every year, and most of them are about 30-something guys who don't understand why they can't have love. I'm always told, 'This isn't like that; it's totally different,' and then it is exactly that. This was by far the best pilot I read that year." McHale read for the producers and was sent to a network test, which he describes as "an unnatural place to act and perform." But he must have done well. "At the end of the test they told me right there in the room. They said, 'Welcome to NBC.' "
On "Community," McHale heads one of the best ensembles on TV, which includes comedy legend Chevy Chase as the hopelessly out-of-touch Pierce, and breakout newcomers including Danny Pudi, who plays the pop culture–obsessed Abed. Though on its surface the show seems fairly traditional—people from all walks of life attend a community college—under Harmon's vision, it manages to ape and skewer traditional TV comedies. One episode was an elaborate "Goodfellas" parody, in which the cafeteria's chicken fingers were the hot commodity, and the recent holiday episode was done entirely in Claymation. "Dan is always taking the legs out from what you expect," McHale says. "He won't tell pat stories. Our theme is basically that life is messy, and things are left raw and open-ended."
As the leader of this motley crew, McHale often finds himself having to play the straight man to the crazed antics of the others. He admits he had to adjust to this idea, particularly after having been the center of attention on "The Soup" for so long. "My greatest fear is not being good in a scene or not being funny," McHale says, then pauses. "Well, that's not my greatest fear. My greatest fear is a 25-foot-long snake that can talk. But it's a big fear to be the weak link in a great cast. But all I can do is play the scene and trust the writing."
As for the accusation that he's playing himself on the show, McHale admits he hears it all the time. "I guess it's a compliment," he says with a shrug. "But I live with my wife of many years and have two children and didn't lie about having a college degree. So, clearly, I'm not playing myself. But people have said that about Harrison Ford, as well. And not that I'm comparing myself to Harrison Ford, but when I hear that I say, 'If it were that easy, everyone could do it. But you keep paying money to go see him.' "

Coming Attractions
McHale says he hopes to land more character roles in the future and hopes to tackle new projects during the summer hiatus. Asked if there are any types of roles he'd be interested in, he takes a moment. "I love seeing performances and thinking, 'F---, I wish I could do something like that.' Whenever I see Christian Bale do anything, I think, 'If I could do 5 percent of what that guy's doing, I'd be happy.' I'd love to do so many genres. I'd love to do a science fiction movie, but I'd also love to do an Alexander Payne movie. In the last couple years, I've been able to work with some amazing people, and I can't believe my good fortune. But my main goal is to help make 'Community' the best show on television and then to do some good film work."
With "Community" doing well in its Thursday-night berth on NBC, it would seem McHale is well on his way. And he recently signed a two-year contract to continue his role on "The Soup." Plus, he has a slew of films in his future. Which leads one to wonder: Did he ever hear from the agency that said to come back when he was big enough? "Never!" he says, pretending to anger. "Apparently I'm not there yet. I don't know what I have to do to get them to call me back!"
Out Takes:
-Appeared in brief roles in "Spider-Man 2," "Lords of Dogtown," and "The Onion Movie"
-Reveals about upcoming episodes of "Community": "There might be a baby shower. Señor Chang's living situation will change; he might have to crash on some couches. And Pierce might become a pill addict."
-The character of Jeff Winger is partially based on Bill Murray's character in the film "Stripes," who was named John Winger.
-Says he made it as an actor partially by outlasting the competition. "I've known so many talented people who make the effort to move here, and then they encounter a little rejection and they leave. You have to persevere. It's a cliché, but I've been told no 100 times more than I've been told yes."