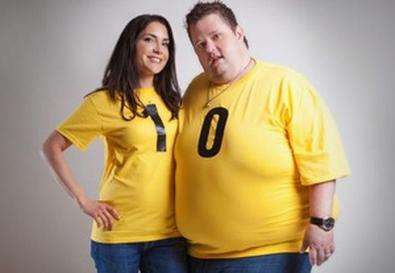 Ralphie May

I've been doing stand up comedy for 23 years. Let me tell you--podcasting is a whole different ballpark.

Podcasting is a team sport. You are only as good as the people around you working on it. I'm not the sole producer. I'm not the director or writer. I'm just talent. It's hard for me to take that step back sometimes. I have a great executive producer and director, Danny Lobell, and we have an intern. We have to get field pieces. We have correspondents. We have to depend upon others to get us music. There are so many variables that go into this and so many things that have to happen. With stand-up, you're the writer, producer, director, and performer all in one.

For a long time, we resisted the urge to start the podcast because we didn't want to do the same thing other comedians were doing. It's no knock against them. We just thought the market was saturated with comedians who did podcasts and said the same thing. We thought it was redundant and the market was a little boring. Then we started to think about it at the urging of our fans and friends. Jay Mohr told us to get into it. Danny Lobell told us that we could do something different. We really talked about it and decided to give it a hard commitment. And we've already seen it pay off. There are people coming to our shows, and we've only had two episodes released.

With "The Perfect 10," I want to reach out to the people that think I'm one thing or another so they realize that I'm more than that. I also want people to discover how wicked funny my wife is. This industry keeps dragging their feet on my wife. The funniest bits are coming from her. She's generating more content in this goddamn podcast than I am, but because I'm the more famous one, I get the credit. It's not fair. My wife has the long road to haul because she's a female comedian. Female comedians in this country get no respect and I'm sick of it. Enough. My wife is funny. And beautiful. And one shouldn't take away from the other.

The worst thing that's ever happened to her career is being my wife. If she had dated and dumped me, she'd be better off in her career. Unfortunately she fell in love with me. She can't shake me.

I want to take the iTunes charts and the comedy section over. The one on one interview with no sound effects, no forethought, and no production value is over. I want to usher in a new age. I want to bring production value and theater of the mind to it. We have that element where we want to make it like a late night talk show. That's one of the reasons we stay under an hour. We're like an adult, uncensored version of a late night talk show. We are adults and we make no excuses about it.

The truth is, they could take the homes and the money away, and I'd be a success because I have my wife and my children. It's all I ever needed. Whether it was the studio apartment in West Hollywood, the shitty apartment in the hood, or living in my car, whatever, I've done it all in the last 23 years.

One thing I did was never give up on me, on us, on my wife, or my friends. Now we're all gaining popularity. All my friends are. It's magnificent to see it. Hard work does pay off.

Lahna Turner

Doing "The Perfect 10" podcast has been so much fun. Personally, one of the best parts about it is being able to say things that we can't say on radio. There is no FCC cracking down on the Internet. We're still able to get away with an awful lot and can push the envelope. That's super.

This podcast is something I've been wanting to do for a while, and we just decided that now is the time. I've been on a number of other people's podcasts, and it was really fun to do theirs so we said, "Why not start our own?" It's a great way to reach our audience and our fans and build a relationship with them.

Ralphie and I aren't just up there talking. We're bringing in segments and live performances from bands. Mostly, though, we're recording at our kitchen table. We're going to have a proper space eventually, but it's going to take some time to get that together.

Ralphie and I love to be together so it's just one more opportunity for us to hang out. It's been fun to come up with creative segments. We can focus on spending more time together. We never get enough time together anyways.

To be honest, the podcast is taking a lot more work than I thought it would inititally. To do something well you have to pour yourself into it. We're putting ourselves into it 1000 percent. It's worth it, though. We hit number five on iTunes with the first episode.

We couldn't do this unless we had a great team. It's all fallen into place like dominos. We've got Aaron Distler, our assistant and protector of good and defender against evil. One of the original and best podcasters of all time, Danny Lobell, is on board. His future wife Kylie Jane Wakefield is doing all the publicity. We even have an intern, Tommy Marks, and he's amazing. So how do you top that, you know? When people are listening to the podcast, they can feel the energy of the people behind it.

For more on the Perfect 10 podcast, visit perfect10pod.com/.