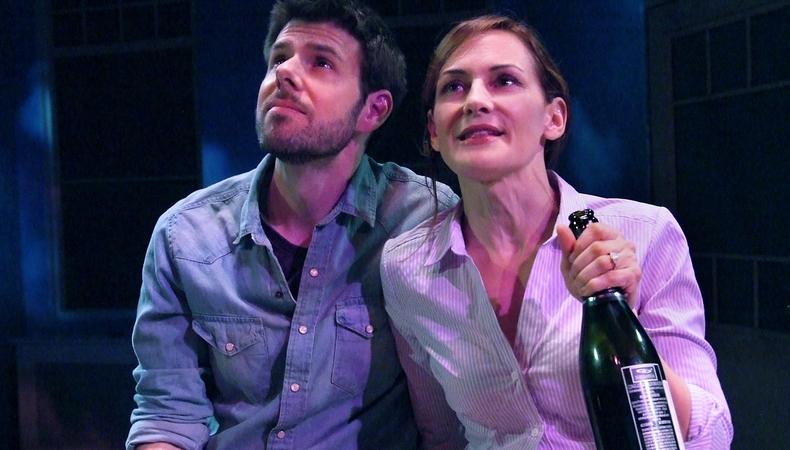 It's not necessarily a new theme for a playwright to put out there: the schism between science and soul, the interplay of facts and faith, particularly when it comes to the act of creation. But Kathryn Walat's world-premiere drama is a fascinating contemporary meditation that stirs things up by closely focusing on four people whose lives become forever altered after an act of either nature or God. Although the nuances of its story are sometimes overshadowed by the production's dazzling design elements, "Creation" has a vivid perspective and, under Michael Michetti's direction, standout performances.
Ian (Johnathan McClain) is an evolutionary biologist, a rising star in academia loved by his colleagues, students, and especially his hot wife, Sarah (Deborah Puette), a preeminent pathologist. This couple is going places in the scientific community. But when lightning strikes Ian on his 40th birthday, it soon becomes apparent that their lives will take an unexpected course. After the event, Sarah's assured by her neurologist pal Amal (Ethan Rains) that any rewiring in Ian's brain hasn't changed who he really is. But she's not so sure about that, and neither is Ian, who befriends Zach (Adam Silver), a struggling wunderkind composer, as he embraces the changes he's experiencing: Not only does Ian hear "the most beautiful music" inside of his head; he's also overcome with "a hunger" to create. The characters interact over a period of five months, and we follow them through attempts to reconcile change and the creative process as light bulbs of realization—like fallout from the original lightning bolt—continue to alter their choices.
Guided by Michetti, the actors ensure that we invest in the divergent paths Walat lays out for her characters. McClain and Puette are a picture-perfect pair. He's charmingly nerdy, and she's a stunner with strength, playfulness, and vulnerability. It's easy to love Rains' Amal, a Lebanese American who begins to feel constrained by his cultural and professional expectations, and as Zach, Silver is delightful, a snarky gay goofball of talent and insecurity anyone would love to play with.
Bruno Louchouran's sound and original music are striking. François-Pierre Couture's expansive setting is full of doors and windows and options. Add to that Andrew J. Hungerford's beautiful lighting and a gobsmacking projection design by Adam Flemming, and it's all pretty gorgeous. However, these elements combined can be distracting at times, and we lose the intimacy and mystery of Walat's more delicate material. Some of her lovely ideas don't translate on what is essentially a "big screen," where perhaps too much is laid out for us. The characters can seem far away at the very moment we want to look closely inside of them.
Presented by and at the Theatre @ Boston Court, 70 N. Mentor Ave.,Pasadena. Oct. 13–Nov. 11. (626) 683-6883 or www.bostoncourt.org. Casting by Michael Donovan.
Critic's Score: A-