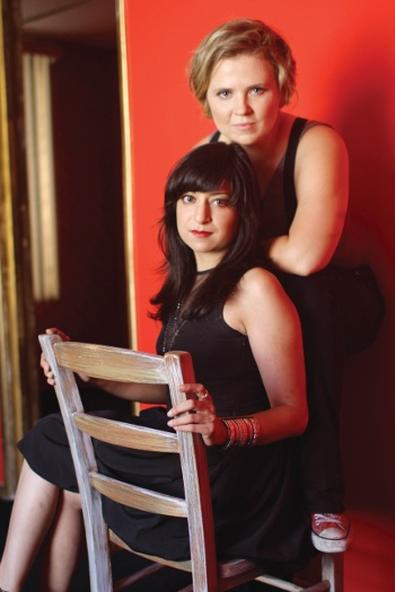 Collaborators Che Landon and Sonal Shah are serving as guides to a new generation of actors with their program Creative Artists Lab.
Why did you create the Lab?
Landon: I wanted to provide a place that wasn't just an acting class but really a community. I wanted a space where the creative spirit was being nourished and, at the same time, resources, education, [and] community were being made available to actors across the board. We are partially funded by actors, directors, writers who believe in leveling the creative playing field, regardless of class.
How does the Lab set itself apart?
Shah: Our artists are learning how to create their own content so they don't have to rely on other people. We believe having the know-how, in terms of all aspects of production and all aspects in this business, will make you a better actor if you are aware and you learn everything about it. We [also] provide equipment such as lights and cameras for our actors to use, and our stage is provided to the artists to create their projects.
What advice do you have for actors?
Shah: Instead of waiting to audition, go audition now. Instead of waiting to win an Oscar, watch and observe Oscar-winning performances and work on those now. To embrace the journey itself is the destination—if you focus on that and you release expectations you will constantly be striving. As artists we have the power and ability to create anytime we want.
What do you hope your artists leave with?
Landon: The biggest thing for me: when you love something so much and it connects you and you literally feel like when you're in the thick of your craft there's something spiritual and revelatory going on, that feeling is priceless, that feeling is real. [We need] that passion turned into fearlessness…. We need voices; a lot more Whoopi Goldbergs, a lot more Tony Kushners, want more Suzan-Lori Parks—there's a whole world that is waiting for that.
Shah: I definitely agree with reigniting fearlessness. Almost finding your childlike interior to play and be willing to play, to take risks and to fall and to do those things because now you have a community to hold your hand and bring you back up.
How has the teaching experience been?
Landon: I think we consider ourselves more like guides than necessarily teachers or leaders of the collective. We have amazing artists in here and they're so generous with their knowledge, too—it's fantastic. It makes you a better actor, hands down. I think guiding these labs has taken my own personal craft up 100 notches. It's like I'm getting so much more than I'm giving, to be honest. I've never been in a place where I felt like everybody wholeheartedly had each other's back so sincerely.
Like this post? Check out more of our Inside Jobs!