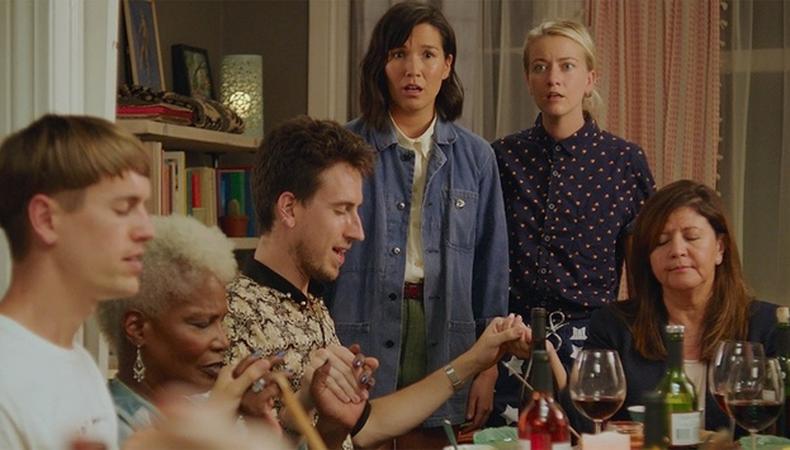 Mia Lidofsky came to create the Facebook Watch series "Strangers" after years of working her way up the filmmaking food chain. She was inspired by a majority female set as an intern and began her career bouncing from set to set as a production assistant and then assisting producers, directors, and creators. She got a front row seat to the machinery of filmmaking as well as how projects get off the ground, and the experience became her own version of film school.
When she was accepted to the AFI Directing Workshop for Women, the pilot for "Strangers" took shape. Inspired by a truly New York story, where she had unknowingly swapped AirBnB rentals with another enterprising New Yorker, "Strangers" incorporates fictionalized versions of Lidofsky's real life experiences through a grounded, realistic cast of characters you might expect to meet in line for coffee or making room for you to sit on the subway. Her independently financed pilot about the people a woman meets when she rents out the extra bedroom in her apartment for cash was picked up by Refinery29 for a full season in L.A. It premiered at Sundance, after which Facebook Watch got involved. In Season 2, which premiered June 24, Isobel and Cam switch coasts for New York City, discovering more about themselves, their city, and the people they come across, many who are played by familiar faces.
What format did you imagine "Strangers" taking when you were creating it?
The dream was always to have it become a TV series, but a more realistic version of getting to have more authority over the voice of the show was to start on a digital platform. There were a few shows that have really succeeded, like "High Maintenance" and "Broad City," so there was this model of making something great that can grow. I also knew that by going the digital route it was more likely that I'd actually get to be the creator and director. I wanted to explore all these different worlds and different people and I felt like Isobel opening up her home and her heart, it lent itself to the digital format. Part of getting to the TV space was starting smaller and more realistic.
How did you build the fictional world and all the characters even though there are factual elements behind the premise?
I came up with this idea more than four years ago, and the original intention was to create a platform for Zoe [Chao] (who plays Isobel) and me to make something together. I have friendships that are grounded in caring and some of them are the rock of my life, so I wanted to tell this story about a female friendship in the truest, most positive light. A lot of the friendship between Cam and Isobel is based on Zoe and my friendship. Cam is a very fictionalized character, but she's the silliest, broadest caricature of me in my mid-20s. I wanted to have a character who is full of life and comfortable and confident in herself and her sexuality. I wanted that character to play a mirror for Isobel who was coming out and figuring out who she was. The idea of Isobel being bisexual was always really important to me because there's traditionally been so much bi-phobia in both the heterosexual and homosexual communities. It's so often depicted as an identity that's either a transition, a phase, someone figuring out who they are, or hyper-sexualized and kind of dangerous. I wanted to create an honest, grounded, thoughtful depiction of a woman on the spectrum of sexual fluidity who has to think not only about the love and all of the physical standards but who is also looking for singular love and the complexity in that. There's something very unique in a bisexual person's experience of falling in love and desiring monogamy.
How did you find casting directors and fill your cast?
To me, Zoe was always Isobel. I've known her for 28 years, and I think she's so talented. Meredith Hagner is one of the kindest, funniest, most loyal balls of energy you will ever meet. She's a beautiful, feminine, blonde woman, so she often gets stereotyped in very specific roles. I really wanted to create this rounded friendship between Isobel and Cam, and her energy is unparalleled. In this season, she goes into some deeper places, and we see her branch out into her own life and her own world in a really exciting way because she becomes a more three-dimensional person, she falls in love, and I'm really excited for people to see all the different sides of Cam and Meredith and the colorful messiness of life. When we got picked up for Season 1, I brought on Leslie Woo who is an associate of Jeanne McCarthy and we hit it off right away. When we moved to New York, we brought on Rori Bergman, who's an incredible casting director, because I really wanted someone who's New York–based.
What types of opportunities do you think being on a digital platform offers that other outlets might not?
Facebook Watch really believes in this show and they want their platform to succeed. They're still in the stage of proving themselves and what they are and branding themselves as a place where you can go and watch quality television. The accessibility to billions of people is pretty extraordinary. Maybe it doesn't have that same street cred yet, and people may not know that you can go there to watch TV, but I didn't know that one of the best shows on television was going to be on Amazon Prime, so hopefully, people will follow the quality. I hope that "Strangers" proves to be a quality show that people will go to Facebook to watch. I think it's strong and beautiful and powerful and I stand by it fully. Everyone starts somewhere, and I think we might be on the ground level of something that could be exciting and special. That the fact that they choose Strangers to be part of the way that they define their identity is a pretty bold statement: a bisexual, biracial main character who's a woman. For me, it wasn't a risk to tell that story, but I understand from a network perspective it could be. It makes me feel like they're truly in it for the right reasons. I would love to play a small part in fixing the dial in our culture to a more accepting place, and I think by choosing "Strangers" to identify what they're making is a pretty big statement without making a statement.
READ: 7 Ways to Get More Eyes on Your Web Series Using Social Media
What is your primary role when you're preparing the season, when it's filming, and when you're finished filming? How do you balance your different roles?
I am the showrunner. In Season 1, I wrote the whole show with a dear friend of mine who's an amazing writer and in this season I was running a writer's room with eight incredible writers. The collaborators—the cinematographers, the production designer and costume designer, hair and makeup, composers—I orchestrated who we hired and had guidance from our producers and executive producers so there were a lot of people making something special with me. I'm responsible for all the scripts and I directed four episodes this season. I think that part of my role is to protect the vision that I set forth to make while also protecting the actual show and making sure those two things never collide. I don't think they do because my mission is to protect the show and bring out the right performances and comb through the footage with the editors and make sure the characters look good and feel good.
Where do you find the people who collaborate with you, and how do you choose the people who you work with? What considerations do you take before you decide to hire someone?
There are so many different factors that go into a hiring, and one thing that was super important to me was to have all of my key collaborators be women. It's something that I believe in, having the opportunity to actually be hired. In our industry, often women aren't trusted in the same way men are, and it doesn't mean that men aren't phenomenal at their jobs as well, but women tend to be overlooked. Part of my mission was to have this powerful group of women run the show together and make something really special and artistic and also super feminine. The women I ended up working with are total badasses; they're so smart, they're so hardworking, and they're all talented. It's so many different elements, whether your aesthetic aligns with the cinematographer, production designer, or costume designer. If your taste doesn't align, it makes for a really difficult collaboration. The hours are so long and there's so much stress. The dream is that you become their friend, and you don't hire someone in the hopes of becoming their friend, but it's a very intimate experience collaborating in this kind of intense capacity, so you want to find someone with an emotional and intellectual intimacy together. It makes the battle a lot easier if you're on the same page.
What did you learn from Season 1 to Season 2?
I think my visual language has gone up. The more time you spend in an edit, the more time you get to think about shots and cuts and having things flow together. We had a lot more money to make something special this season, and it was about prioritizing how that money made it onto the screen. Our production value was really elevated this season. There's something very unique and special about hiring people who are being paid an appropriate amount rather than everything feeling like a favor because there's a different sense of gratitude rather than feeling indebted. As a young showrunner, there was a lot to prove that every day I was working to prove.
What was the biggest surprise about the process of creating and making your own show?
Time. We had very little money and a lot of time to make Season 1, and we had the opposite this time around. The timeline has been so intense. It's a seven day a week job and there aren't many nights I was home for dinner—or any. I think that's the biggest surprise, anticipating the takeover that it'll have in your world.
What advice would you give someone who wants to get into filmmaking?
Ask the question why you want to get into it and make sure that it's for the right reasons. It's an extremely intense, grueling world, and it's also a really exciting and beautiful place to exist. It has to be for the love of what you do, for the heart, and what you're trying to make in the world. I think you can ask the question because there are a lot of things you can do in this world that are meaningful and wonderful, and this medium lends itself to extraordinary artistry and it's a time where we need new voices and new voices of all different perspectives. If you believe in what you're doing and what you're trying to make, go for it. One of the best pieces of advice a friend of mine gave maybe six years ago when I just started directing was, "who cares?" Lay the bricks, do your work, and you might never get noticed. It has to be that you love what you do because you may never get noticed and you have to still love and believe in why you're doing it. If at the beginning and the end of the day you love what you do and you believe in what you're doing, then you're going after the right thing. It's going to be a long road and really hard work.
What skills do you think someone needs in order to be in a leadership position on a production?
Passion and an ability to multitask. It's a team experience and a collaboration. It's about building a family because you're there for over 12 hours a day. It's about connecting, finding the time to connect, setting the group energy, and being able to hold face to a lot of people. Holding face is big because there are a lot of ideas coming and it's about not shutting people down and you don't have to say yes to everyone, but you have to hear them. It's also about empowering people; people do their best work when they're empowered and they feel like they have your trust, but only when that's authentic and organic. It takes a lot of time.
What's something people don't know about what you do?
I think it's hard to know how multi-faceted the job is unless you're there on an everyday basis. One thing that I do is protect the overall emotional art of the whole series. There are all different skill sets, from being in the writer's room to being on set and protecting the performances and guiding the performances to then being in the edit. I don't know what the misconceptions are around showrunners or creators; I think that it's all fun, and it is a lot of fun. The emotion of the story is everything to me, so my fun is being on set and working with the actors and working with my team. It's a really multi-faceted job, and there are a lot of elements at any given moment that you have to be aware of. Everything's a priority.
Looking to get cast? Apply to casting calls on Backstage.