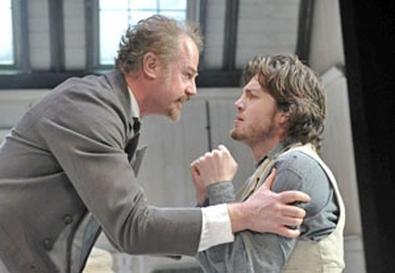 "It seemed to me to be less of a play and more an almost demonic experiment on a set of three human lab rats" is how playwright David Greig describes August Strindberg's rarely performed "Creditors," of which he wrote a new adaptation, currently playing at the Brooklyn Academy of Music after a hit run in London. This Donmar Warehouse production, directed with muscular control by Alan Rickman, takes up that clinical theme with Ben Stones' stark, antiseptic set and Fotini Dimou's muted costumes. It's almost like a really intense class in the use of emotion-controlling spells, conducted by Professor Snape, Rickman's coolly snide wizard from the Harry Potter movies.

The lab rats are Adolph, a failed artist in ill health; his wife, Tekla, a novelist on the rise; and Gustav, Tekla's wolflike first husband. Seeking vengeance on his former wife, Gustav deceives Tekla and Adolph into destroying their marriage. There is much chatter about free will, destiny, the battle between men and women, art, and sex—"We've been talking for six hours," Adolph cries at one point—but the real impact comes from the primal passions elicited in this laboratory of raw emotions. Rickman recognizes that Strindberg was not only a scientist tinkering with incompatible personalities; the playwright was also something like a small boy dropping three scorpions into a jar to watch them fight.

That three-person battle is precisely and expertly staged. In 90 intense minutes, the intellectual arguments give way to gutter brawling. Rickman wisely starts the action slowly and allows it build to a powerful final confrontation. Greig's version is solidly colloquial and doesn't shy away from Strindberg's blatantly misogynist views. Contemporary audiences may giggle at the antifeminist sentiments spouted by Gustav, but they can still reel from the impact of his verbal blows.

Owen Teale's Gustav is a master manipulator, playing Tekla and Adolph off against each other like a cardsharp. When he smoothly tries to persuade Adolph into believing Tekla is unfaithful, you can just detect the anger underneath the solicitude, gradually growing from a mild growl to a scary roar.

Adolph could easily have been played as a spineless wimp, but Tom Burke subtly illuminates this tortured soul's conflict between doubt and marital contentment. Anna Chancellor is a formidable Tekla, towering over Adolph, flaunting her superior confidence, and using her sexual attraction as a weapon in their struggle for dominance. Yet she becomes girlish and insecure when encountering Gustav in an unexpected reunion.

Though the chauvinistic views may be antiquated and some of the plot devices are melodramatically creaky, this is a fiery revival of a seldom-produced work. Actors would do well to take a look for examples of meaty two-person scenes that haven't been done to death.



Presented by Brooklyn Academy of Music

at the BAM Harvey Theater, 651 Fulton St., Brooklyn, NYC.

April 21–May 16. Tue.–Sat., 7:30 p.m.; Sun., 3 p.m.

(718) 636-4100 or www.bam.org.