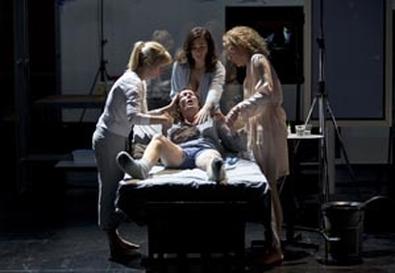 Putting one of the greatest films of all time on stage would appear to be an impossible challenge, and Dutch director Ivo van Hove is the just the man to take it up. The iconoclastic theater auteur has put his individual stamp on world classics by Ibsen, O'Neill, Williams, and Hellman at New York Theater Workshop, shattering the fourth wall of these representational plays by pushing the emotional subtext right to the top. His raw approach doesn't always work—the van Hove "Streetcar" was more of a frat party than a clash of wills between Blanche and Stanley—but his production of "Cries and Whispers," Ingmar Bergman's gut-wrenching 1972 film about death, faith, and family, is a brilliant theatricalization of a masterpiece from another medium.

The main challenge in transferring Bergman's portrait of three sisters dealing with the painful illness of one of them is the potential loss of the film's intimacy. Through the theater gives us live actors, we forfeit the movie's ability to zoom in with close-ups. In the original work, Bergman offers unflinching uncut shots of the suffering of Agnes, the stricken sibling whose fatal agonies test the superficial affection of her narcissistic sisters, Karin and Maria. Only the family maid, Anna, is willing to selflessly comfort and support her ailing mistress.

Van Hove solves the problem by changing the setting from Bergman's early 1900s to the 2010s and making Agnes a video artist. As audiences enter the BAM Harvey Theater—where the Toneelgroep Amsterdam production of the piece is playing as part of the Next Wave Festival—they are greeted with the tormented face of Chris Nietvelt, as Agnes, blown up on a huge monitor. The artist is documenting her demise, which is made shatteringly immediate by Nietvelt's harrowing performance, Van Hove's merciless and deliberate staging, and Tal Yarden's spiky video design.

After the lights dim, Jan Versweyveld's sleekly cold set suddenly comes alive with alarms and music as Agnes is awakened to begin a day of pain. Nietveld makes Agnes' suffering achingly real as she details the character's intense agony through her eloquent body language, dragging her exhausted frame from bed to toilet and back again. Yet we can still see the bright spirit in the blighted shell. Halina Reijn's childish Maria and Janni Goslinga's aloof Karin are equally well-documented through small gestures and actions that speak volumes of subtext. Watch as Reijn briefly touches Nietvelt's back and then quickly withdraws it, as if Maria is saying "There, I've shown Agnes I feel sorry for her. Now I can retreat into myself again." Karina Smulders radiates compassion and tenderness as the saintlike Anna. Roeland Fernhout, who also provides the evocative sound design, and Hugo Koolschijn intensely limn the men in the sisters' lives.

In addition to examining Bergman's themes of the roles of religion and family in the face of death, van Hove adds a consideration of art to the mix. Here Agnes uses her creativity to express her pain and fear. In a grisly coup de théâtre, the director has Nietvelt cover herself with blue paint and fecal matter and then roll around on a large blank canvas while narrating Agnes' excruciating death throes, creating a Jackson Pollack–like painting of the character's anguish. Then, after Agnes finally dies, the rest of the cast slowly cleans up all of her elaborate video equipment along with her stained and soiled sheets and bedclothes, removing the evidence of her messy, uncomfortable death and the art that chronicled it. In a telling moment, Goslinga as Karin gingerly rolls up the splatter painting and folds it up as if it were trash.

The play concludes with Agnes reflecting on her art as a means of combating death. As she speaks, a gorgeous video of figures making snow angels plays on a giant screen behind her. It's a lovely finish to a difficult and moving theatrical journey.

Presented by Brooklyn Academy of Music as part of BAM 2011 Next Wave Festival at BAM Harvey Theatre, 651 Fulton St., Brooklyn, N.Y. Oct. 25–29. Wed.–Sat., 7:30 p.m. (718) 636-4100 or www.bam.org.